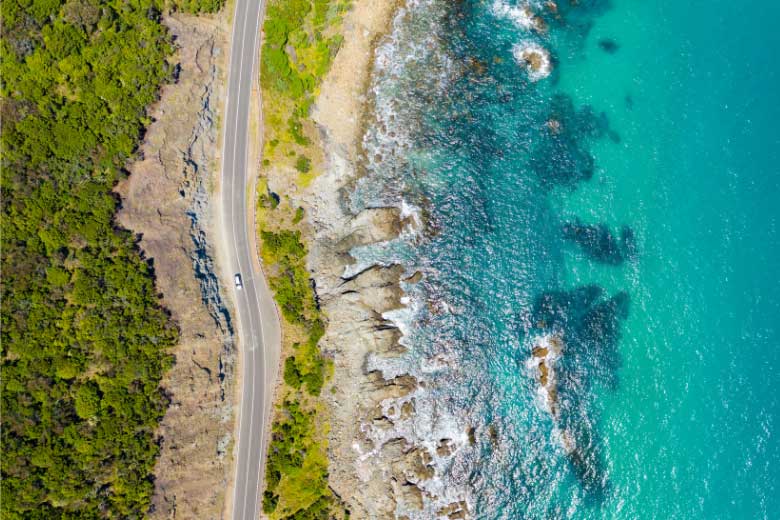 Everything you need to know about driving in Crete! From whether you should rent a car, what documents you'll need, and what type of car to hire, to tips for renting a car in Crete, and important road rules to know.
Planning to do an epic road trip in Crete but not sure whether driving is a good idea. You've come to the right place!
We spent 2 weeks in Crete and drove over 2,200km across the beautiful Greek island. Explored jaw-dropping waterfalls, hiked magnificent gorges, discovered breathtaking beaches, and live to tell the tale.
Driving in Crete is not easy if you plan to go off the beaten path. But these essential tips will help make it easier!
This ridiculously detailed Greece travel guide is all you'll need to get the most out of your Crete road trip without any of the stress! Here's everything you need to know about driving in Crete.
From whether you should rent a car, what driving license you'll need, whether car insurance is necessary, and how much it costs to rent a car, to important road rules to follow to have a safe and incident-free road trip in Crete.
Make sure you bookmark, share or pin this Crete Vacation Guide so you can refer back to it later.
Do You Need A Car in Crete
Before we jump straight into the essential tips you should know for driving in Crete. Let us answer one of the most frequently asked questions travelers ask when visiting the Greek island for the first time. And that question is: 'Do you need a car in Crete?'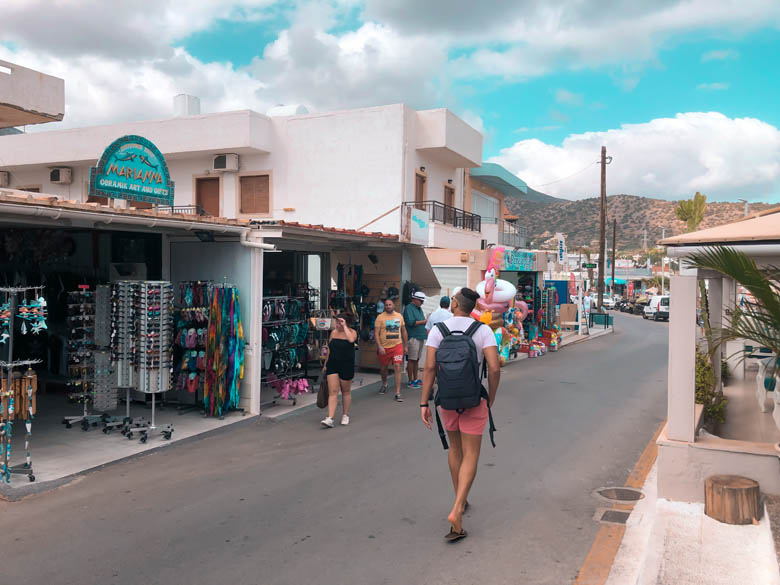 This is an important question to ask yourself before planning your itinerary in Crete. It will determine what things you can do and see on the island, help you narrow down where to stay in Crete, and whether you will need to rent a car.
You see, Crete is not only the largest island in Greece. But also the fifth largest island in the Mediterranean.
This means that unlike many of the smaller Greek islands, like Koufonisia or Antiparos, Crete is not walkable and it's impossible to explore the entire island without a car.
Should I Rent A Car in Crete
Should you rent a car in Crete and will it be worth it? Ultimately, it's up to you and what type of vacation you want in Crete.
If your vacation goal is to relax on the beach and see a handful of famous beaches and attractions in Crete, then renting a car is not necessary. Instead of hiring a car, you can take public transport, ferries, guided bus tours, taxis or rent a scooter or buggy. Find out more in our How To Get Around Crete guide.
But if you plan on packing that Crete itinerary with as many beautiful beaches, hikes, and attractions to see as humanly possible, then renting a car is a must.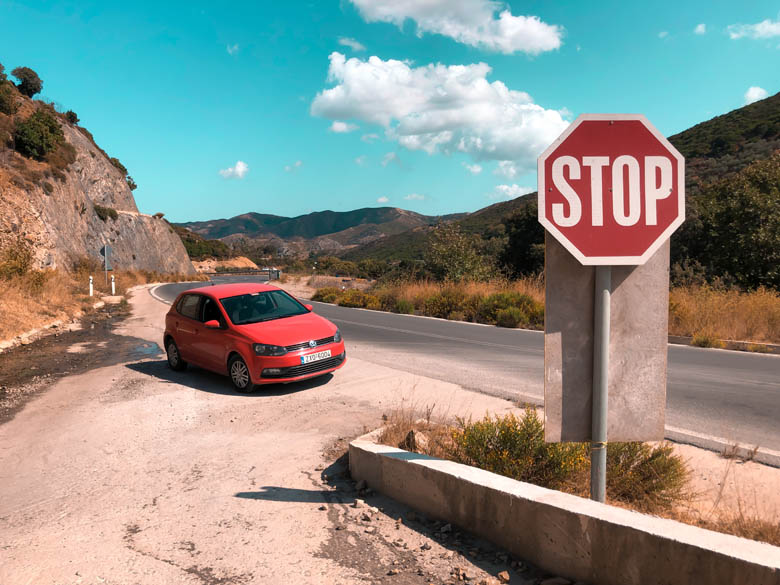 Especially if you want to explore Crete off the beaten track, and discover hidden gems and beaches away from the crowds.
If you're not sure yet, we'd recommend reading our ridiculously detailed Crete Itinerary. This epic travel guide shows you what to see and do in Crete in 3, 4, 5, 7, 10, or 14 days, with or without a car.
Is Driving in Crete Safe?
Crete is one gorgeous island and one of our favorite travel destinations. But we won't lie – driving in Crete is not for the faint of heart.
Driving on the main highway in north Crete is easy. It's the other main roads and often, unpaved dirt paths that are difficult, if not borderline dangerous.
You'll know what we're talking about if you've ever driven to Seitan Limania, Paralia Menies, or Balos beach in our Best West Crete Beaches guide.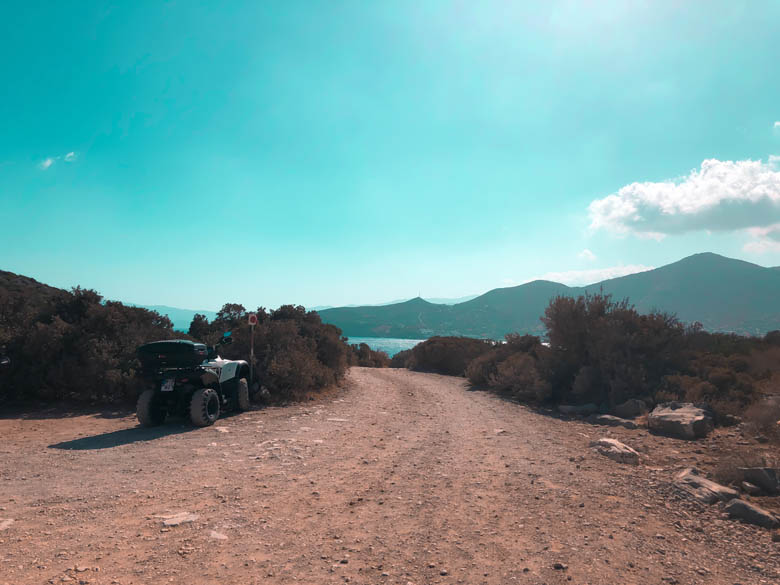 Not only will you have to prepare yourself to navigate around plenty of holes and hairpin turns. But also dodge cats, shrews, mountain goats, and other wildlife crossing the road at night with nothing but your headlights to guide you.
Driving in Crete is not easy. But the good news is that you do not need a car in Crete to visit the most famous beaches, attractions, and sightseeing spots.
How To Get Around Crete Without A Car
Crete is not walkable. But that doesn't mean you can't get around Crete without renting a car.
Public transport exists in Crete and it's fairly decent. But that's only true for the north part of the Greek island. Most towns in the south and east of Crete only offer bus service twice a day (if any).
Besides public transportation, you can also get around Crete without a car on guided tours.
Related Guide: Find out which beaches you can visit by guided tour (without driving) in our 21 Best Beaches in Crete travel guide. Alternatively, if you're looking for the best towns to stay in Crete without a car, check out our Where To Stay in Crete guide.
Driving in Crete with Car Rental: Tips To Know
Requirements For Driving in Crete
The last thing to consider before you rent a car is whether you meet the legal requirements for driving in Crete.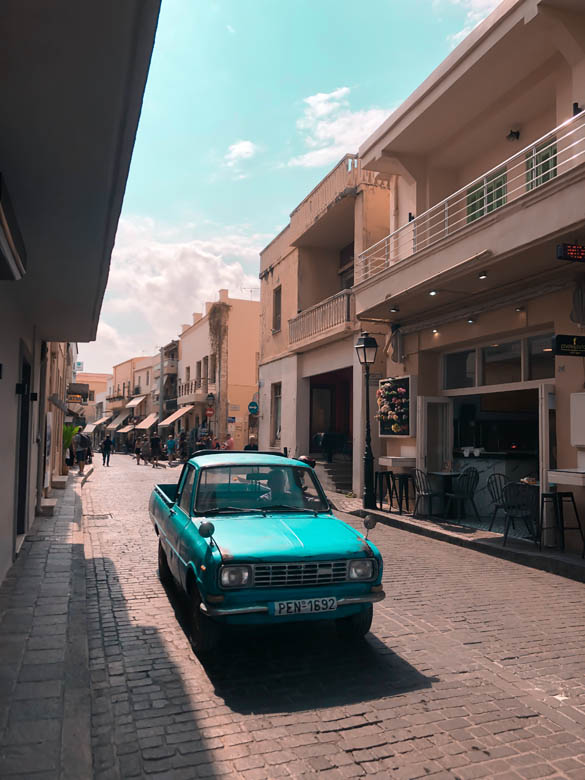 The legal driving age in Crete (and the rest of Greece) is 18. But you'll need to be at least 21 years old and have held your driving license for at least 1 year to be able to rent a car in Crete.
Some car hire companies may charge you a 'young driver' surcharge if you're under the age of 25. And some rental firms even have a maximum age limit where they won't rent you a car in Crete if you're over the age of 70.
Our tip is to always double-check if there are any age limits with your car hire company before booking. You don't want any unexpected surprises to ruin your Crete road trip.
Bonus Tip: Not sure if you meet the requirements for driving in Crete? Ask customer support on DiscoverCars.com or RentalCars.com.
What Documents Do I Need To Hire A Car in Crete, Greece
The documents you need to hire a car in Crete are pretty straightforward. These are:
Your passport
A valid driving license
International driving license (more on that next)
Credit card (optional)
Do I Need An International Driver's License in Crete
You'll need an international driver's permit (IDP) in Crete if you have a driving license that isn't issued in Europe (EU) or the UK.
This international driver's license must be issued from the same country you got your driving license from. And you must make sure to have both these documents to be able to rent a car and drive in Crete (or anywhere else in Greece).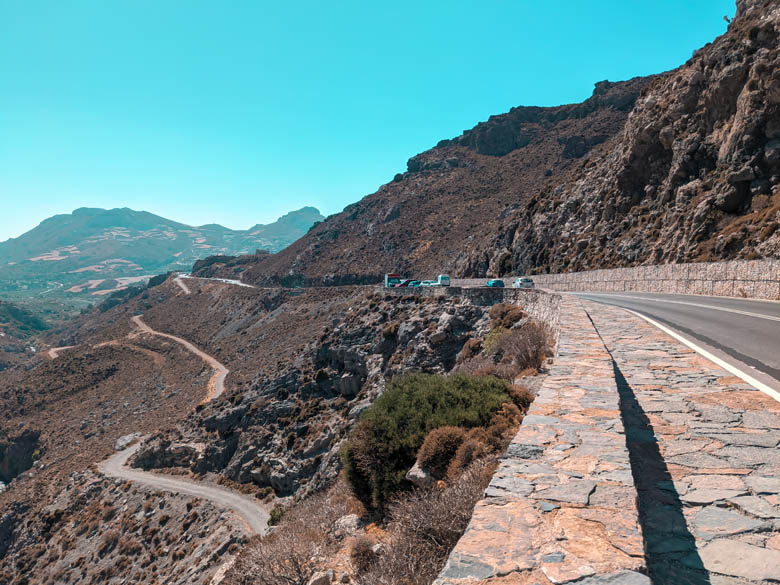 Bonus Tip: Don't be caught without your driving license AND international driver's permit. Otherwise, you may have to pay massive fines or even face imprisonment.
Driving in Crete with EU License
EU citizens can simply use their EU driving license to drive in Crete. No international driving permit is required!
Driving in Crete with UK License
The same goes for driving in Crete with a UK license (even after Brexit). According to the official UK Gov website, you can drive in Greece with a UK driving licence and an international driving permit is not required.
Driving in Crete with US License
If you have a US driving license, you're in luck! You won't need an international driver's permit if you have a valid US driving license in Crete for stays less than 6 months.
But if you're staying in Crete (or anywhere else in Greece) for more than 185 days, then a Greek driving license is required.
Bonus Tip: Get the most up to date information on the official US Embassy and Consulate in Greece website.
Save Me For Later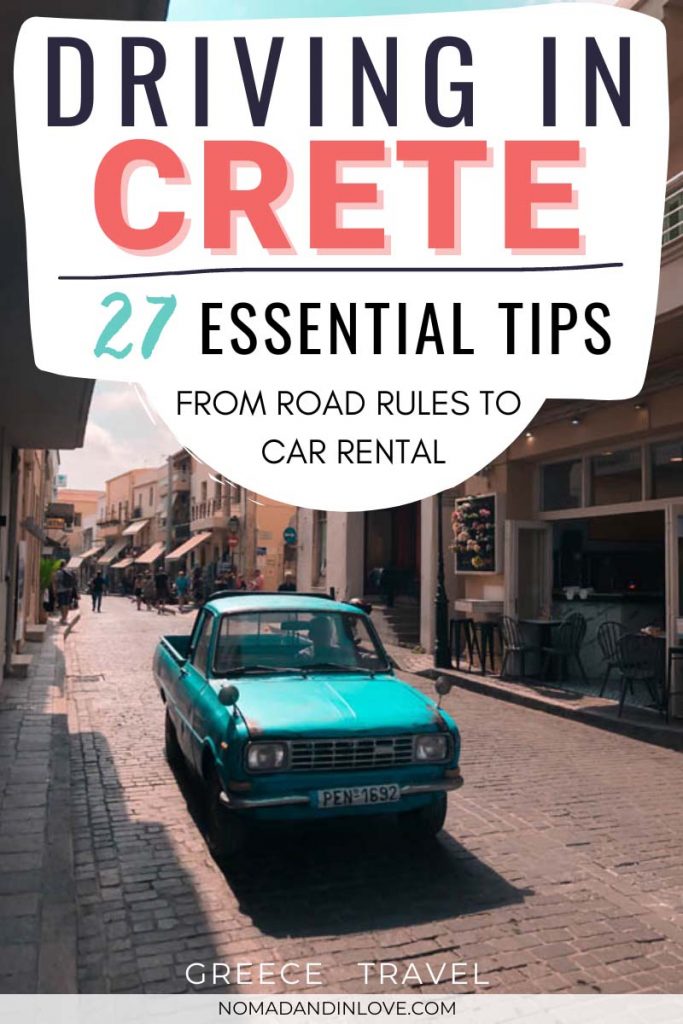 Do You Need A Credit Card To Rent A Car in Crete
A credit card is nice to have, but not necessary to rent a car in Crete. Many car rental companies on the Greek island accept both credit and debit cards.
Depending on the type of car insurance you opt for, your car hire company may hold a refundable deposit on your debit or credit card.
If you opt for full coverage car insurance though, most car rentals won't require a deposit at all.
Our tip? Always ask the car hire company of your choice whether you'll need a credit card or not.
Bonus Tip: Need a travel-friendly debit card that offers the best foreign exchange rate AND free cash withdrawals? Check out Revolut – we never travel anywhere without it! Find out how we use it to save money on our travels in our Revolut Travel Card guide.
What Type of Car To Rent For Driving in Crete
Driving in Crete is not easy if you plan to go off the beaten path. But will renting a specific type of car in Crete make it easier? Do you need a 4wd (four-wheel drive)?
We drove over 2,200km during our two weeks in Crete and this is what we honestly think.
Renting a 4wd or jeep will not make driving off road in Crete easier. It may even make it more difficult. You see – most of the roads around villages, and historic centers, as well as the dirt roads off the beaten track, are pretty narrow.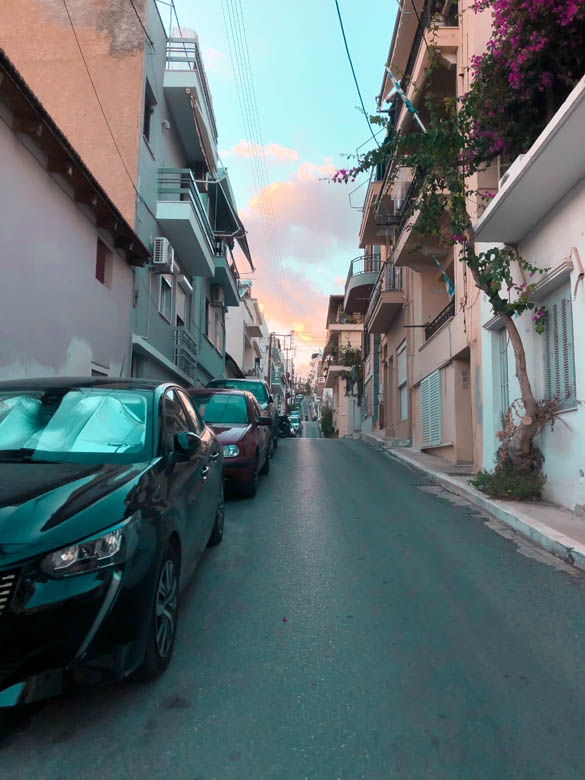 So whilst having a 4wd may make the drive less bumpy. It will make it harder to navigate given the size of these cars.
Our tip? Rent a smaller, more compact car for driving in Crete. We drove a VW Polo and managed to get around the Greek island with no problem.
We'd also recommend renting an automatic car if you're not comfortable driving manual (stick shift). Crete is mountainous so there are plenty of inclines and windy roads to navigate.
Bonus Tip: Most rental cars in Crete are manual. Make sure to book your car for Crete as early as possible if you want to hire an automatic car.
How Much To Rent A Car in Crete, Greece
Car hire can cost anywhere between €40 to €80 per day depending on the type of car you're renting and whether it's high or low peak season. This excludes fuel costs, parking fees, one-way fees, and sometimes even car insurance, by the way!
For our two-week vacation in Crete, we rented a car for 12 days and paid €496. This works out to spending €41 per day on car rental and includes comprehensive (full coverage) car insurance as well as one-way fees.
It was not ridiculously expensive, but it wasn't cheap either!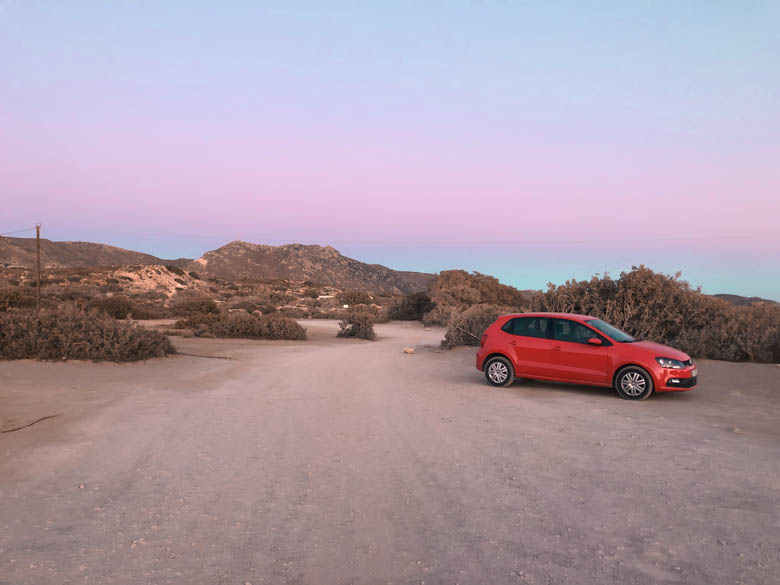 If you plan to travel to Greece on a budget, we'd recommend booking car hire as early as possible to get the cheapest deal. You can easily compare prices for renting a car in Crete on DiscoverCars.com or RentalCars.com.
Related Guide: How much does a trip to Greece cost? Get a detailed cost breakdown for flights, hotels, excursions, eating out, and more, in our How Expensive Is Crete guide.
Do You Need Insurance For Car Rental in Crete, Greece
Yes! In fact, it's mandatory to have third-party liability insurance to drive in Crete (or anywhere else in Greece). This is why third-party liability insurance is always included in the price of all car rentals.
There are other types of car insurance to consider though. Like personal accident insurance, collision damage waiver, super collision damage waiver, theft protection, and the list goes on.
Our tip is to get full coverage insurance when renting a car in Crete. It's the most comprehensive car insurance you can get and in our opinion, it's totally worth paying for.
Greece is known for having some of the highest accident rates in Europe. You can tell that many accidents happen in Crete by how often you'll see these mini churches or chapels on the side of the road.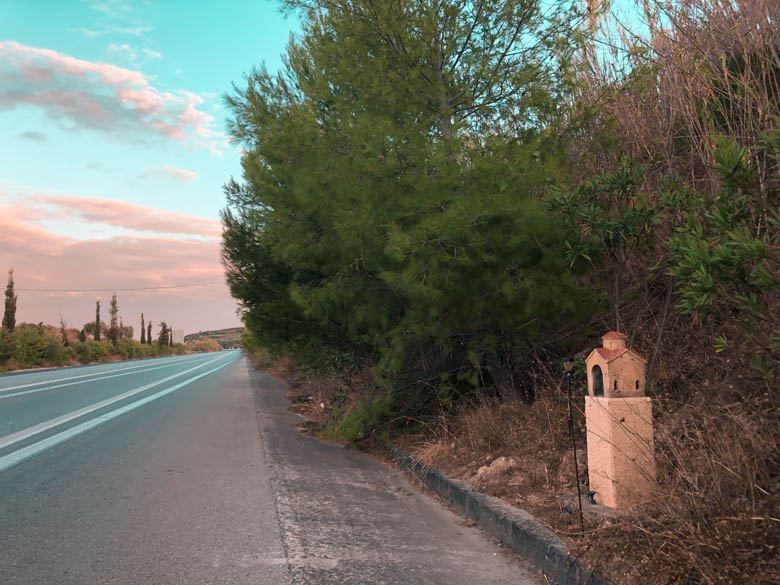 These small, roadside shrines are erected in memory of those who have lost their lives on the road. It's a common sight driving on the roads of Crete and an important part of Greek culture.
Rather be safe than sorry and pay more to get full coverage car insurance. A lot can happen while driving in Crete even if you're careful enough to avoid an accident.
Animals often run across the roads and highways, small rocks could roll off the mountain and dent your car, and tires could get punctured whilst driving off road.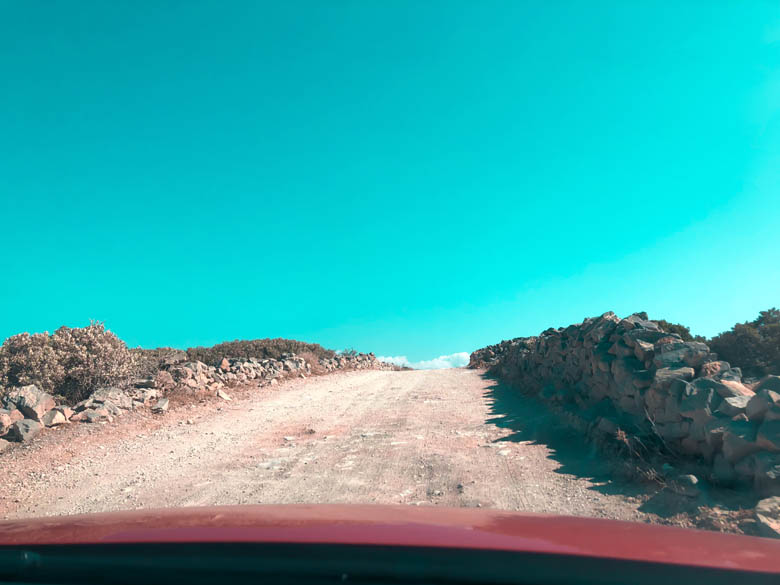 Car insurance is simply a cost you can't skimp on when driving in Crete or anywhere else in Greece.
Travel Insurance vs Car Insurance
Travel insurance and car insurance are not the same things.
Car insurance only covers the replacement value of the car rental and any damage to other vehicles or property. But it does not cover any medical expenses if you're hurt or need to go to the hospital.
That's why we always recommend getting travel insurance when visiting Crete. Travel insurance will protect you against cancellations, illness, injury, and even theft.
With the ongoing COVID-pandemic, airport chaos, and who knows what else, it's better to play it safe!
Get a travel insurance quote for a stress-free vacation and enjoy the adventure without worries. Here are some recommendations:
Other Crete Car Rental Tips
Here are some final, but essential car rental tips to know before we jump into the road rules for driving in Crete:
Always ask if the quoted price for your car rental includes insurance and what the deposit is
Always check the condition of your car before leaving the car hire company
Check the car rental damage report to make sure all existing damages have been marked down beforehand
Take photos of the car from different angles (all 4 sides and the top) just in case!
Don't drive your car rental across borders or to other islands in Greece without asking the car hire company for permission
Driving in Crete: Important Road Rules
Road Rules and Signs in Crete, Greece
The basic road rules and signs in Crete are the same as everywhere else in the European Union.
Most road signs are written in both Greek and English. The few that are written in Greek only will usually have an easy to decipher pictogram.
We live in Germany and didn't have any problems understanding the road rules and signs in Crete.
But if you got your driving license in the UK, Cyprus, Australia, New Zealand, or South Africa, then driving in Crete might be a little more challenging because our next point…
What Side of the Road Do You Drive On In Crete
The driving side in Crete is on the right-hand side of the road. This is the same driving side if you're from the US and EU countries. But the 'wrong' side of the road if you're from the UK, Cyprus, Australia, New Zealand, or South Africa.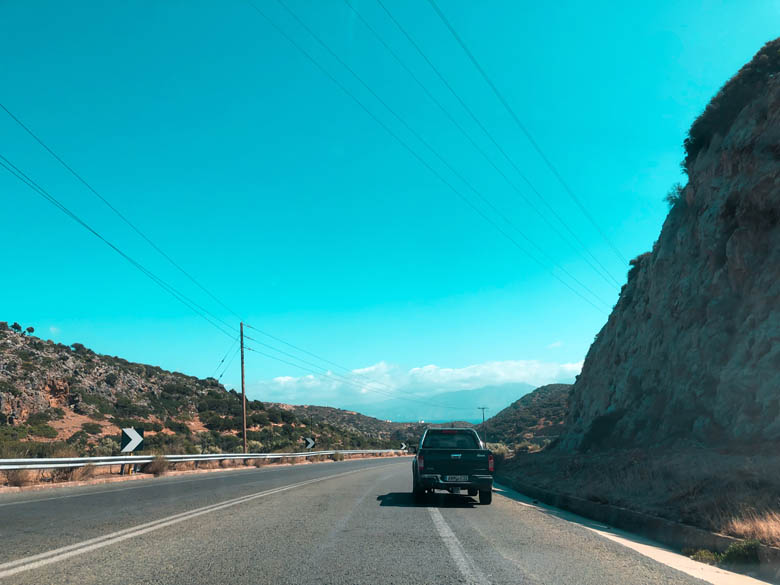 Driving on the right side of the road in Crete means that you will have to overtake on the left. It also means that you'll have to give priority (right of way) to cars coming from the right-hand side.
It can be a little challenging if you're used to driving on the left side of the road. But it's possible to 'switch gears' (excuse the pun) if you take it slow and steady.
How To Treat Roundabouts Driving in Crete
The driving rules for roundabouts or traffic circles are a little different in Crete and the rest of Greece.
In most EU countries, cars already in the roundabout have right of way. But in Greece, cars already in the roundabout have to stop and give priority to vehicles entering the traffic circle unless there is a road sign that says otherwise.
This can be very confusing, even for us coming from Germany. To be on the safe side, yield and approach a roundabout in Crete slowly.
If it looks like the other driver in the roundabout is reducing speed to come to a stop, then enter the roundabout and head right.
What Driving Style To Adopt in Crete
We always recommend driving more defensively than you would at home when you're in a foreign country. Driving in Crete is no exception.
Locals will most likely drive faster than you. They're on their home turf after all. So they'll be much more comfortable with the roads than you'll be.
When driving in Crete, don't be afraid to drive halfway on the emergency lane (if it's safe to do so) to let faster cars overtake you. The local Cretans will appreciate this kind gesture very much.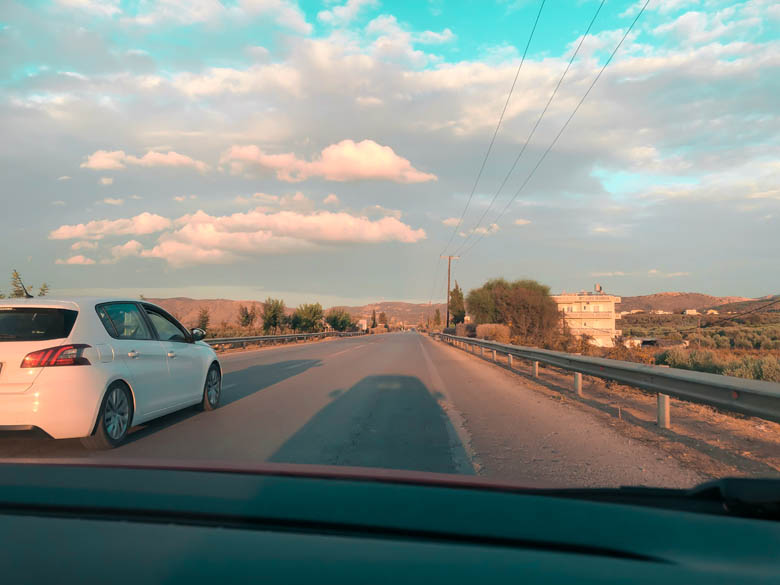 What Do Flashing Headlights Mean in Crete?
If a car is flashing its headlights at you from behind, the driver is asking you to move into the emergency lane so they can overtake you.
If a car from oncoming traffic is flashing its headlights at you, it means that you should slow down because there are speed cameras, traffic police, or an accident up ahead.
What is the Speed Limit in Crete
The speed limits in Crete are:
In the city: 50kmh (30mph)
On open roads: Up to 90kmh (55mph)
On highways: Up to 120kmh (75mph)
Make sure to follow these speed limits unless a road sign says so otherwise.
Do The Speed Cameras in Crete Work
If you're using Google Maps to get around Crete, you'll notice speed camera warnings along the way.
Most of these speed cameras are along the main highway (E75/E90) in north Crete. But there are probably more that aren't necessarily shown on Google Maps.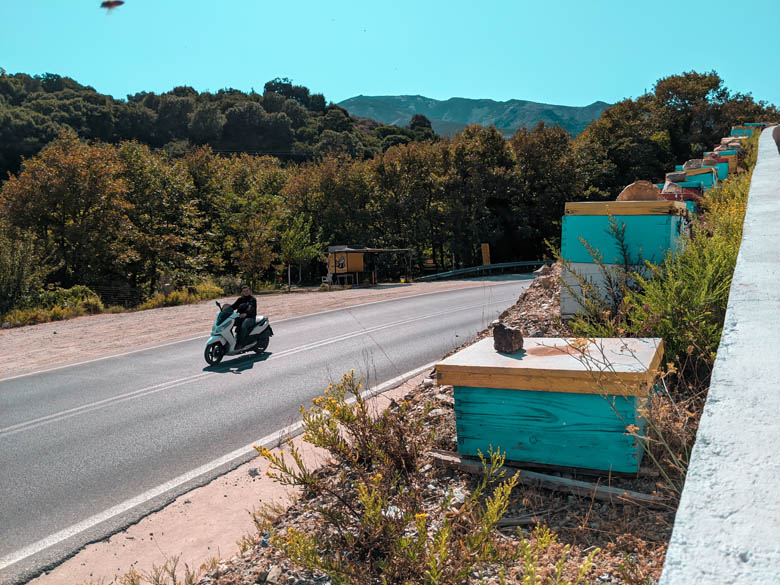 Whether there are speed cameras or not, we highly recommend always staying within the maximum speed limits for your own and others' safety.
Speeding is one of the highest causes of accidents in Crete. It's also taken very seriously here and could result in a hefty fine or points deducted from your driving license.
Related Guide: If you do happen to get a traffic fine abroad, read our How To Reduce A Speeding Ticket in Europe guide to get it reduced.
What Are the Roads in Crete Like
The road conditions in Crete vary depending on where you are on the Greek island. The roads with the best conditions are the main highways in Crete.
These are the E75/90 motorway in north Crete that extends east-west. And the 97 highway that connects north and south Crete. You'll see these shown as the yellow marked roads on Google Maps.
The conditions of the roads around the historic centers and villages are also good. But they're often narrow enough for only one car to pass at a time.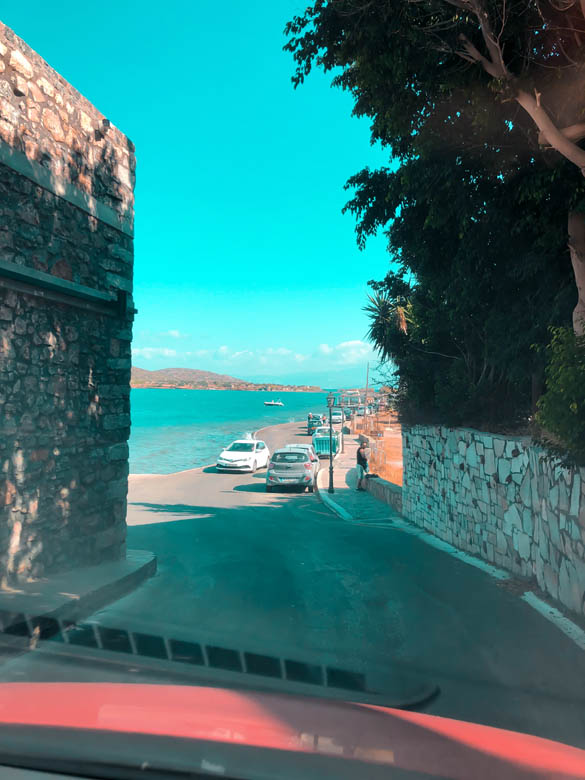 The most difficult road conditions in Crete are when you have to drive off road on dirt paths. Not only are these roads narrow. But they're often rocky and you'll have to drive carefully to dodge large holes in the path.
Driving Off Road in Crete, Greece
Don't worry – you'll only need to drive off road in Crete if you're planning to go off the beaten track. The road conditions to most of the popular beaches in Crete are pretty good.
The only exceptions are Balos and Seitan Limania beach. These two beaches are notoriously challenging to drive to due to the poor road conditions.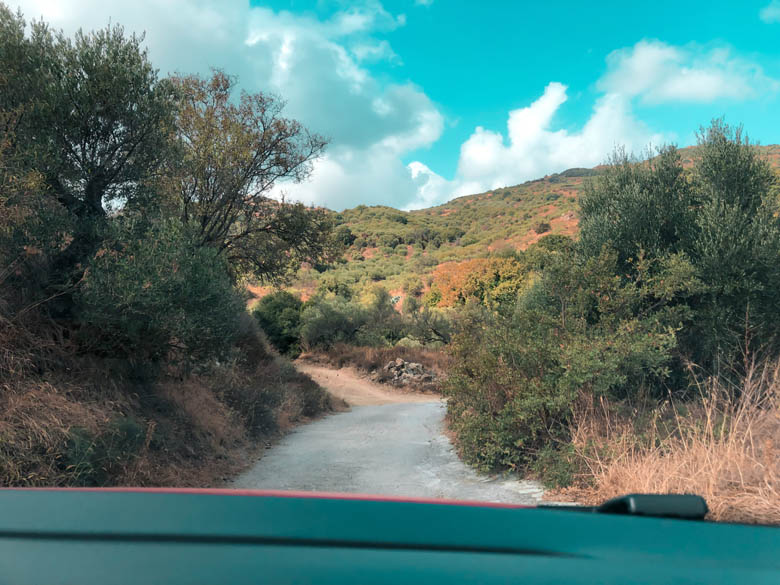 If you're planning to explore Crete more off the beaten track. Make sure to read our South Crete Beaches and Best Beaches in East Crete guide for tips on driving there.
Driving at Night in Crete
Another tip that we'd highly recommend is to avoid driving in Crete at night. Besides the main highways, there are no street lights on most of the roads in Crete.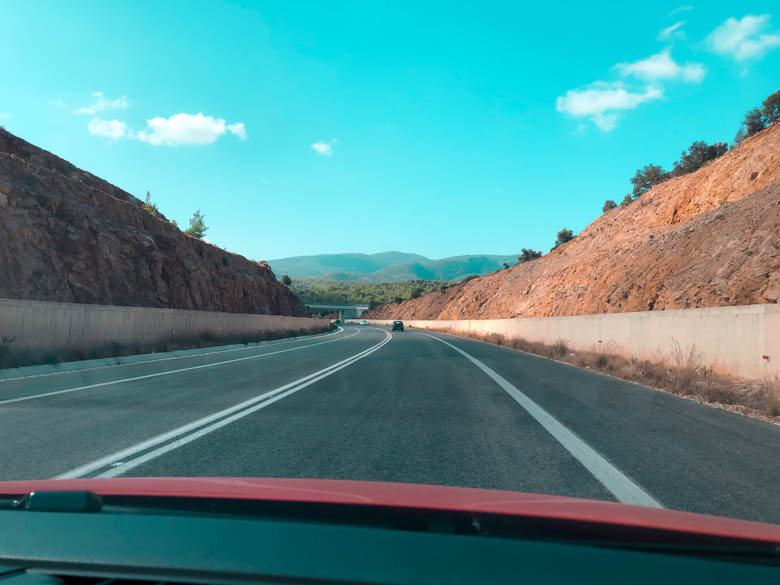 This makes driving at night difficult, especially in mountainous areas where there are lots of hairpin turns.
More animals wander across the roads at night too which makes driving at night dangerous. If possible, avoid driving at night in Crete as much as possible.
Are there Tolls Roads in Crete, Greece
Toll roads are quite common in Greece. But luckily, there are no toll roads in Crete!
What is the Alcohol Limit for Driving in Crete
The alcohol limit (maximum) is 50mg (0.05%) per 100ml of blood in Crete. This is less than the drinking limit compared to the UK and works out to around a pint of beer for an average 85kg man.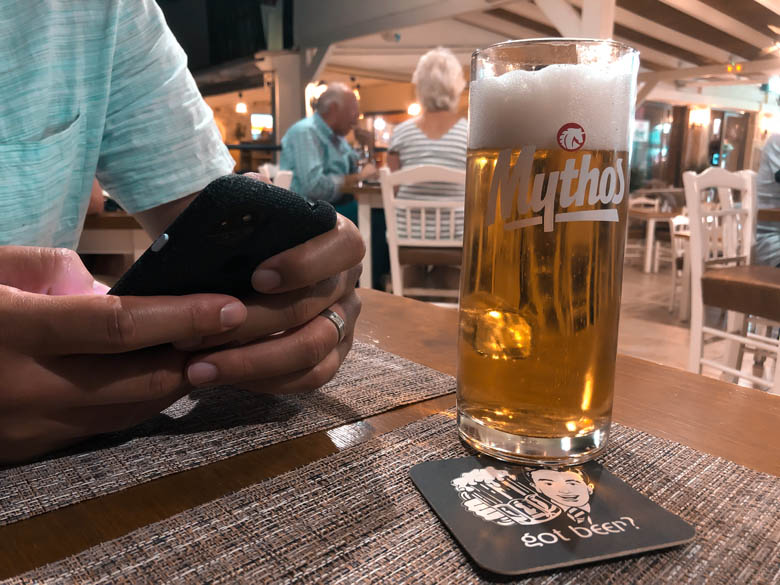 We'd highly recommend never drinking and driving in Crete. Drunk driving is severely punished in Greece.
If caught driving under the influence, you could be issued a massive fine, be banned from driving, or even be imprisoned for up to 6 months!
Our advice? Don't take any chances, abide by the laws, and don't drink before driving in Crete (or anywhere else).
Gas or Fuel Stations in Crete
Gas or fuel stations are pretty easy to find in Crete, more so in the north compared to the south of the island. You can usually find them near towns or villages along the main road or highway.
Just be wary that gas stations aren't open 24/7. Most fuel stations are open between 7AM and 7PM Monday to Saturday and are closed on Sundays.
Fuel prices are slightly different (€0.05 to €0.30 per liter) depending on which gas station you go to.
We noticed that gas prices tend to be less expensive outside the popular vacation towns in Crete. And the filling stations, Shell and Eko, often offered the lowest fuel prices on the Greek island.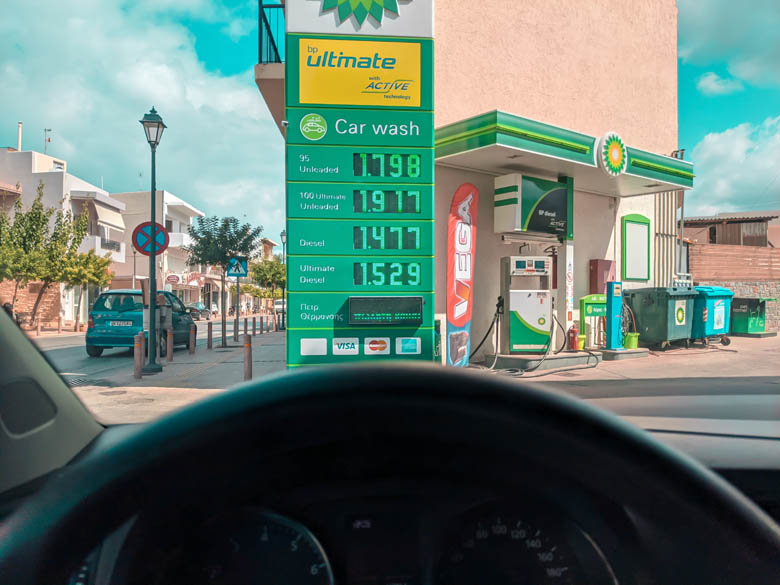 Greece has some of the most expensive gas prices in Europe. So make sure to keep an eye out on which gas station offers the best prices when driving in Crete.
You can pay for gas by credit card, debit card, or cash. All gas stations in Greece are serviced, meaning you won't need to pump your own gas when driving in Crete.
Parking in Crete
Parking in Crete is mostly free. There are only a handful of places like Preveli beach, Matala beach, and the old town of Chania, Rethymno, and Heraklion where you'll have to pay for parking.
You'll usually find parking on the side of the street. If not, open Google Maps and search for parking in the area.
What To Do If You Have A Car Accident in Crete, Greece
Touch wood! But if you do get into a car accident in Crete, call emergency services by dialing 112. We'd also recommend calling your car hire company as well if you're driving a rental.
Other Essential Rules To Know For Driving in Crete
Always wear seatbelts when driving in Crete – it's mandatory
Kids or children under the age of 12 may not sit in the front of the car without a special child seat
Never use a cell phone whilst driving
Use dipped headlights if there's poor visibility during the day
Never drive with full-beam headlights when driving in town
Police can impose fines in Crete but not collect them on the spot – fines must be paid at a Public Treasury office within 10 days
For a full list of driving rules, check out Sixt or EU Transport Road Safety website