Don't hike Samaria Gorge without these insider tips! From the best time to visit to hike this trail, what hiking gear or fitness level is required, how to get there, and what safety tips to know, to how long it really takes to finish the hike.
You can't visit Crete and not hike Samaria Gorge. You simply can't! Not only is it THE most beautiful hiking trail in Crete, but also one of the most famous trekking routes in Europe.
Behind its breathtaking beauty lies hidden dangers though and it's not for the faint-hearted. We both love hiking and have a great sense of adventure. But we must be honest and admit that we were NOT fully prepared for the hike.
Fortunately, we managed to complete the hike and live to tell the tale. A tale that we're sharing so that you can be better prepared for hiking Samaria Gorge than we were.
Using our first-hand experience, we're answering the most burning questions people ask before the long, challenging hike. From when Samaria Gorge National Park is open, what hiking gear or fitness level is required, how to get there, and what safety tips to know, to how long it really takes to finish the hike.
Make sure you bookmark, share or pin this Crete Travel Guide so you can refer back to it later.
Save Me For Later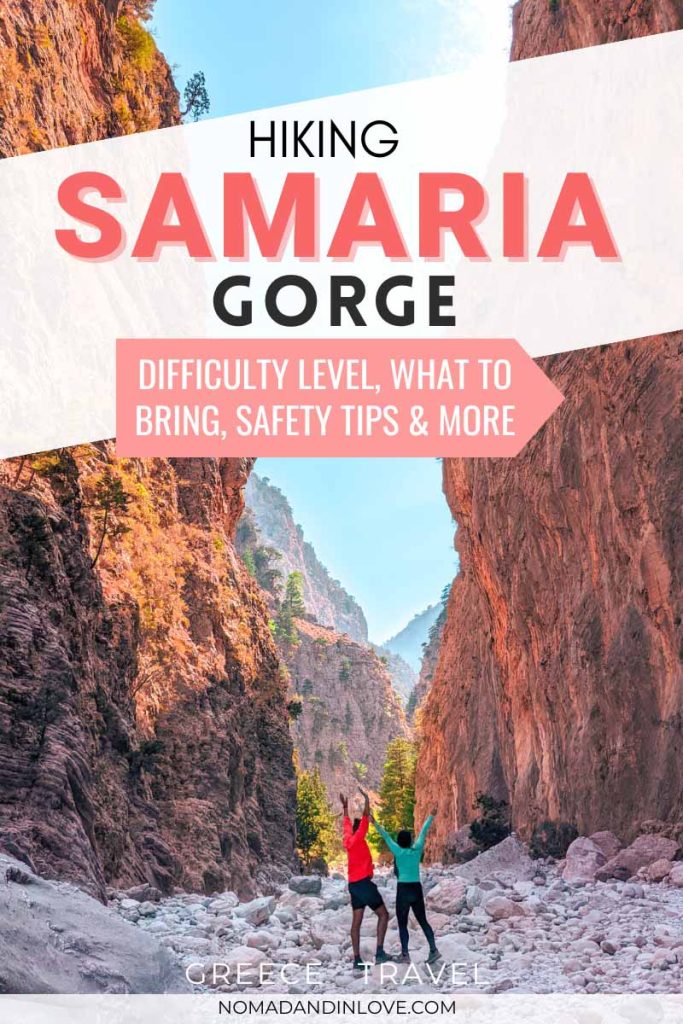 Is Samaria Gorge Worth It
Samaria Gorge is famous alright. But is it really worth it or just overhyped? After successfully completing the grueling hiking trail ourselves, we can confirm that it's absolutely worth it!
As hiking lovers ourselves, we've done some pretty epic hikes around the world. But nothing prepared us for the mind-blowing landscapes and tough 16km hike that is Samaria Gorge.
The distance was not the problem. It's the downhill hike on rocky terrain from the top of the mountains at an altitude of 1,230m down to sea level in the heat, that's the challenge!
It's totally worth all the joint pain and bruises though! The Samaria Gorge hike in Crete is probably one of the most memorable hikes we've ever done in our lives.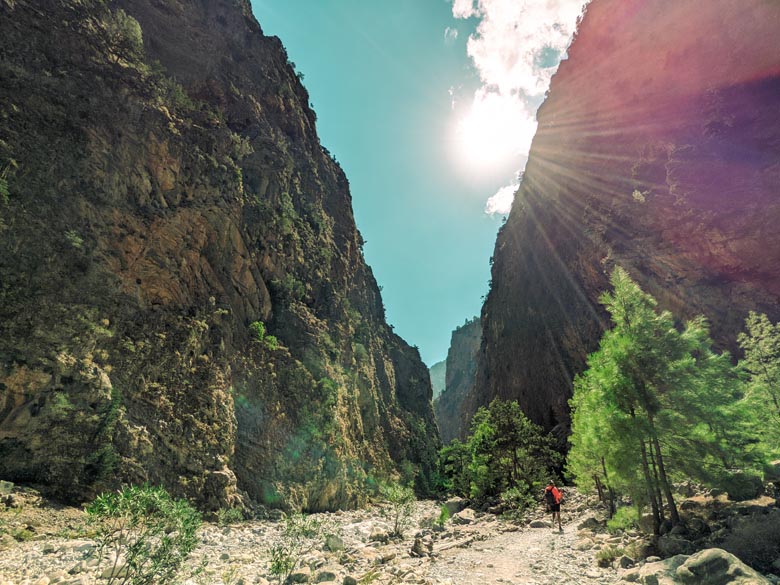 The dramatic change in landscapes as you descend from the White Mountains down to Agia Roumeli beach is truly spectacular.
You'll see everything from magnificent mountain peaks, panoramic vistas, and lush forests, to towering limestone cliffs, and striking rock formations until you finally end up at a beach with sparkling turquoise waters.
Hiking Samaria Gorge was such an incredible experience, that we'd even go as far as saying that it's a once-in-a-lifetime experience all outdoor lovers should add to their bucket list!
And if you love hiking, then this is an absolute must. Especially if you want to experience a different side of Crete besides its beautiful beaches.
Related Guide: What are the beaches in Crete like? Get a sneak peak in our 21 Best Beaches in Crete guide.
How Difficult is Samaria Gorge
Samaria Gorge is worth it, but how hard is the hike exactly? We're not going to lie – the hike isn't for everyone.
The difficulty level of this hiking trail is considered challenging on both Komoot and AllTrails. And we must say we agree after hiking it ourselves.
You don't need the fitness of a 5-star athlete to finish the hike. What makes this hike hard is the toll it takes on your hips, knees, and ankles from the downward descent.
The most difficult part of the trail is the first couple of kilometers where it's the steepest. After that, the descent is more moderate.
As long as you have the stamina to walk for 6 to 8 hours, then you'll manage to finish hiking Samaria Gorge with no problem.
It's definitely not an easy walk, especially in the heat. But that doesn't mean that you need to be an experienced or expert hiker to hike this beautiful gorge in Crete.
If you don't think you can manage the entire trail, don't worry – there is a short version of the hike you can do. We'll explain how later in this guide.
How Long Does It Take To Hike Samaria Gorge
Ask 7 different people how long it takes to hike Samaria Gorge and you'll most likely get 7 different answers. We were told that it takes on average 5 hours to complete the hike and boy, oh, boy was that a big mistake!
We would have missed the ferry if we hadn't jogged the last 3km (on very sore feet). So let's clear this question up so you don't make the same mistake we did.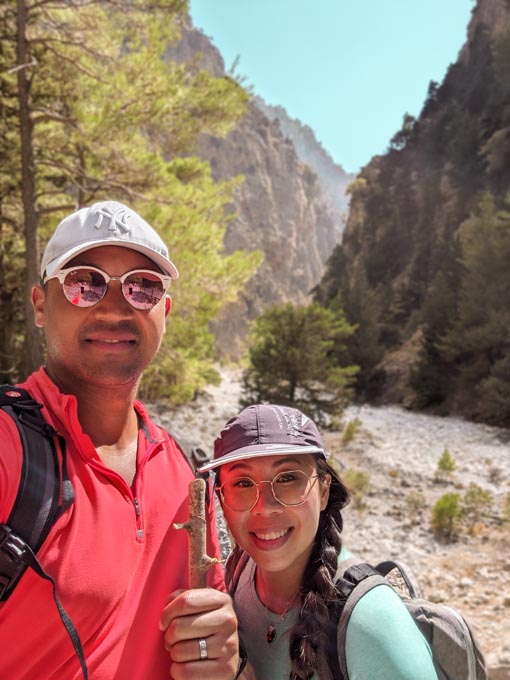 If you're an experienced hiker and your goal is to complete the hike as fast as possible, you could complete the entire hiking trail in as little as 3 to 4 hours.
But if you're stopping to soak up the gorgeous views, taking photos along the way, and enjoying a lunch break admiring kri-kris (Cretan mountain goats), then 7 to 8 hours is more realistic.
Five hours is the minimum most hikers will need to complete the hike, and that's assuming you're hiking with few stops in between.
We're both relatively fit and ended up taking 7 hours to complete the Samaria Gorge hike and walk another 3km to catch the ferry.
How Long Is Samaria Gorge in Crete?
The official length of the Samaria Gorge hiking route is 13 kilometers from Omalos to the outpost in Agia Roumeli. But you'll have to walk another 3km to reach the main town and beach to catch the ferry.
That's why most guides will say that the total length of the hike is 16km.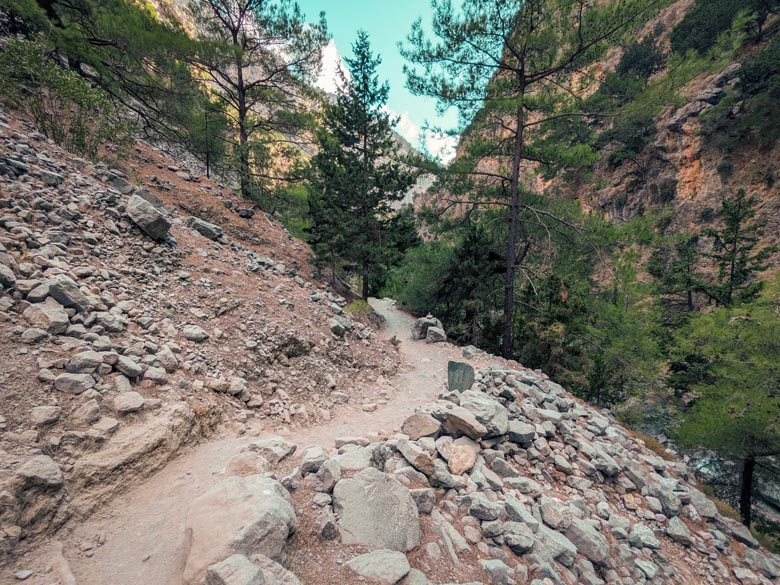 Bonus Tip: There is an option to take a private mini-bus from the outpost to Agia Roumeli beach so you don't have to hike the last 3km. Bring cash for this as it's an additional paid service.
Elevation of The Hike
The Samaria Gorge hike is at an elevation of 1,230 meters (or 4,035 feet) above sea level. The width of the gorge is 150 meters (490 feet) at its widest and 4 meters (13 feet) at its narrowest.
How To Prepare For Samaria Gorge Hike
When Does Samaria Gorge Open
Samaria Gorge is open every day from 1 May until 15 or 31 October, depending on the weather. Their opening hours are between 07:00 to 16:00.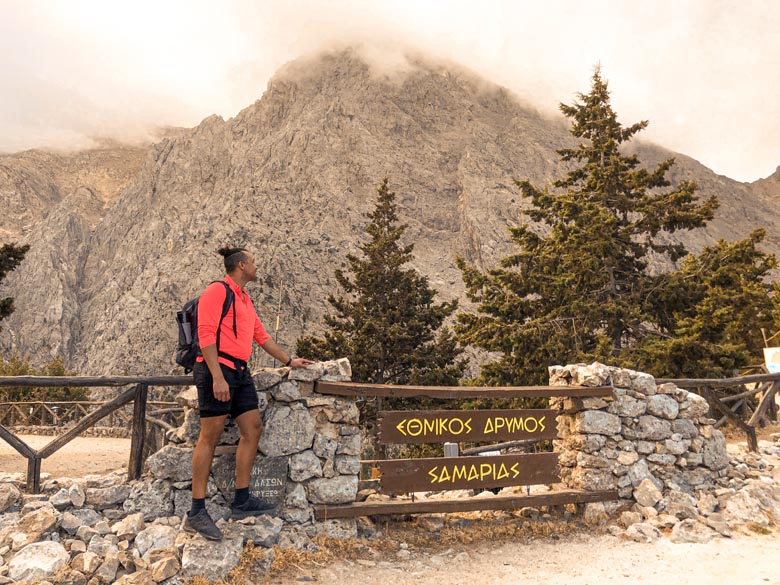 The opening hours of Samaria Gorge National Park may be until 16:00. But be aware that you won't be allowed to hike the entire route if you arrive at the entrance after 13:00.
If you arrive after that, you'll only be allowed to hike the first 2 kilometers of the trail before turning back.
Samaria Gorge may also close the hiking trail on short notice if bad weather like heavy rain or a heat wave is expected.
To be on the safe side, we'd recommend calling Samaria Gorge National Park at +30 28210 45570 to double-check that it will be open on the day you plan to hike it.
Best Time To Visit
Samaria Gorge is open for 6 months of the year, but the best time to visit is in spring.
From May to mid-June, you'll get to see the beautiful wildflowers in bloom. The hike is more comfortable since the temperature is cooler compared to the midsummer months. Plus, you'll avoid the crowds that typically arrive during peak season end-June to end-August.
The months of September and October are also great for hiking Samaria Gorge for the same reasons, only without the wildflowers.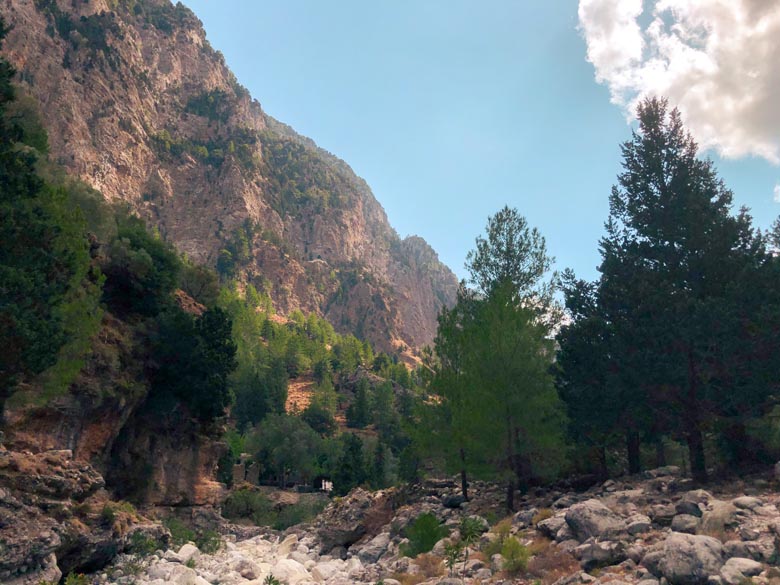 If you plan to do the hike during midsummer, make sure to start the hike as early as you can. That way you'll spend less time hiking during the hottest part of the day and have more time to cool down and swim at Agia Roumeli Beach.
Related Guide: Planning a vacation in Crete but not sure how you'll fit Samaria Gorge in your travel itinerary? Don't worry – check out our epic Crete Itinerary guide. We've put together 8 different itineraries for what to see and do in Crete in 3, 4, 5, 7 or 10 days!
Hiking Permits or Passes for Samaria Gorge
You do not need a permit or pass to hike Samaria Gorge if you're following the main hiking route. All you need is an entrance ticket.
The entrance ticket costs €5. The entry fee is the same whether you do the entire hike or just a short section. Children under the age of 15 years old get a free pass though.
Make sure to keep your entrance ticket so you can hand it back at the end of the hike. The park rangers tally these tickets to ensure that all hikers have safely exited the national park before nightfall.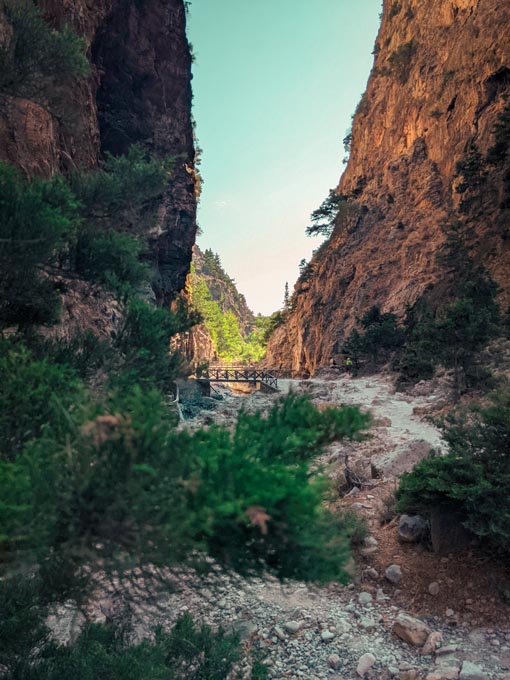 The only time you'll need a hiking permit for Samaria Gorge is if you're planning to hike beyond the main trail. Then you'll need a special hiking license or permit to do so.
Fitness Level Required
You don't need the fitness of a 5-star athlete to hike Samaria Gorge. As long as you're relatively fit enough to walk long distances, and don't have hip, knee, or ankle problems, you'll be fine.
For this hiking trail, you need to be fit enough to walk 13km (8 miles) within 7 to 8 hours. That's under 2km (1.2 miles) per hour. You can always take the private shuttle for the last 3km if you wish to.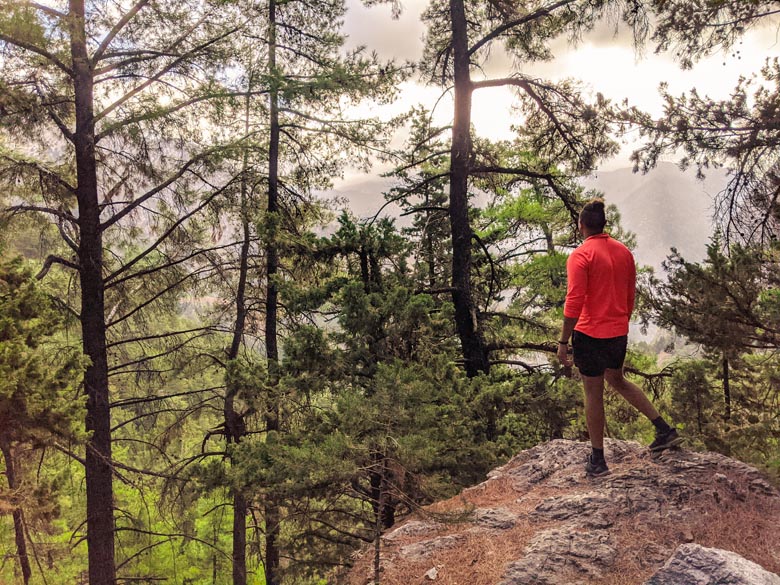 If you're doing the hike yourself (i.e. without a guide), it's really important that you manage your pace. That way, you can avoid rushing and jogging on swollen and sore toes (like us) to catch the last ferry at Agia Roumeli.
Alternatively, you can stay overnight at Agia Roumeli to avoid feeling rushed. Plus, you'll get an extra day to explore its beautiful coastline and seaside towns that are only accessible by foot or boat.
What Hiking Gear To Bring
Bringing the right hiking gear for Samaria Gorge can make or break the hike. After hiking the trail ourselves, these are what we consider the essential vs. nice-to-have items to bring.
Hiking Shoes (or Boots)
High-quality hiking shoes are an absolute necessity for this hike. Ideally hiking boots with ankle support as most of the trail is rocky and it's easy to lose your footing.
They don't need to be waterproof. What's important is that your hiking shoes or boots have been worn in. You really don't want to test new shoes out at Samaria Gorge and have to walk 16km with blisters.
Unfortunately, sneakers or trainers won't cut it. Michael made the mistake of hiking Samaria Gorge with his trainers. The soles of the shoes were completely destroyed by the end of the hike and they had to be thrown out.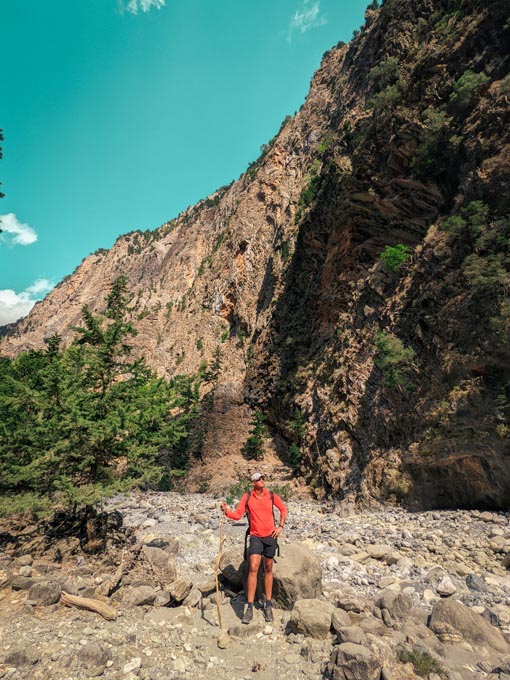 I wore my Columbia hiking shoes and my shoes made the hike as good as new! My only regret… I wish my hiking shoes were wrapped higher up my ankles for better ankle support.
Hiking Socks
Hiking socks are another essential item to wear for hiking Samaria Gorge. I made the mistake of wearing regular socks. I thought that if I had quality hiking shoes on, I wouldn't need 'special' socks.
But, boy was I wrong! As a result, I had to suffer from swollen, bruised toes and blisters for a couple of days.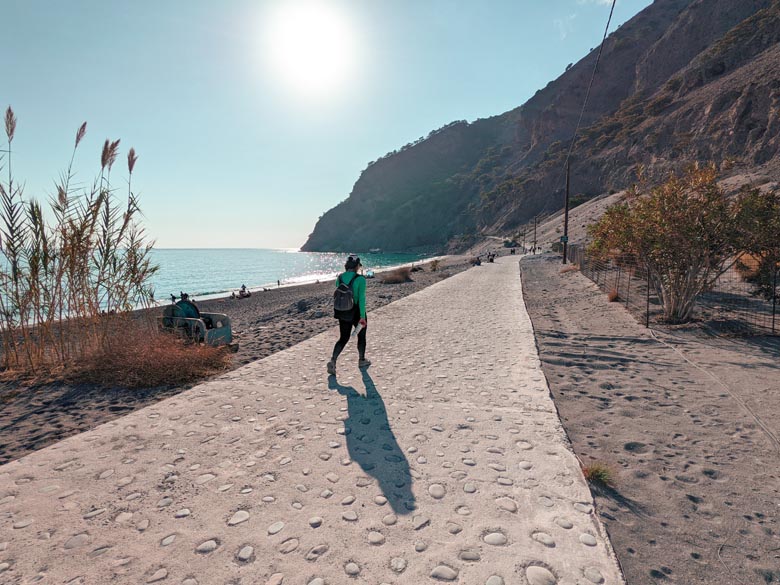 The constant downward descent of the hike puts a lot of pressure on your toes. Don't make the same mistake as I did and make sure to wear hiking socks.
Quality hiking socks will not only give you added cushioning. But they're also made from wool or other fibers for friction reduction so that you're less likely to get blisters.
I've learned from my mistakes and done some research. I'd highly recommend getting hiking socks from Darn Tough or SmartWool to give your feet the most protection.
Trekking Poles (Hiking Sticks)
Another hiking gear we'd recommend for the Samaria Gorge hike is trekking poles.
Trekking poles (or hiking sticks) will make hiking this beautiful gorge in Crete a lot more comfortable. They'll give you added balance and stability hiking on mostly rocky terrain.
If you have hip, knee, or ankle issues, then hiking sticks are a must-have. They'll reduce the pressure on your joints and prevent falls when slipping on loose rocks.
Otherwise, for the average hiker, trekking poles are not an absolute necessity, but rather a nice-to-have.
What To Wear For Samaria Gorge Hike
Wearing something comfortable and practical is key for hiking Samaria Gorge.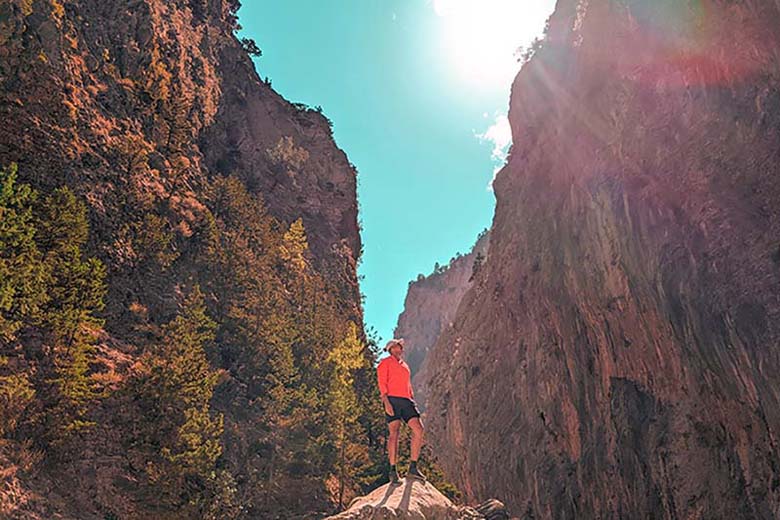 We'd recommend wearing any lightweight top and shorts made from a quick-dry synthetic material. Long or short sleeve is entirely up to you. The hiking trail is clear of vegetation, so you won't necessarily need long pants to protect your legs.
The most important items to wear for this hike are a cap (or hat) and a lightweight jacket. You'll need something warm to wear at the start of the hike as it can get cold near the top of the White Mountains.
What To Bring For The Hike
These are the essential items to pack and bring for the hike.
A 750ml or 1-liter refillable water bottle
There are several water fountains along the hiking trail, so you won't need to carry more water than that. The water from these fountains is sourced fresh from the mountain stream. Don't worry – it's perfectly safe to drink. I have a very sensitive stomach and had no problems after drinking the water.
Food and snacks
Make sure to bring enough food and snacks for the day. There aren't any restaurants, shops, or cafes except at the start and end of the hike.
Sunscreen (eco-friendly if possible)
Sunscreen is a must. There is little to no shade when you reach the midpoint mark of the hiking trail.
Swimwear, towel and flip-flops
You'll need these if you're planning to swim at Agia Roumeli beach after the hike.
Cash
You'll need cash to pay for the entrance ticket (€5), ferry ticket (€15), and bus ticket to get back from Samaria Gorge. If you plan to buy food or ice cream at Agia Roumeli, we'd recommend budgeting more.
Toilet paper
There are toilets along the hike, but toilet paper isn't always available.
Medication
Last but not least, bring any medication you may need. This is especially important if you're allergic to bees. Plasters are also great to bring if you tend to get blisters.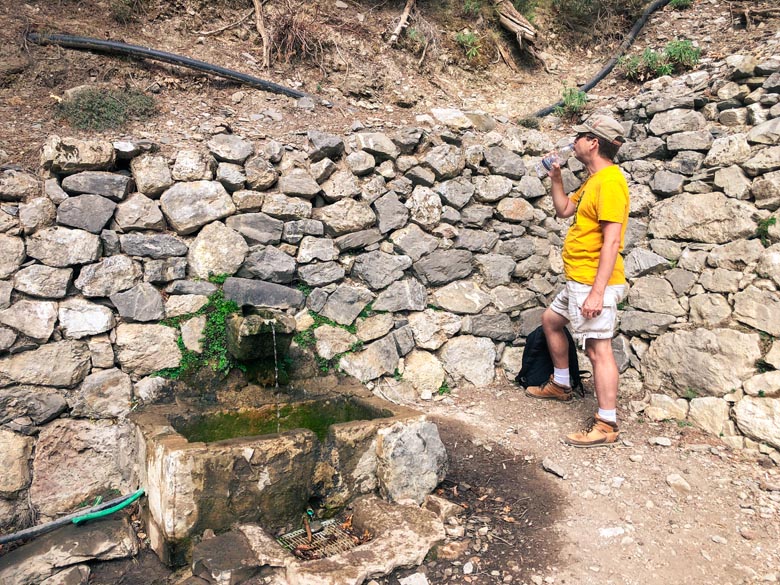 Sustainable Travel Tip: There are trash bins along the hike. If you're up for being more eco-friendly, consider holding onto your non-biodegradable trash and ditching it in one of the bigger towns in Crete where trash collection is more frequent. By doing so, you'll reduce the chances of rubbish ending up in the forest or beach.
Samaria Gorge Hiking Trail: What It's Like
Where Is Samaria Gorge
Samaria Gorge is located on the southwest part of the island, around 45km south of Chania. The gorge was formed by a small river running between the White Mountains and Mount Volakias over thousands of years, masterfully carving it into the magnificent gorge it is today.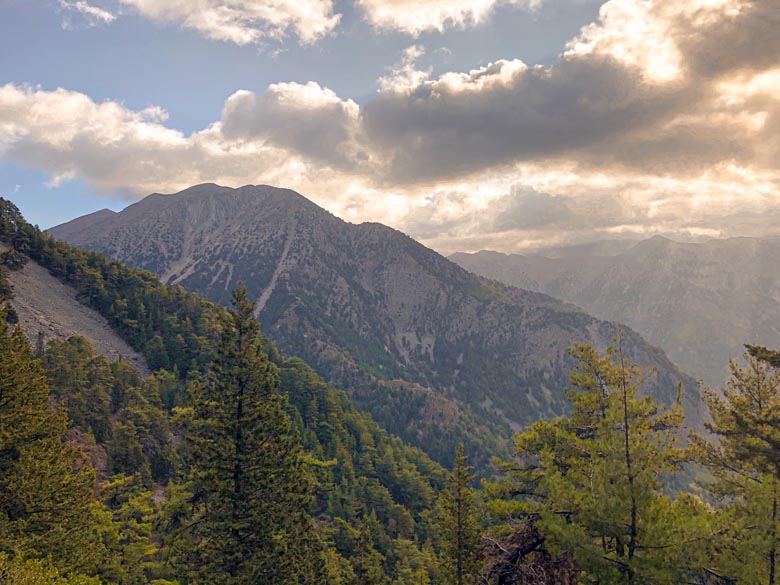 Start of the Samaria Gorge Hike
The start (or trailhead) of the hike is at Xyloskalo near Omalos village. You'll find a small coffee shop, a bus stop as well as parking here.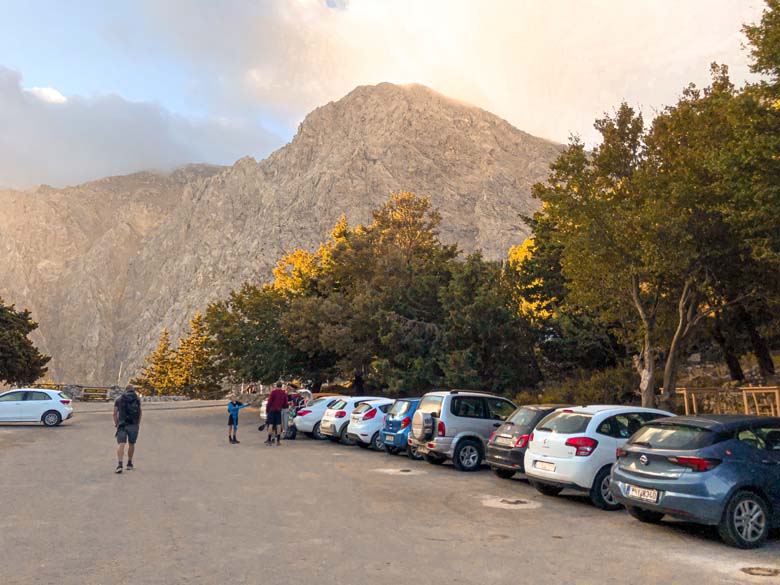 Samaria Gorge is a point-to-point hike. This means that the hiking trail starts in one location and ends at a different location (i.e. not the trailhead) which can make it logistically tricky getting to and back from the hike.
Don't worry though – we'll share exactly how you can get to and from this beautiful hiking trail in Crete later in this travel guide.
Related Guide: Planning to rent a car in Crete? Make sure you read our Driving in Crete guide. Find out what driving license you'll need, whether car insurance is necessary, and how much it costs to rent a car, to important road rules to follow to have a safe road trip in Crete.
Hiking Trail Terrain
The terrain of the hiking trail is mostly rocky. The loose rocks can cause slipping and sliding in some places. But other than that, no scrambling or climbing is involved at any point along the hike.
The main hiking route is pretty well-marked. You shouldn't have any problems hiking Samaria Gorge on your own (i.e. without a tour) if you follow the path.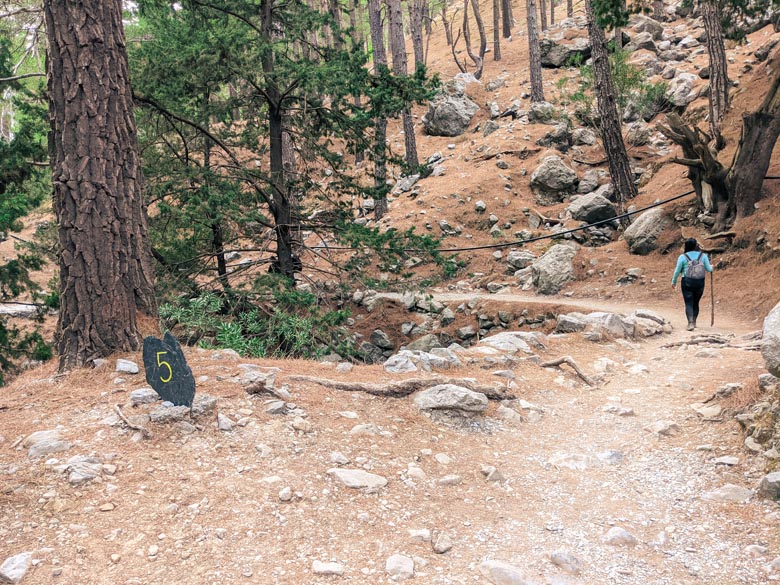 Along the hike, there are signs that give you the average time to the next rest stop (water fountains, toilets, and smoking areas), as well as how many kilometers you've hiked on the route.
The first 3km to 4km (2.5 miles) of the hike is the steepest and hardest on the knees. But it's been made easier over the years with man-made carved-out steps.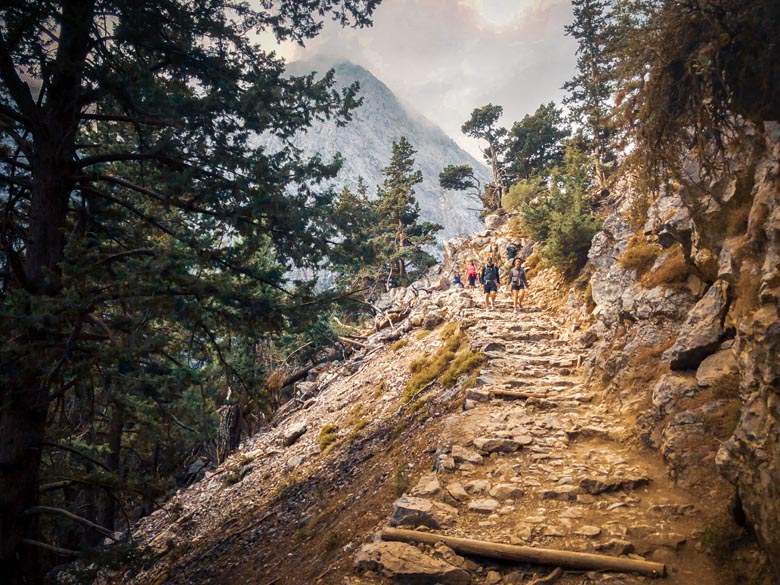 After the steep descent, the gradient of the rest of the hike is more gentle. The terrain does ascent and descent a bit, but not by much.
You'll know you've reached the halfway point of the hike once you reach the old Samaria Village. People used to stay here up until 1962 when Samaria Gorge was officially declared a National Park.
Today, the stone buildings of this village are used as a medical clinic and lodgings for researchers.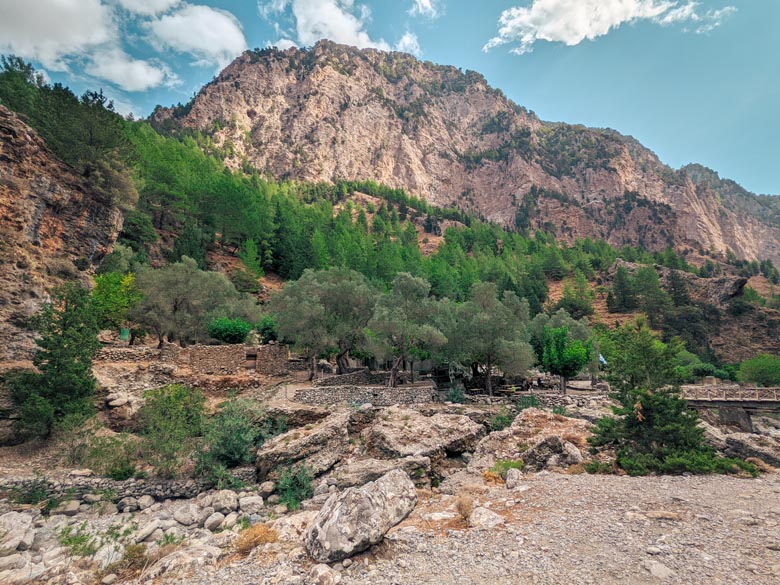 Once you've reached this point, we'd suggest stopping here for a lunch break. You'll probably get to hang out with some local kri-kris here too.
They are wild so admire them from a safe distance. And please don't feed them anything foreign that is not from their natural habitat.
Highlights and Must-See Landmarks
The entire Samaria Gorge hiking trail is beautiful. But it's the second half of the hike that's truly breathtaking.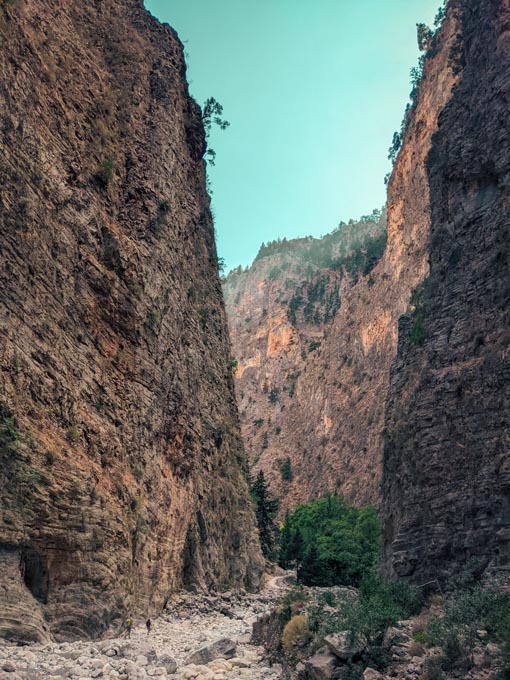 After you've reached old Samaria Village, the hiking trail begins to narrow dramatically. The path is filled with rocks as far as the eye can see.
Walking between staggering cliffs on both sides was one of our absolute highlights of the hike. We felt like we were on another planet surrounded by this otherworldly beauty.
As you continue a few more kilometers down the trail, you'll arrive at the most famous section of the hike – the Iron Gates. This is the narrowest part of the gorge where it's over 500 meters high (1,640ft) but only 4 meters (13ft) wide.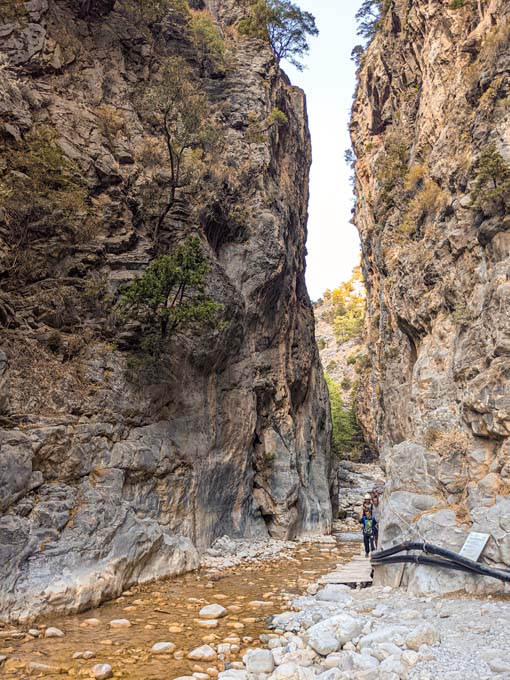 Once you've reached this must-see landmark, you only have to hike another 1.5km (1 mile) to reach the official end of the Samaria Gorge hike.
From here, you can either walk the remaining 3km (2 miles) or take a private minibus (paid service) to reach Agia Roumeli beach.
Can You Walk Samaria Gorge Both Ways?
You can walk Samaria Gorge in both directions. The main hiking route is the downward descent from north to south. But you could also choose to hike up from the Samaria Gorge south entrance.
Hiking up from south to north is easier on the knees, but harder fitness-wise. If you prefer to hike in this direction instead, make sure to budget more time to complete the hike.
Can You Hike Just A Part of Samaria Gorge?
Yes, you can just hike a part of Samaria Gorge if you don't want to trek the whole nine yards. There are two ways you can do this.
The first way is to drive to Xyloskalo, park your car there, and hike the first few kilometers of the trail. After you've reached the 3km mark, simply turn around and hike back to the car.
This is a great option if you want to see the White Mountains and hike in the covered, forested area. But if you want to see the most famous section of the hiking trail (the Iron Gates), then the second option is for you.
For this option, you'll need to take the ferry from the town Sougia or Chora Sfakia to Agia Roumeli. You can buy your ferry tickets online from the Anendyk website.
Once you arrive in Agia Roumeli, head to the Samaria Gorge south entrance, buy your entrance ticket, and walk 1.5km to see the Iron Gates.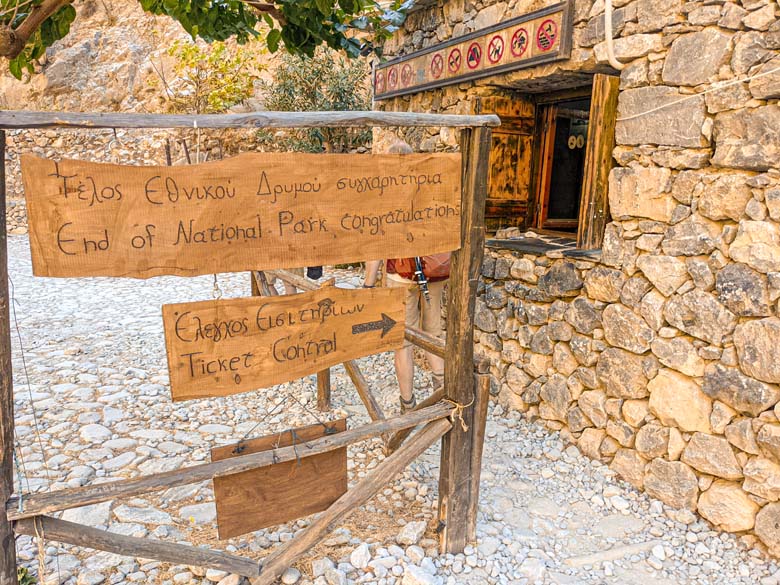 Plants and Wildlife of Samaria Gorge
Samaria Gorge was not only declared a National Park. But it also joined the UNESCO World Biosphere Reserve Network in 2010 because of its unique biodiversity.
So yes – there are exquisite plants and wildlife that you can encounter during the hike with a bit of luck.
We're more animal lovers than plant experts. But we do know that the most famous flower to see at Samaria Gorge is the dragon arum. This flower is unique for its tubular shape and deep red color that makes it look like it belongs to the dinosaur era.
Now for our fellow animal lovers. There are over 32 types of mammals living in and around the national park according to the official Samaria Gorge website. The largest mammal and also the most famous, is the native Cretan mountain goat (better known as kri-kri).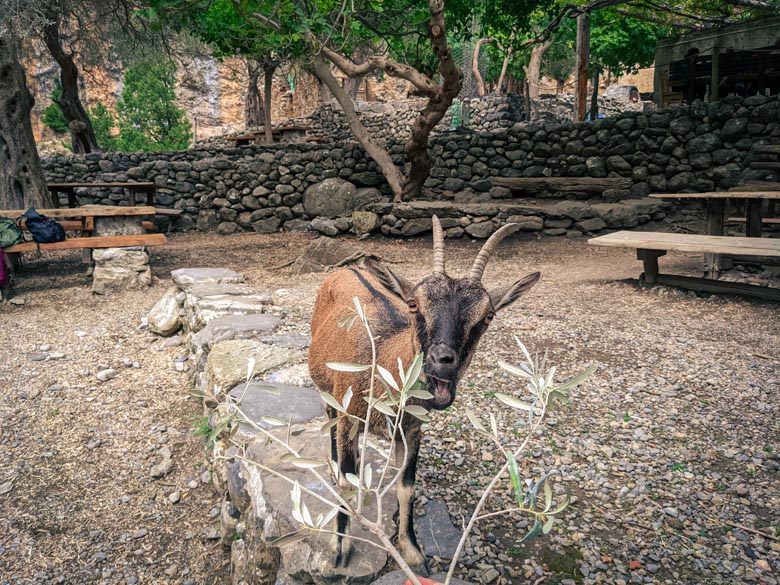 Researchers believe that kri-kris have been living in Crete since prehistoric times. But today, they're quite rare to see beyond the White Mountains and Samaria Gorge.
If you are interested in flora and fauna, we'd highly recommend joining a guided tour. That way you can learn about the unique topography of Samaria Gorge, its native plant and animal species, as well as the myths and legends of the area.
Samaria Gorge Guided Hike Tours
There are other benefits of hiking Samaria Gorge with a guided tour.
Firstly, all the logistics of getting to and back from Samaria Gorge are taken care of. You won't need to rent a car, worry about where to find the bus stop or catch the ferry, and where to buy the entrance tickets. All you have to do is show up on time and enjoy the hike.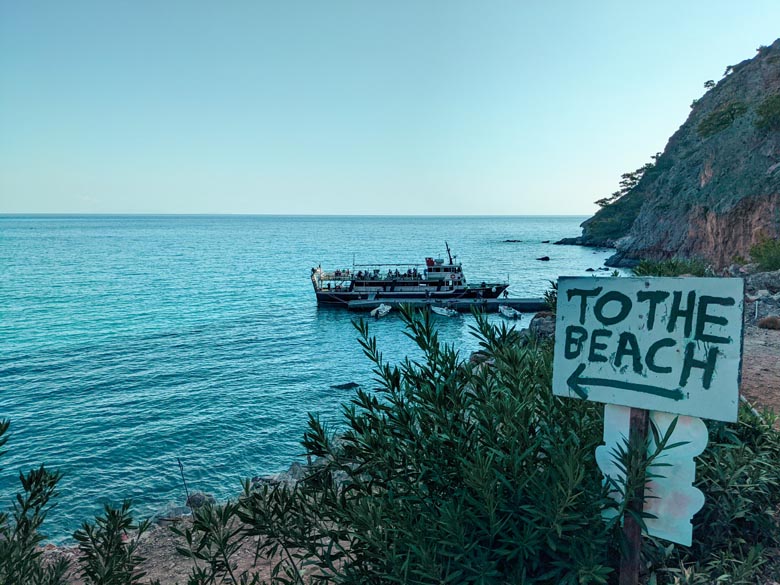 Secondly, you'll be joined by a professional guide on the hike. Not only are they there to make sure that everyone is doing okay along the trail. But they'll make sure you maintain a good, comfortable pace to finish the hike and catch the ferry back.
And lastly, you can choose to hike with the larger group, or go off on your own and hike at your own speed. The guide will usually follow the last hiker to make sure that the entire group completes the trail on time. So whether you want to hike in solitude or prefer some company, joining a hiking tour is a good option.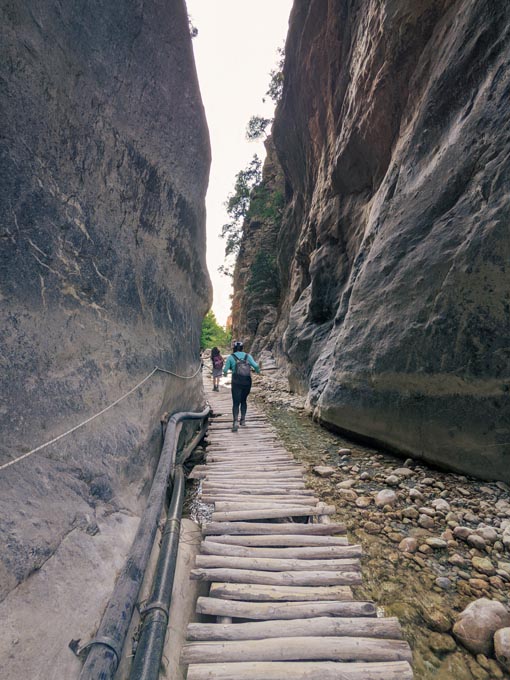 We recommend booking your Samaria Gorge hike tour with GetYourGuide. That way if the weather takes a turn for the worse, you can cancel the tour (up to 24 hours in advance) and get a full refund.
Here are some options:
Bonus Tip: Most tours include pick-up and drop-off, but don't include the entrance to Samaria Gorge (€5) or the ferry ticket (€13). Make sure you read the details before booking.
Responsible Hiking and Safety Tips
Samaria Gorge is challenging and like any hike, it has its dangers. For this hiking trail, in particular, the dangers are sun or heat stroke, dehydration, flash floods (if it rains heavily), and the risk of falling rocks.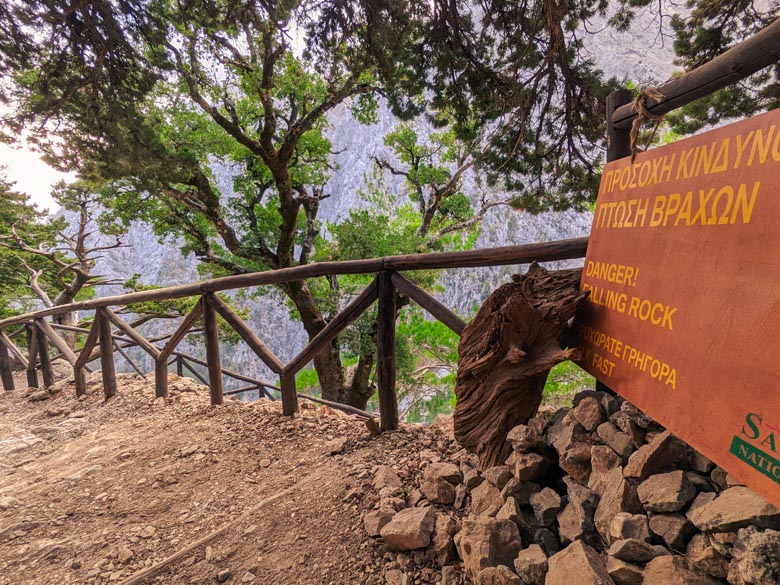 Over time, the National Park has made a lot of effort to make the hike as safe as possible.
Overhead fence coverings or canopies have been built along certain sections of the trail to protect hikers from potential falling rocks. SOS radios are placed along the trail to call emergency services in case of injury. Park rangers and donkeys are waiting along the hiking route in the event anyone has a medical emergency. A doctor is always on-site at the Old Samaria Village Medical Center and there's also a helipad if a helicopter is needed.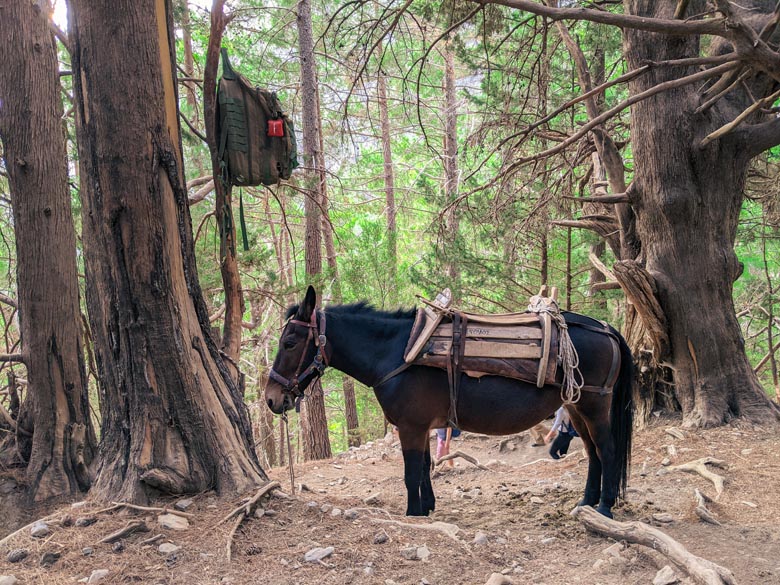 You can make the hike even safer for yourself and others by following these easy safety tips:
Stay on the hiking trail at all times
Hikers who have gone off the main path (without a special hiking permit) have gotten lost at Samaria Gorge before. Don't make the same mistake and always stay on the designated route.
Don't smoke until you reach the resting areas
Do your part in preventing wildfires by only smoking at rest areas. There are water buckets there for you to throw your cigarette butts in when you're done.
Only drink water from designated fountains
Don't drink water from any streams you'll find in the gorge. Be a responsible hiker by not swimming, dipping your feet, or throwing things in the streams or any body of water.
Do not litter
Last but not least, leave no trace – take only photos, leave only footprints. Always take your trash with you or throw them in the trash bins on the trail. This helps prevent potential wildfires and keeps the resident wildlife safe from eating dangerous objects.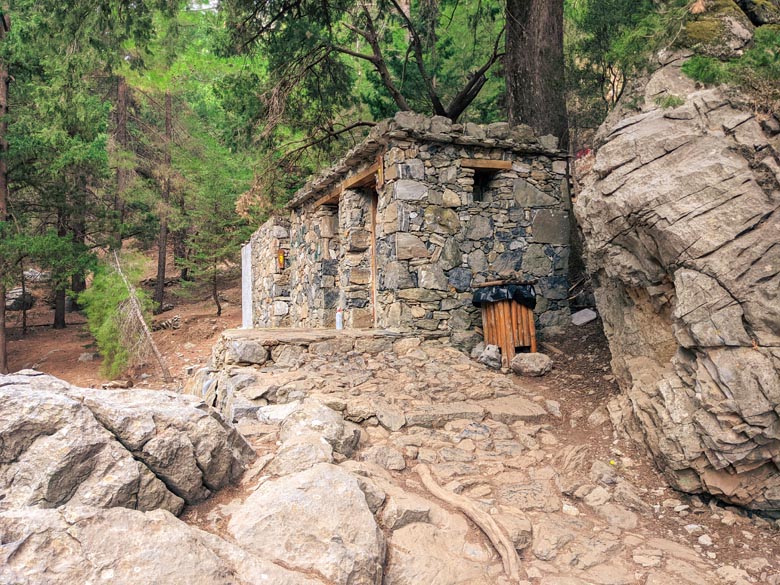 Age or Health Restrictions
There are no specific age or health restrictions to hike Samaria Gorge. It's entirely up to you.
The hiking trail is 16km long though. So make sure that you have the physical health and endurance to walk that kind of distance.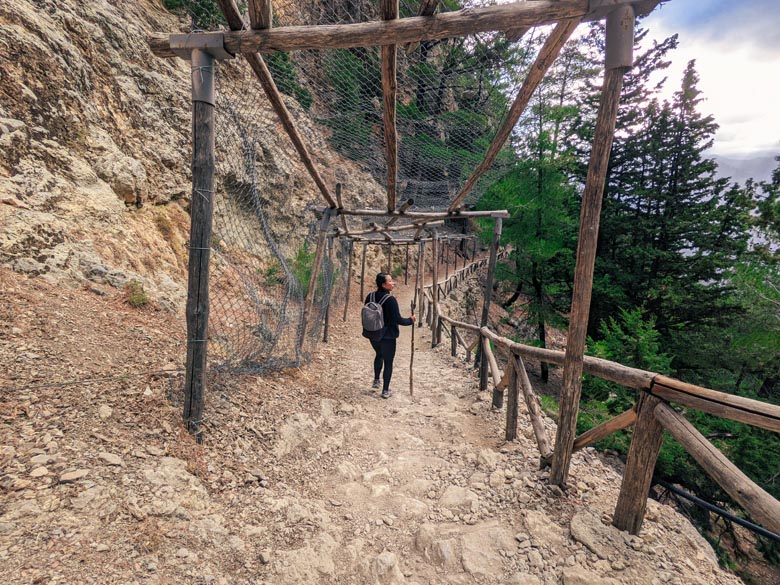 The route is steep at times and there are sections where you'll be completely exposed to the sun (i.e. no shade). If you suffer from a heart condition, high blood pressure, breathing problems, vertigo, weakness in the joints, or joint pain, or if you're pregnant, then you should see a doctor before attempting this long and difficult hike.
Can You Hike Samaria Gorge With Kids or Pets?
Children are allowed to hike Samaria Gorge. But whether your kids should hike it is up to you as the parents.
Personally, we wouldn't bring young children (younger than 15 years old) to this gorge in Crete unless you're hiking the short or easy version. But if your kids are used to hiking 6 to 8 hours, then by all means, do it.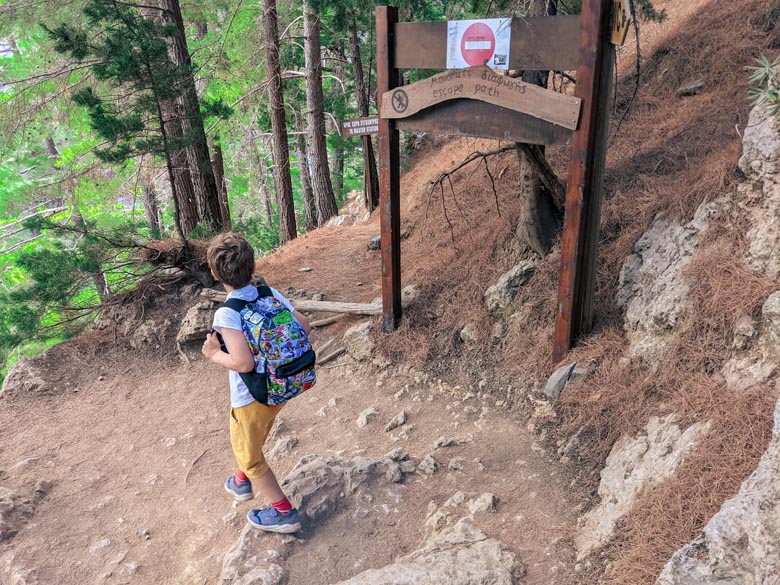 We saw people of all ages hiking Samaria Gorge, from young to old.
We didn't see any dogs on the trail, but you are allowed to take your dog with you to hike Samaria Gorge. The only rule is that dogs must be on the leash at all times.
Dogs (or any other pets) are not allowed to run freely in the national park as there are other animals living there and it's important that we protect these residents.
We have a dog ourselves. We wouldn't bring him on this hike simply because the rocky ground can get very hot and we don't want to risk burning his paws.
Have There Been Deaths at Samaria Gorge?
There have been deaths in the past, but these are few and far between.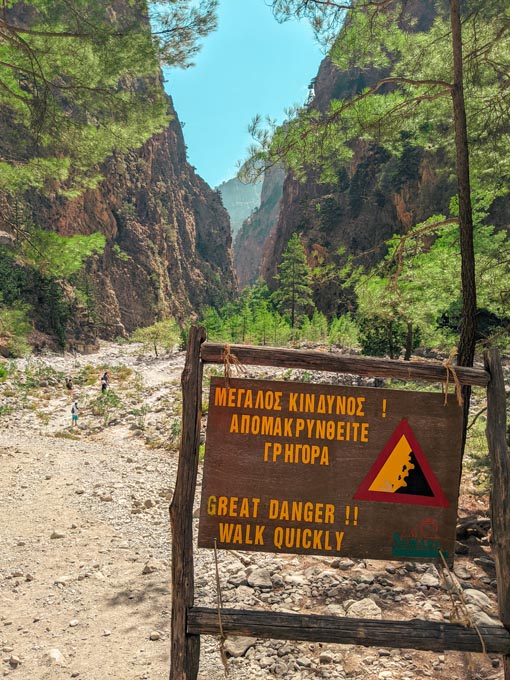 Most deaths that have occurred at Samaria Gorge were caused by pre-existing health conditions (i.e. heart attack), or hikers wandering off the main trail and getting lost or stuck in a crevice.
The hike has been made as safe as humanly possible. But in the unlikely event that need help at Samaria Gorge, here are the emergency numbers to call:
SOS: 112
Fire Service: 199
Emergency Aid Center: 166
Police: 100
Don't Forget Travel Insurance
Travel insurance will protect you against injury, illness, theft and even trip cancellation. It's comprehensive cover in case anything goes wrong. We never go on a trip without it as we've had to use it many times in the past. Here are our favourite companies that offer the best value and service:
Getting To Samaria Gorge
Samaria Gorge is one of the most beautiful hiking trails in Crete, but it's not easy to there. Especially if you're taking public transport or planning to drive there yourself.
We spent hours researching the best way to get to Samaria Gorge. From taking the public bus, ferry, joining a guided tour, to getting there by car.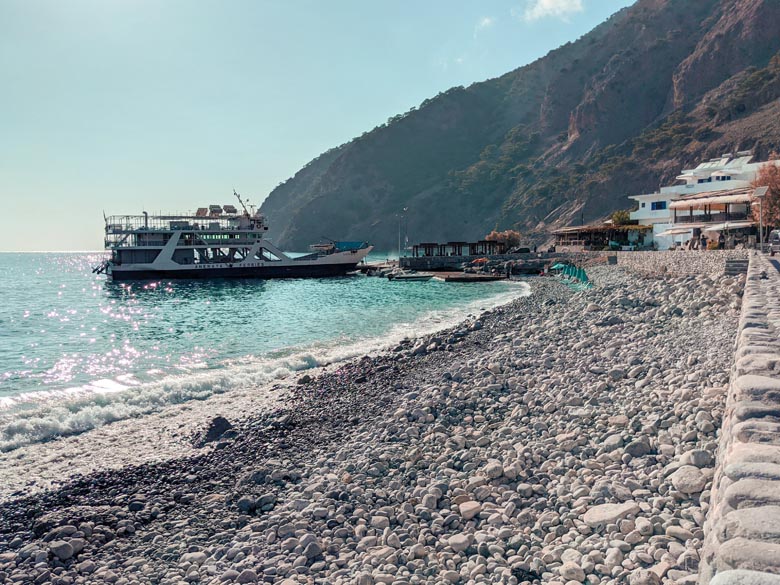 Find out what's the best way for you to get there based on your travel itinerary and budget in our epic How To Get To Samaria Gorge guide. We've shared the 4 different ways to get there from easiest to most difficult, how much each option costs, and which one will suit your travel itinerary best.
How To Avoid The Crowds At Samaria Gorge
Samaria Gorge attracts tens of thousands of hikers every year. For many travelers, it's their main reason to visit Crete. But that doesn't mean you can't avoid the crowds on the hiking trail.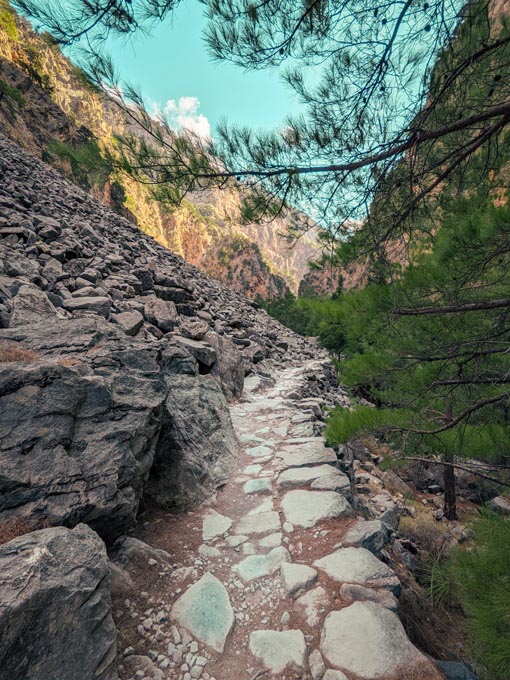 The start of the hike is often the busiest, especially if you arrive between 9 and 10 in the morning. If you want to beat the crowds, we'd recommend arriving in Omalos the day before and staying overnight. That way you can start the hike the next morning as soon as Samaria Gorge opens at 7 AM.
Otherwise, you could also start hiking at noon (12 PM) when most hikers are a few hours ahead of you, and stay overnight in Agia Roumeli before catching the ferry the next day.
Where To Stay Near Samaria Gorge
Omalos and Agia Roumeli are both great places to stay near the Samaria Gorge hike.
We'd recommend staying in Omalos if you prefer to explore the non-touristy villages near the White Mountains. You'll get to experience a different part of Crete beyond its beautiful beaches.
But if you're a helpless beach lover (like us) then we'd recommend staying in Agia Roumeli. That way you can explore the picturesque coastal villages and stunning beaches nearby that you can only get to by ferry (inaccessible by car).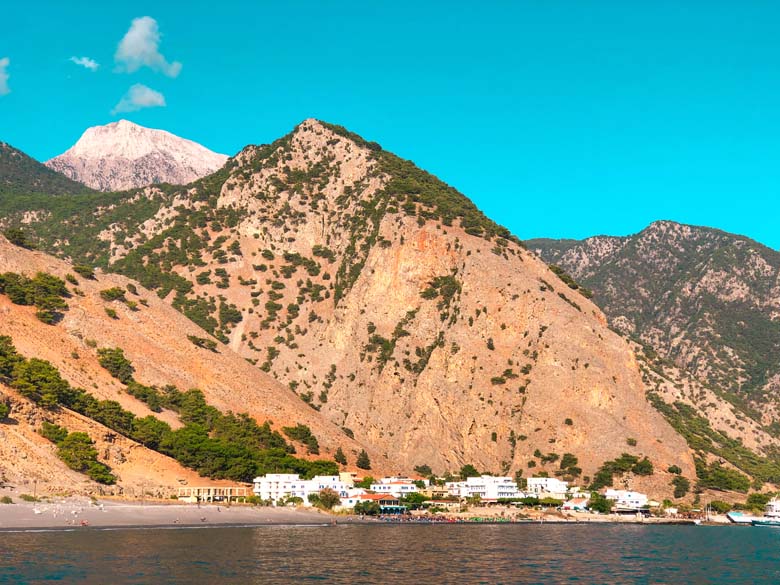 There aren't many hotel or accommodation options in either of these towns. But here are the few that we found and would recommend.
Places To Stay in Omalos
Places to Stay in Agia Roumeli
All of these hotels and vacation apartments are on the beachfront or within 100 meters of the beach.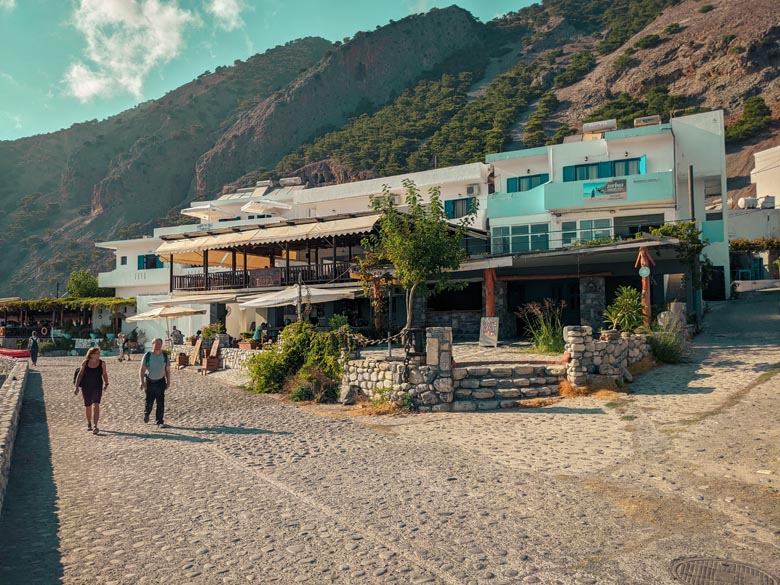 Frequently Asked Questions (FAQ)
What side of Samaria Gorge is easiest to hike?
The easiest way to hike Samaria Gorge is from the south entrance near Agia Roumeli. The hiking trail is mostly flat and you'll only need to walk 1.5km to see the most famous section of the hike – the Iron Gates.
Do you need a special hiking permit to hike Samaria Gorge?
No, you don't need a special permit for Samaria Gorge if you're following the main hiking route. The only time you'll need a hiking permit is if you're planning to hike beyond the main trail.
How much does it cost to hike Samaria Gorge?
A day trip to hike Samaria Gorge will cost on average €35 to €50+ per person depending on whether you're getting there by car (self-drive), public bus, or hike tour. For a detailed cost breakdown on how much it costs to travel Crete, check out our How Expensive is Crete guide.
Can you hike Samaria Gorge on your own?
You can hike Samaria Gorge on your own (without a tour) by getting there by car or bus. As long as you budget enough time to complete the hike and get to the ferry at Agia Roumeli on time, it's perfectly safe to do the Samaria Gorge hike by yourself.
Wrapping Things Up
Hiking Samaria Gorge is a once-in-a-lifetime experience we will never forget (mistakes and all). If we ever make our way back to Crete, we'll definitely be hiking this gorgeous trail again. Only this time with the correct hiking gear and managing our time better so we're not rushing toward the end.
If you love action-packed adventures like this, make sure you check out Richtis Gorge and Kourtaliotiko Gorge.
We hope our guide has saved you time and money planning your vacation in Crete. For more tips and inspiration for things to do on the island, check out our Crete Travel Guides.