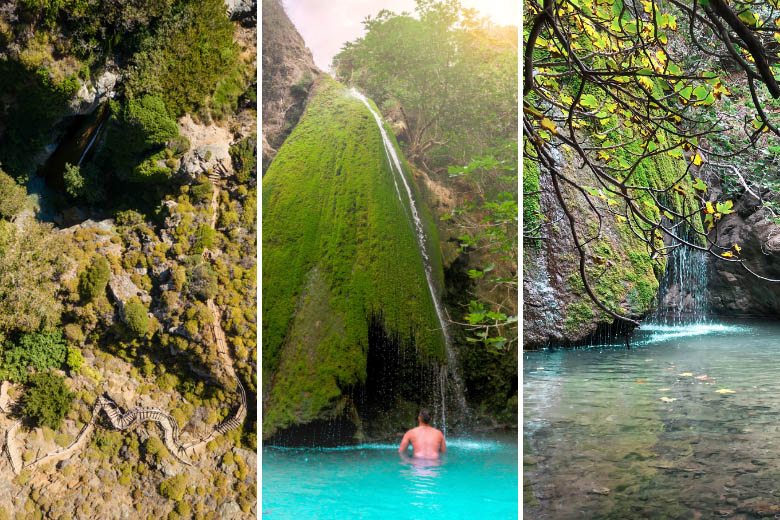 Everything you need to know to visit Richtis Gorge in Crete. From how to get there (with or without a car), the difficulty of the hiking trail, where to find Richtis Gorge Waterfall, and other travel tips.
Planning to visit Richtis Gorge but have no idea how to get there? You've come to the right place!
We spent two weeks exploring the Greek island and swimming under Richtis Gorge Waterfall was one of our highlights in east Crete. And it will be yours too if you love nature and hiking.
Finding the gorge and waterfall isn't difficult. But there are two ways to get to Richtis Gorge waterfall – the long way, which takes 3 to 4 hours, and the short way (60 minutes).
This Crete travel guide explains both options, the best time to visit, how difficult the hiking trail is, and whether it's suitable for kids, as well as other travel tips so you can make the most out of your vacation in Greece.
Where is Richtis Gorge in Crete?
Richtis Gorge is located in northeast Crete, not far away from the beautiful, yet quiet seaside town of Sitia.
You can also get to Richtis Gorge from Agios Nikolaos and Heraklion if you don't mind the longer drive. The drive to the gorge from Agios Nikolaos (55km) is just over an hour. From Heraklion (115km), it takes just under 2 hours to get there.
Richtis Gorge is one of the most popular gorges to hike in east Crete. It's known for its lush, natural landscape that's quite different from the usual dry, rocky terrain you'll find on the Greek island.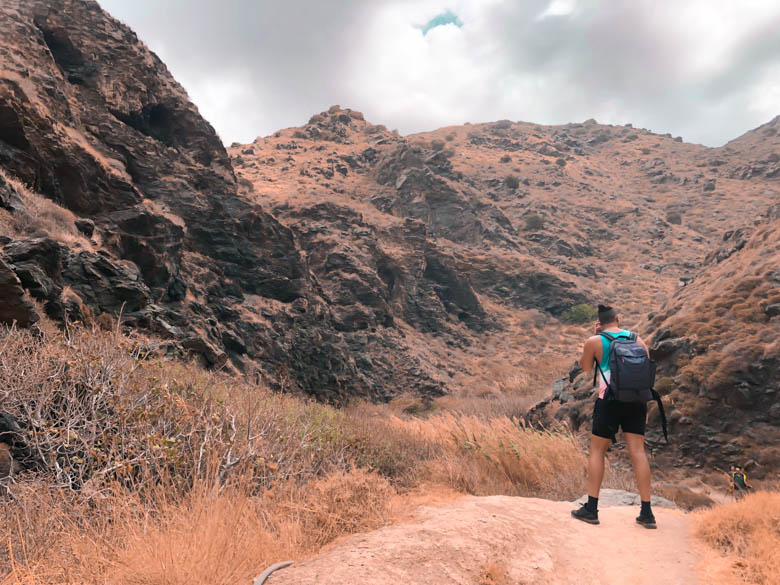 It's one of the reasons why Richtis Gorge and the surrounding area have been declared a UNESCO Global Geopark.
Richtis Gorge is beautiful, but the main attraction of the hike is the waterfall. It may not be as high or thunderous as Kourtaliotiko Gorge Waterfall in south Crete. But it has a serene, fairytale-like quality that makes it just as unique.
How High Is The Waterfall?
Richtis Gorge Waterfall is 20 meters high.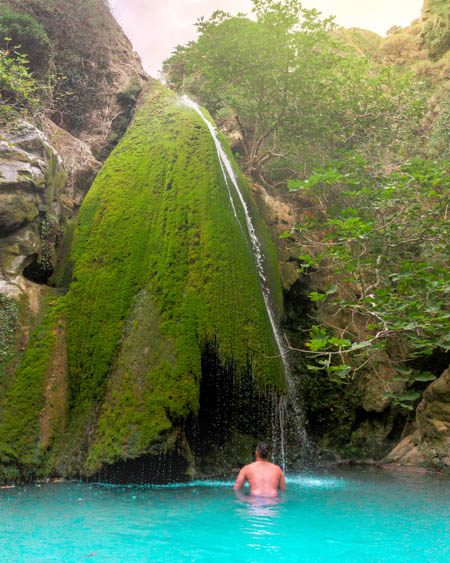 Related Guide: Love this photo? Check out our Crete Photography guide to find the most beautiful places on the island for taking photos.
Richtis Gorge Entrance Fee
Unlike Kourtaliotiko Gorge, you have to pay a small €3 entrance fee per person (older than 16) to visit Richtis Gorge. You won't be able to pay by card, so make sure to bring cash.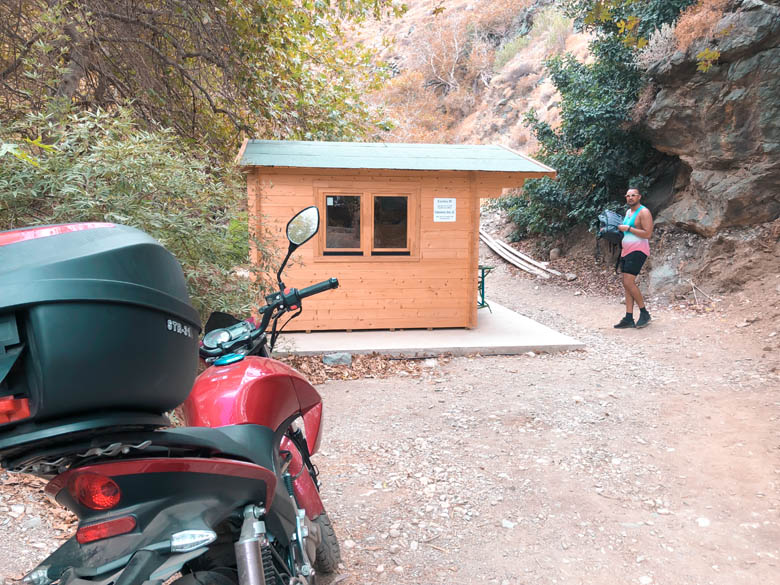 Bonus Tip: There is little to no signal once you reach Richtis Gorge. Make sure you download offline maps on Google so you can easily find your way around.
Richtis Gorge Hike
There are two ways to hike Richtis Gorge and see the waterfall – a long and a short way.
Richtis Gorge Map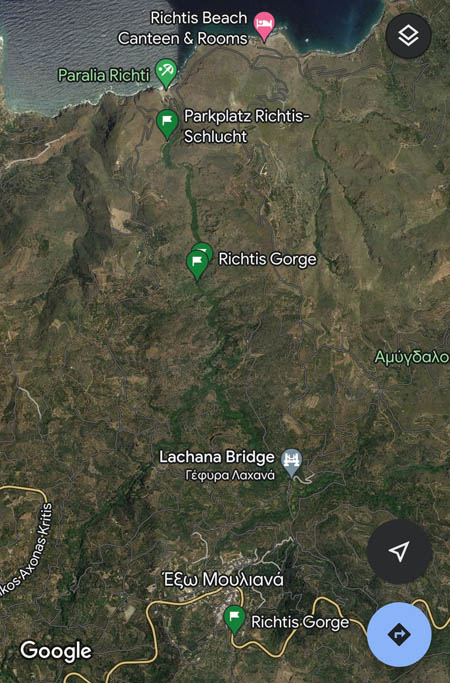 The long way starts from Richtis Gorge parking on the main road E75/90 (bottom of the map). From there, you'll hike down to Richtis Waterfall and continue until the end of the trail at Richtis Gorge Beach (Paralia Richti).
For the short hike, you'll need to drive down to the Richtis Gorge parking (parkplatz Richtis-Schlucht) closest to the beach. Then hike up to Richtis Waterfall, turn around, and head back to Richtis Gorge Beach.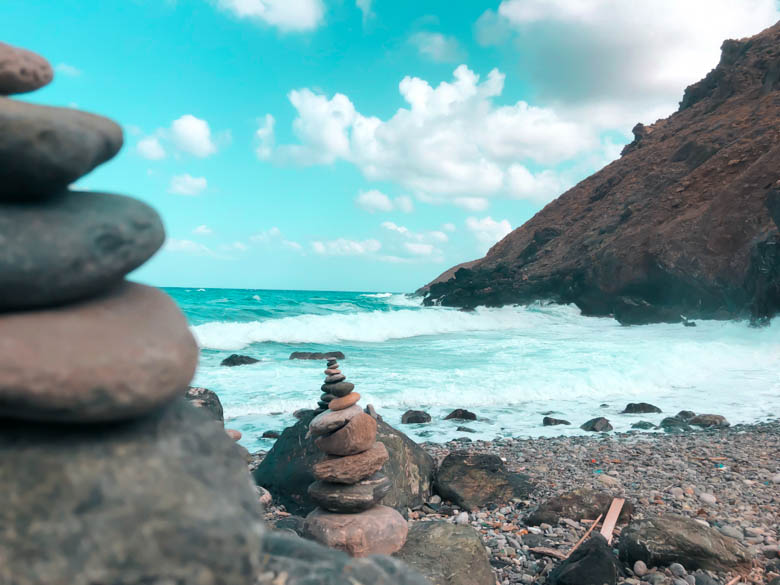 How Long Does It Take To Hike
The full hiking trail at Richtis Gorge is 5km long. It takes the average hiker between 1.5 to 2 hours to complete.
You'll need to walk back to the starting point so make sure you're wearing comfortable shoes for the full 10km hike (3 to 4 hours).
Bonus Tip: If you plan to hike the long route, make sure you hike back up the same way you came. Don't make the mistake of hiking up the gravel road that goes up the mountain. Cars and tour buses drive on that route so it can be dangerous and unpleasant to hike on.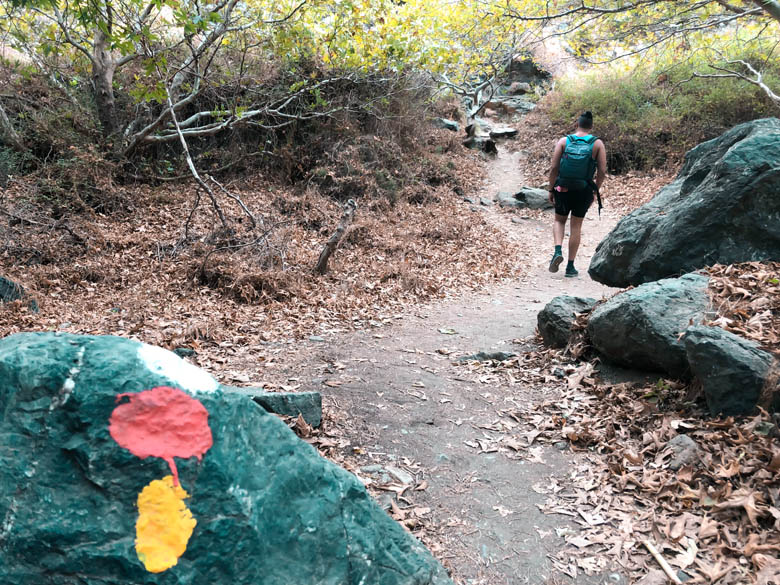 The short route is just under 2km long and takes around 30 minutes to complete. You'll need to walk back to the starting point for this trail as well. So budget to hike 4km or 60 minutes in total.
If you're short on time and want to see Richtis Waterfall without doing the full hike, we'd recommend following the short route. That's the route we followed in our action-packed Two Weeks in Crete itinerary.
The drive is not easy. But you'll manage to visit a few more beaches or quaint towns along the way.
Related Guide: Exploring the eastern coast of Crete? Make sure to check out our Best Beaches in East Crete guide.
What is the Difficulty Level of Hiking Richtis Gorge
We'd consider the Richtis Gorge hiking trail to be of intermediate difficulty level. The trail is not paved or treated, but it's relatively well-marked. Don't be surprised if you have to walk across rocks or logs to cross water.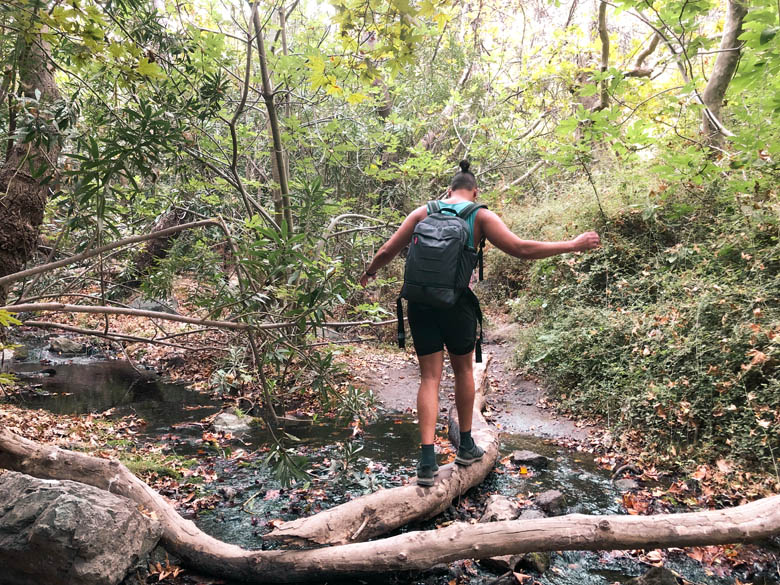 The terrain may be trickier to walk on after heavy rain. But other than that, anyone who can walk 5km or more should find it manageable to hike Richtis Gorge.
The total descent is only 350 meters. So hiking shoes and walking sticks are a nice-to-have, but not necessary.
Related Guide: Looking for more beautiful hiking spots in Crete? Check out our Samaria Gorge Hike guide! We've shared useful tips on how you can hike THE most beautiful hiking trail in Crete and the second longest gorge in Europe.
Can You Hike This Trail with Kids
We don't currently have kids. But if we did, we'd only bring kids to Richtis Gorge if they're older than 14 years old.
Younger children may find it hard to walk across logs or rocks that cross small streams. If you have young kids, we'd recommend hiking the short route. The terrain is a little easier to navigate and you'll complete the trail a whole lot faster.
The trail is not paved, so it's definitely not suitable for prams or wheelchairs.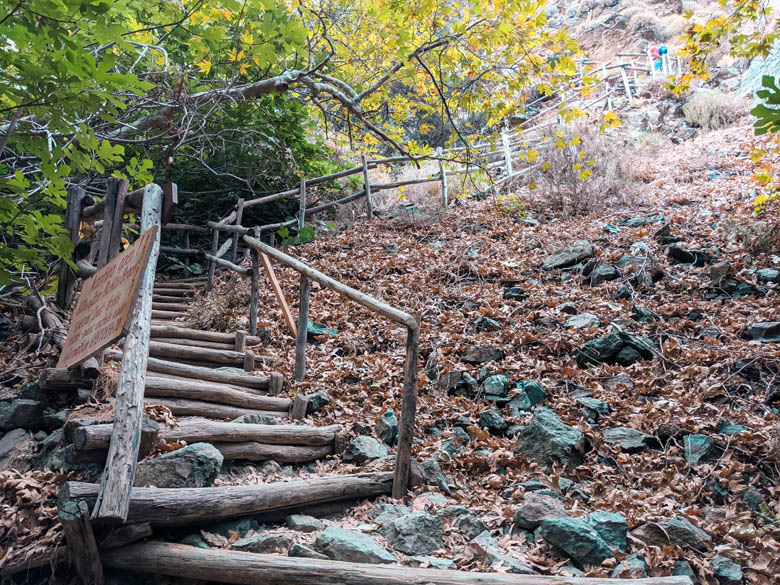 Related Guide: Planning a family vacation in Crete? Make sure to read our Where to Stay in Crete guide. It shares insider tips on the best hotels and places to stay with kids, with or without a car.
How To Get To Richtis Gorge
There are only 2 ways to get to Richtis Gorge: by car or taking a guided tour.
We've searched high and low for a way to get to Richtis Gorge by public transport. But unfortunately, that option does not exist.
As we said in our How To Get Around Crete guide, most towns in the south and east of Crete only offer bus services twice a day, if any.
The only other way to get to Richtis Gorge without a car is by taking a guided tour.
Bonus Tip: Planning on renting a car in Crete? Make sure to book early to get the cheapest deals. You can easily compare rental prices on DiscoverCars.com or RentalCars.com.
Save Me For Later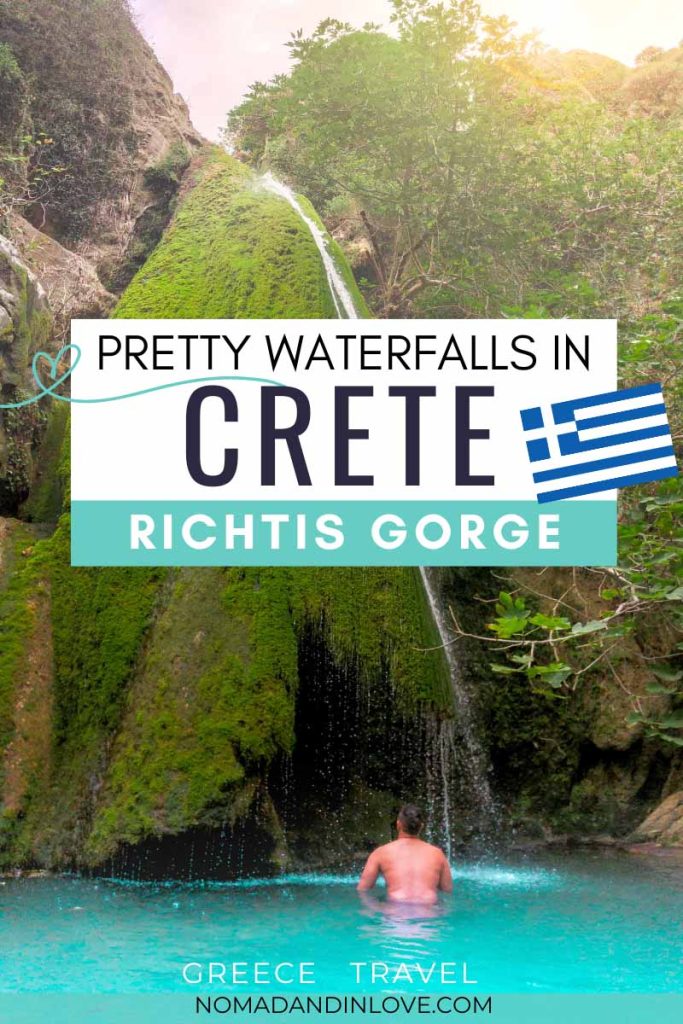 Getting There Without A Car
Richtis Gorge is not as famous as Imbros or Samaria Gorge in Crete. There are only a few guided tours that go there.
All options include pick-up and drop-off from your hotel, so you won't need to worry about car hire at all. Book your guided tour to Richtis Gorge to secure your spot!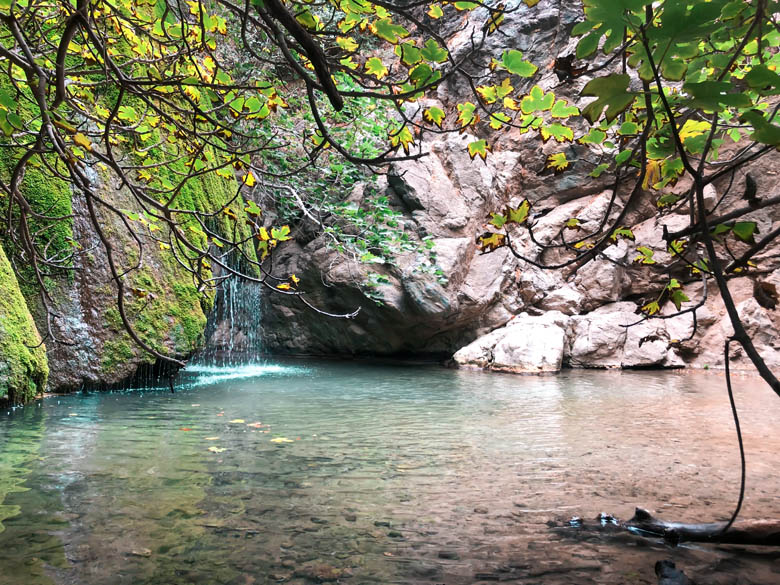 Getting There by Car
There are two ways to get to Richtis Gorge by car. The easier drive takes you to the starting point for the full hiking trail at Richtis Gorge parking (a 3+ hour hike).
Simply follow the directions on Google Maps to get to the E75/90 main road to reach the parking and entrance to the hike. It's a fairly easy drive on paved roads all the way.
The second way to get to Richtis Gorge is a challenging, grueling drive. But the hike to the waterfall is much shorter and easier.
For the short hike, you'll need to drive down to the Richtis Gorge parking closest to the beach. The drive starts off easy but gets brutal when you turn off the main road.
Google Maps is only reliable up until the turnoff. Once you're on the unpaved roads, follow the 'Beach of Richtis' sign until you reach the parking at the bottom of the mountain.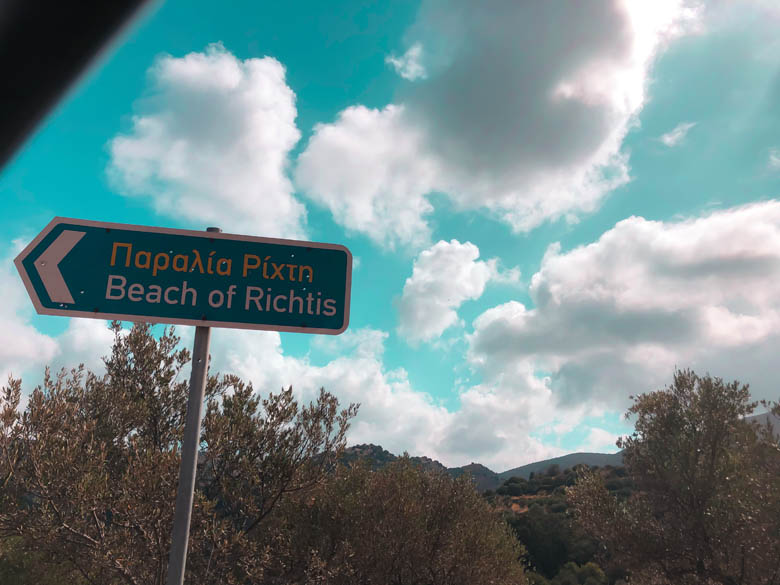 The unpaved road is very narrow and windy. So take it slow and don't attempt this after heavy rain, bad weather, or in the dark.
Once you arrive, walk away from Richtis Beach towards the hut to start hiking Richtis Gorge to see the waterfall.
Bonus Tip: First time visiting Crete island? Make sure to read our Driving in Crete guide for the essential road rules to know.
Don't Forget Travel Insurance
Travel insurance will protect you against injury, illness, theft and even trip cancellation. It's comprehensive cover in case anything goes wrong. We never go on a trip without it as we've had to use it many times in the past. Here are our favourite companies that offer the best value and service:
Parking at Richtis Gorge
There is free parking available at Richtis Gorge for both the long and short hike.
If you plan to hike the full trail (i.e. easier driving route), make sure to arrive by 10 AM. The parking lot is small and it tends to be full the later in the day you arrive.
The parking area close to Richtis Gorge Beach is much bigger. But the drive down there is not for the faint of heart.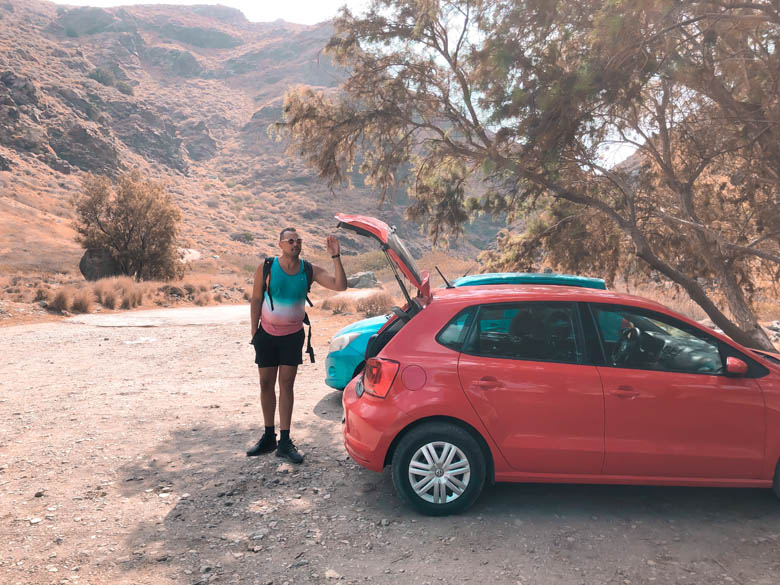 Things To Bring for Richtis Gorge Hike
It would be a shame to arrive at Richtis Gorge and not swim under the waterfall because you weren't prepared. Not on our watch!
Here's a short packing list for visiting:
Watershoes (we always use our Mares diving boots)
Swimwear
Beach towels
Light jacket (in case it gets windy)
Camera or smartphone
Water and snacks
Sustainable Travel Tip: Don't apply sunscreen if you're planning to swim at Richtis Gorge. The ingredients in most commercial sunscreens will destroy the flora and fauna of the river. Alternatively, use an organic, eco- and reef-friendly sunscreen like Suntribe Organic Sun Cream.
Best Time To Visit Richtis Gorge
You can hike Richtis Gorge all year round. But the best months to visit are between May and September.
The weather tends to be warmer and drier then, which makes the trail easier and more pleasant to hike.
If you're planning to take a dip under Richtis Gorge Waterfall, make sure to go on a hot day. The water is freezing, but refreshing!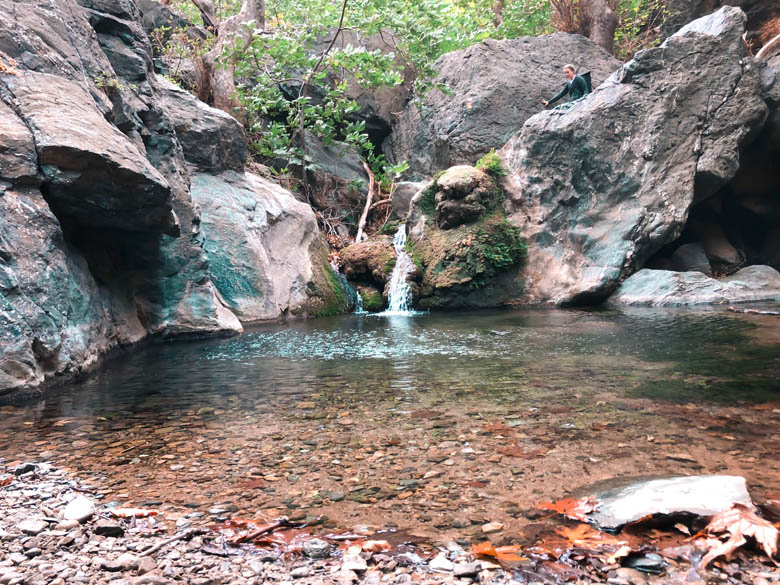 Make sure to start your hike early. You don't want to hike in the dark when you can't see what's ahead of you.
That means that you should aim to finish your hike by the latest at 7 PM during summer. During spring or autumn, aim to finish at 4:30 PM. Don't forget that you'll still have to drive back to your hotel or vacation apartment.
Where To Stay Near Richtis Gorge
The area around Richtis Gorge is quite remote. But there are a few places to stay in the villages nearby.
Here are some vacation rental recommendations to get you started:
For more options on where to stay near Richtis Gorge, check out Booking.com or read reviews on TripAdvisor before deciding.
Related Guide: Looking for more waterfalls in Crete? Check out Kourtaliotiko Gorge in south Crete. You won't regret it!