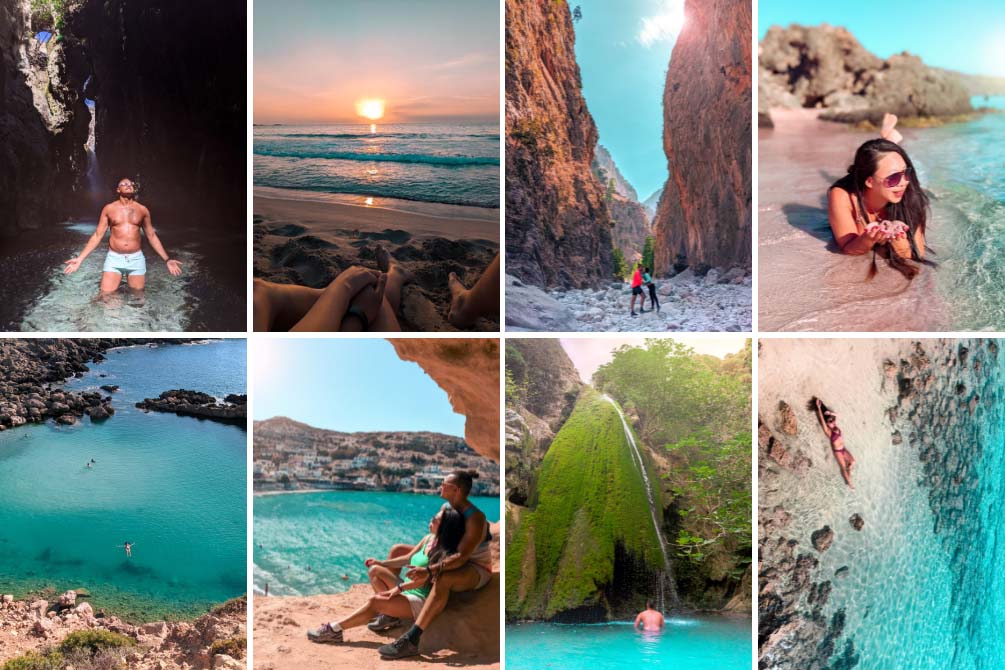 Discover beautiful places in Crete for photography! Find the most dreamy spots on the Greek island for photos whether you're a professional photographer or taking pictures for Instagram.
Are you wondering where the best places to take pictures in Crete are? As hobby photographers, we asked ourselves the same question.
Crete is the largest island in Greece and also the fifth largest island in the Mediterranean with over 1,000km of coastline to discover. So to say that there are literally hundreds of gorgeous (and hidden) places in Crete for taking incredible photos would be an understatement.
What makes the island particularly captivating is its myriad of diverse landscapes. From rugged mountains, dense forests, and waterfalls, to otherworldly beaches that transport you from an African oasis to the planet Mars, Crete has it all.
So if you're looking for the most beautiful places in Crete for photography, we're here to give you a headstart!
From the best viewpoints in Crete for landscape or nature photography (in both popular and off-the-beaten-track locations), the most beautiful old towns for capturing architectural photography, to the best beaches for taking sunrise and sunset photos.
Save Me For Later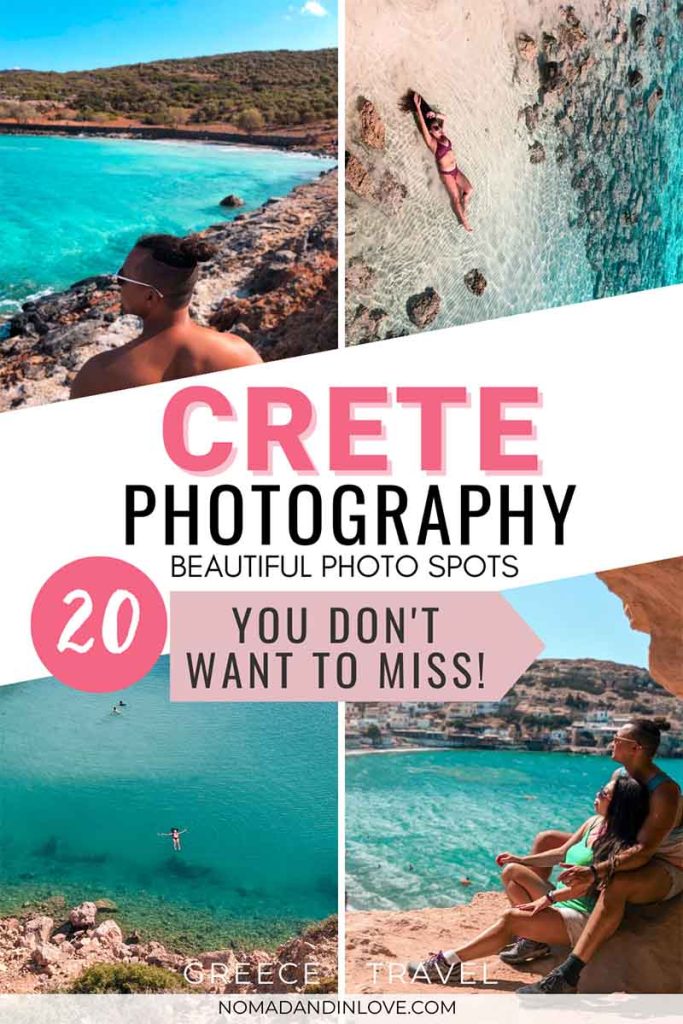 Map of Crete Photography Spots
Here's a free map to find the best Crete photography spots mentioned in this guide. We'd highly recommend you rent a car if you plan to see all 20 places. Some of the photo locations are off the beaten track and you won't be able to get to them by public transport or guided tours.
Make sure you book a car before your trip for lower car rental prices. You can compare prices for renting a car in Crete on DiscoverCars.com or RentalCars.com.
See how far you are from these beautiful photo spots in Crete using this free map.
Related Guide: First time visiting Crete Island? Make sure you read our Driving in Crete guide for the essential road rules to know.
Places in Crete for Nature Photography
Samaria Gorge
You do not want to miss Samaria Gorge if you love nature or landscape photography. Not only is this one of the most beautiful hikes in Crete, but also the longest gorge in Europe.
What makes Samaria Gorge a paradise for photography lovers is the dramatic change in landscapes as you descend from the top of White Mountain down to Agia Roumeli beach.
Magnificent mountain peaks, panoramic vistas, lush forests, towering limestone cliffs, striking rock formations, and a beach with sparkling turquoise waters – Samaria Gorge has it all!
The Best Viewpoints for Photography
There are literally hundreds of picture-perfect moments at Samaria Gorge. If you're looking for inspiration, here are some of the best viewpoints we found.
This beautiful panoramic view was photographed near the start of the Samaria Gorge hike. You'll find it a short 10 to 15 minute walk from the entrance.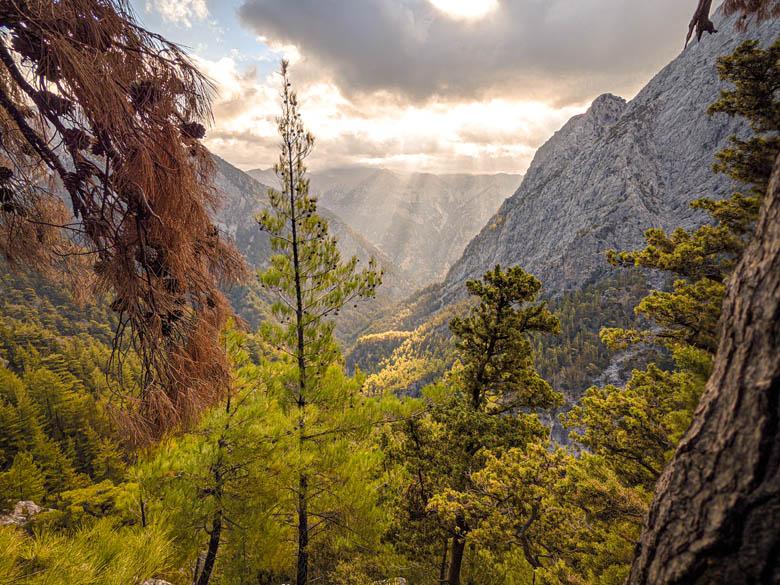 If you're starting the hike at 7AM (like we did), you'll capture this gorgeous panorama at the best time of day – after sunrise.
The next viewpoint is captured in the depths of the gorge, a few kilometers before the famous 'Iron Gates' of Samaria Gorge.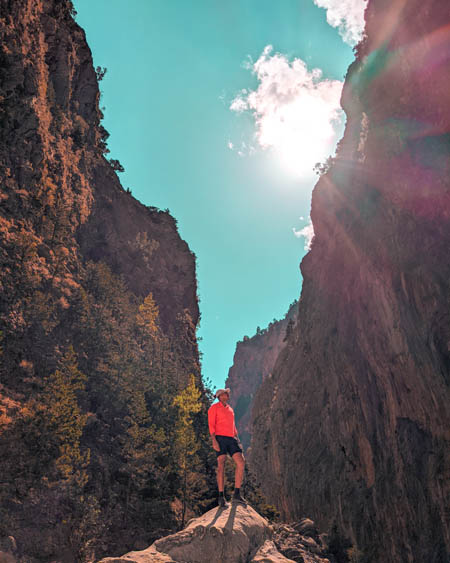 We found this giant rock that provided the perfect center point where two cliffs meet. And that's how we captured this Instagram worthy photo in Crete!
Our last viewpoint was photographed a few hundred meters down from the previous spot.
We had mistakenly thought that this was the famous 'Iron Gates' (the narrowest part of Samaria Gorge at 4 meters apart). Only to later realize that it's further down the hike…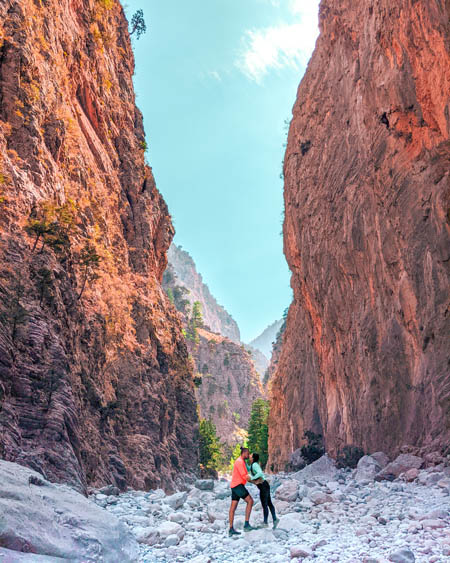 It may not be the 'Iron Gates', but it's still one of our favorite photography spots in Crete. We love how this photo captures the cool, white tones of the rocks below, against the warm, rugged cliffs and blue sky above.
How To Get To Samaria Gorge
The best (easiest) way to get to the Samaria Gorge hike (without a car) is by guided tour. It's possible to get there by car too, but it's not easy. We would even go as far as to say that it was dangerous.
We'd highly recommend skipping all the stress and risk of driving by taking a guided hiking tour instead. Here are some options:
Alternatively, you can also get to there by bus or ferry. We've explained in detail How To Get To Samaria Gorge and how much each option costs in this guide.
Elafonisi Beach
Elafonisi – Crete's famous pink sand beach, is probably the most instagrammable beach on the Greek island.
And for a good reason. This pink sand is unique to Crete. You won't find it anywhere else in Greece!
Needless to say, Elafonisi beach is visited by tons of travelers every year. Hence it's not the easiest place to take that perfect Instagram photo.
If you want to avoid the masses and find a less crowded photography spot, we'd recommend walking further away from the main beach towards Elafonissi South Beach.
That's where we were able to take this picture away from the crowds.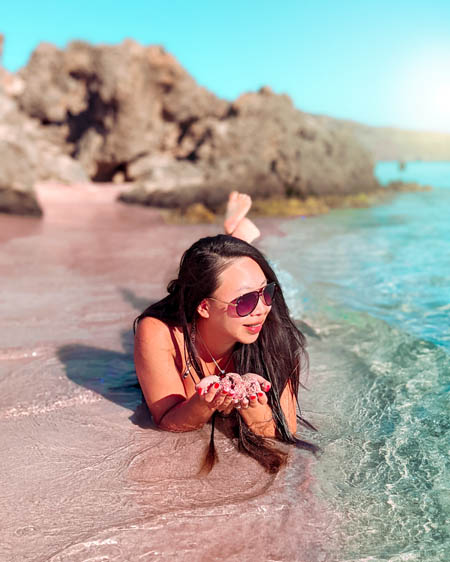 Elafonissi may be known as the pink sand beach of Crete. But don't be fooled into believing that the entire beach is pink – it's not.
You'll usually find Crete's signature pink sand just around the edges of the water where the waves meet the beach. And the pink shade can be more or less intense depending on the ocean currents and the sunlight.
For the best pink sand photography, we'd recommend taking pictures in the morning or late afternoon when the sun is less intense. It's harder to see the pink sand when the sun is at its brightest.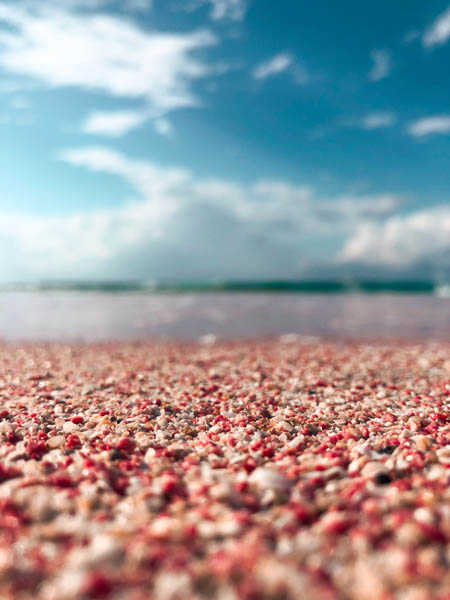 How To Get To Elafonisi Pink Sand Beach?
Elafonissi is one of the few beaches in Crete that is easy to get to by car. Well, for Crete standards at least…
It takes around 90 minutes to drive to Elafonisi from Chania along a windy and narrow, but tarred road all the way to the famous beach. Once you arrive, there's a huge, free parking area at Elafonisi and then it's just a short 5 to 8-minute walk to the beach.
Just follow Google Maps, take your time driving on the narrower sections of the road and you should get there safely in no time.
You can also get to Elafonissi Beach without a car by taking a guided tour. Here are some options:
Balos Lagoon
Balos Lagoon is easily the most photographed beach in Crete and it's easy to see why that is so. Just take a look at this view and tell us you don't want to go there, we dare you!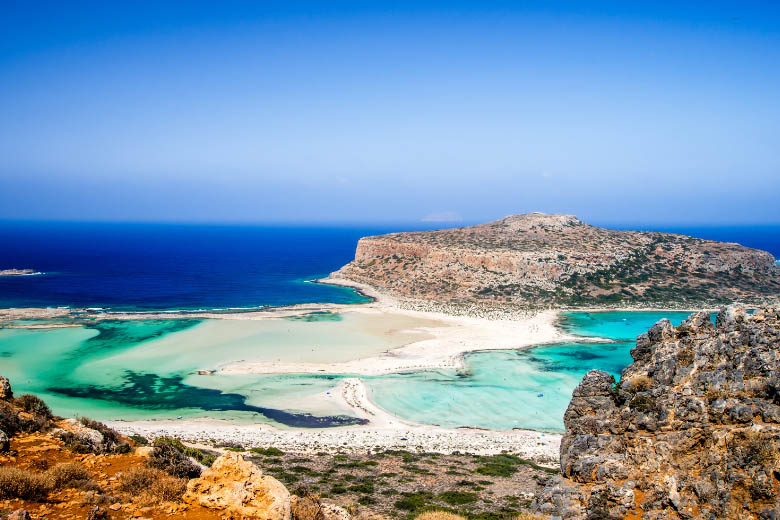 The natural landscape at Balos beach is exquisite to put it lightly. Its unique surroundings with a lagoon on the one side and the sea on the other are simply a photography lover's dream.
For the best angles of Balos Lagoon, we'd recommend hiking up to this famous viewpoint. It will give you the best view to capture Balos Lagoon and Balos Beach.
If you have a wide-angle lens, you'll also be able to capture Gramvousa Island in the distance.
Make sure you take a picture of the turquoise waters at Balos Beach. It has some of the clearest waters you'll find in Crete.
We captured this photo with the backdrop of Gramvousa Island, showcasing its crystal clear waters.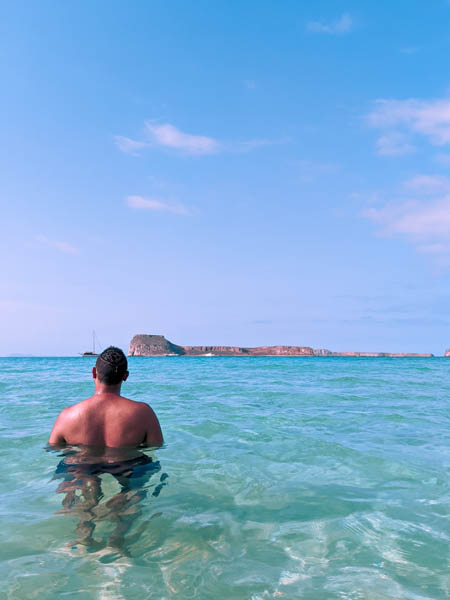 How To Get To Balos Lagoon
Balos Lagoon is gorgeous, but challenging to get there by car. If you plan on driving, make sure you read our insider tips for driving to Balos Beach.
For a safer and more relaxed journey, we'd recommend taking a guided tour. That way you can kill two birds with one stone and see Gramvousa Island and Balos Lagoon.
Skip the long queues and book your guided tour ahead. Here are some options:
Gramvousa Island
This is another place you should not miss in Crete if you love landscape photography – Gramvousa Island.
Gramvousa is a remote, uninhabited island off the west coast of Crete. A couple of hundred years ago, it was famous for being a pirate island.
But today, the island is famous for looking like a movie set from 'Pirates of the Caribbean'. Complete with a 14th century Venetian Fort on the highest point of the island and even a shipwreck too!
For an epic aerial photo, hike up to the fortress at the top and snap away. If not, there are plenty of viewpoints to take photography by the beach.
This photograph was taken just a few meters walk from the pier. We love how it shows off how incredibly clear and blue the water is at Gramvousa Beach. And if you look closely, you'll see the shipwreck in the distance.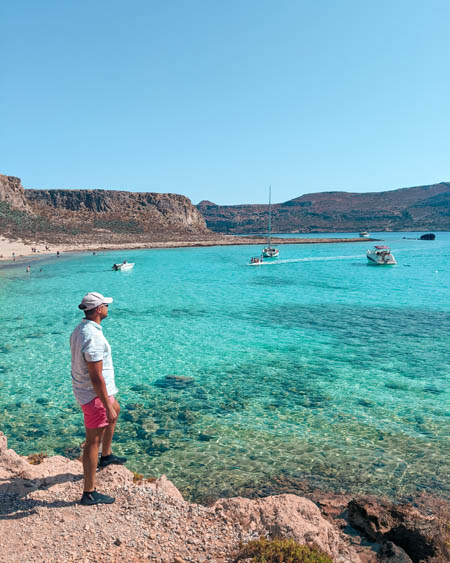 The next photo spot is perfect for Instagram. You'll find it just a couple of meters down directly on the beach. There's an opening in the sand between the rocks which creates a nice frame for your subject.
Then all you'll need is someone to photograph you from the rocks above and voila – picture-perfect!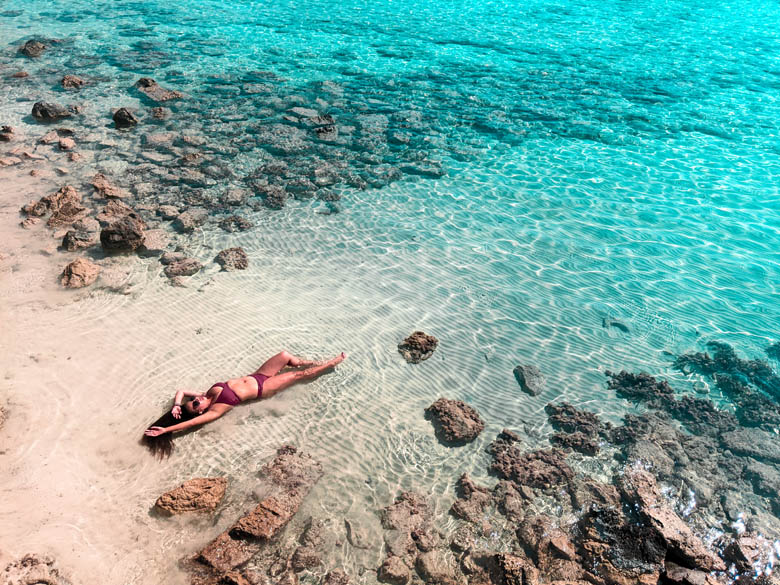 How To Get To Gramvousa Island
The only way to get to Gramvousa is by ferry or boat. The ferry to Gramvousa Island is usually combined with a day trip to Balos Beach.
So we'd recommend skipping the challenging drive to Balos altogether if you want to visit Gramvousa in Crete.
You can easily book your boat cruise or ferry to see Balos and Gramvousa online to skip the queues:
Seitan Limania Beach
Believe it or not – Seitan Limania Beach used to be a remote beach that only a lucky few knew about. But now it's become one of the most photographed beaches in Crete thanks to Instagram.
What makes Seitan Limania such a unique beach is its zig-zag shape, sandwiched between two rocky cliffs. And the different hues of turquoise water rushing up to meet the white sandy shore is simply a sight that will take your breath away.
There are a couple of gorgeous places here for photography.
Our favorites are the viewpoint from the top, just before you start the steep climb down to the beach. As well as this angle from the right where you can photograph the unique zig-zag shape of this popular beach in Crete.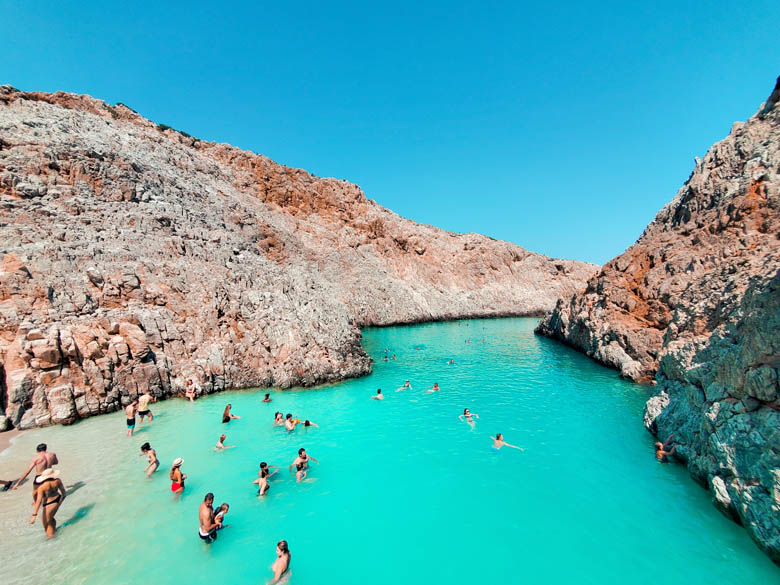 How To Get To Seitan Limania Beach
Seiten Limania is a photography lover's dream. But the drive there is a nightmare and the hike down its steep, rocky slope, is even more so.
For those adventurous souls who are up for the challenge, you can find out how to get to Seitan Limania Beach here.
Don't Forget Travel Insurance
Travel insurance will protect you against injury, illness, theft and even trip cancellation. It's comprehensive cover in case anything goes wrong. We never go on a trip without it as we've had to use it many times in the past. Here are our favourite companies that offer the best value and service:
Matala Beach
Another beautiful place to visit for some unique photography is Matala Beach. Not only is this beach stunning. But it's one of a kind since it's located right next to the archaeological site, Matala Caves.
These ancient caves are believed to date back to Roman times, around 2,300BC. That's before Christ… not before corona (haha!).
We love how the caves create such exquisite shapes framing the view over Matala Beach. All you got to do is pick a cave, and let your creativity run wild!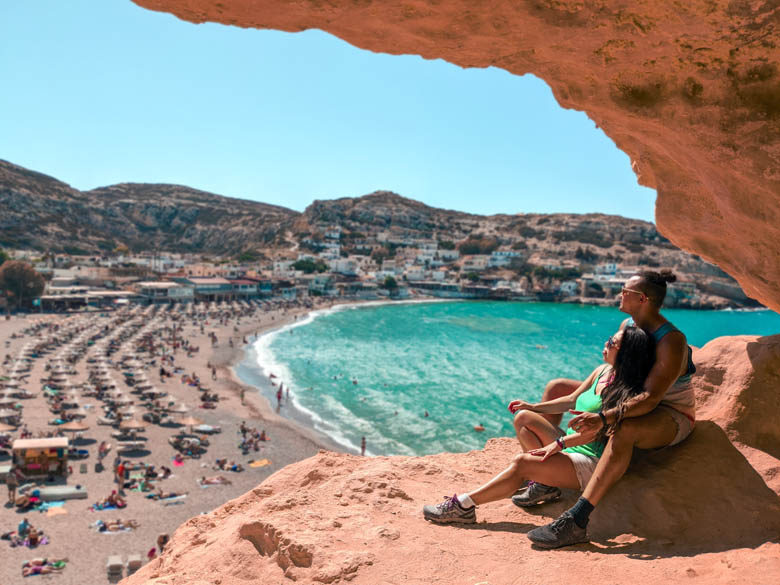 How To Get To Matala Beach
Matala is one of the few beaches in Crete that is easy to get to by car. It's around a 1 hour and 10-minute drive (67km) from Heraklion. Or a 1 hour and 50-minute drive (80km) if you're coming from Rethymno.
The entire way to Matala Beach is on paved roads. It's a pretty relaxing and easy drive. Just follow Google Maps for directions to Matala Beach, and you're good to go.
If you're not planning to rent a car, take this awesome full-day tour from Rethymno to Matala Beach and see the beautiful village of Agia Galini and Spili in south Crete.
Richtis Gorge
If you love long exposure photography, you need to visit Richtis Gorge Waterfall in Crete.
Richtis Gorge is one of the most popular gorges to hike in east Crete. The natural landscape of this UNESCO Global Geopark is beautiful, of course. But the main attraction at the Richtis Gorge is to see Richtis Waterfall.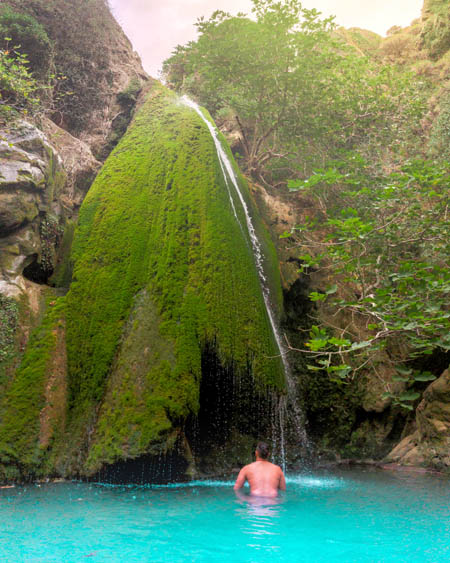 Simply set your camera and tripod up for an epic long exposure shot. Or ask your subject to hop in the water for a memorable Instagram photo.
Get detailed directions on how to get there in our detailed Richtis Gorge guide.
Alternatively, you can take this guided Richtis Gorge and Waterfall Hiking Tour to get there without renting a car.
Off The Beaten Track Places in Crete For Photos
Kourtaliotiko Gorge
You MUST add Kourtaliotiko Gorge to your photography list if you love waterfalls! We've seen many waterfalls on our travels but this one tops our list.
Say hello to Kourtaliotiko Gorge Waterfall – the most beautiful waterfall in Crete.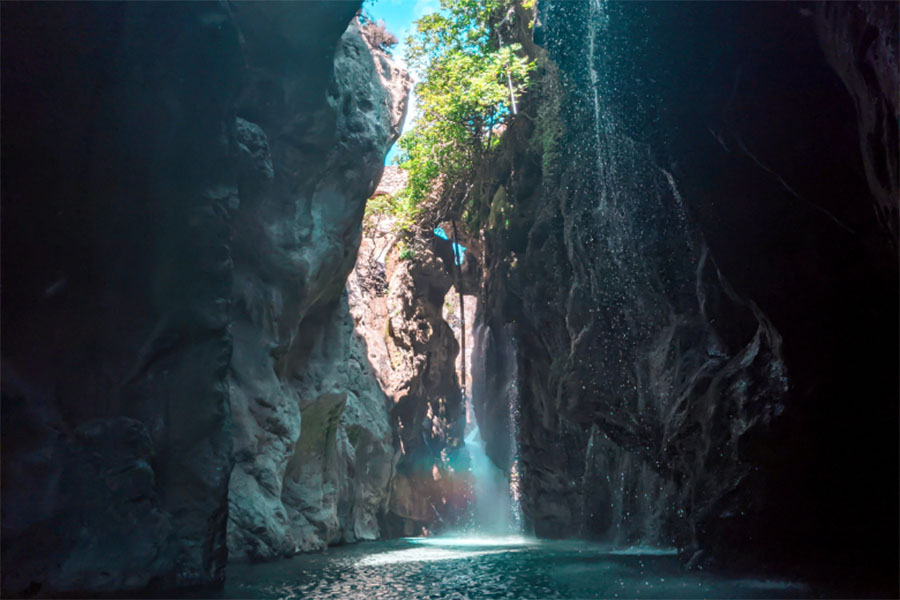 It's hard to describe how magical this place is. The only way we can describe it is that you'll feel like you've stepped into a fairytale.
If you plan to photograph Kourtaliotiko Gorge Waterfall, you'll need an action camera or underwater housing to protect your gear.
We took these pictures with the iPhone 14 Pro which we have a waterproof case for. It comes in handy because you'll need to swim a couple of meters to reach the waterfall in the inner sanctum of the gorge.
We're not gonna lie – the water is FREEZING! But so worth it when you see the waterfall and double rainbows within. If this isn't the most instagrammable photo spot in Crete, then we don't know what is.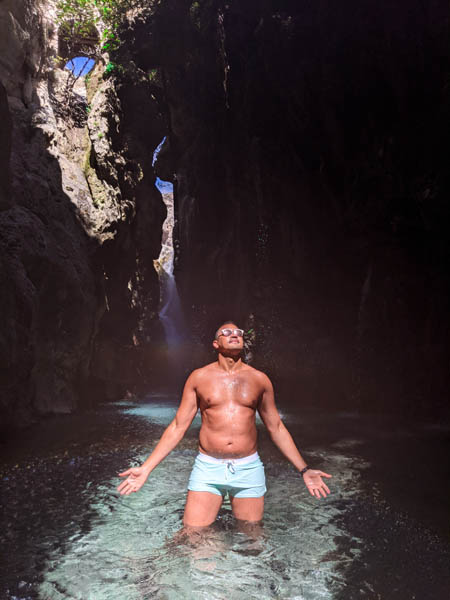 Finding the gorge isn't difficult. But finding the entrance to the waterfall is tricky without some insider tips. Make sure you read our detailed guide on Kourtaliotiko Gorge before visiting.
Voulolimni Beach
If you love aerial or drone photography, then you must visit this incredible hidden gem in Crete – Voulolimni Beach.
Voulolimni is in our opinion, less a beach and more a giant, natural rock pool. But who cares when it's this beautiful!
The round shape of this rock pool makes it ideal for aerial photography.
We have a drone, but it's often too windy to fly it in Crete. So instead, Michael hiked up the hill to capture this aerial photo of me effortlessly floating in the pool.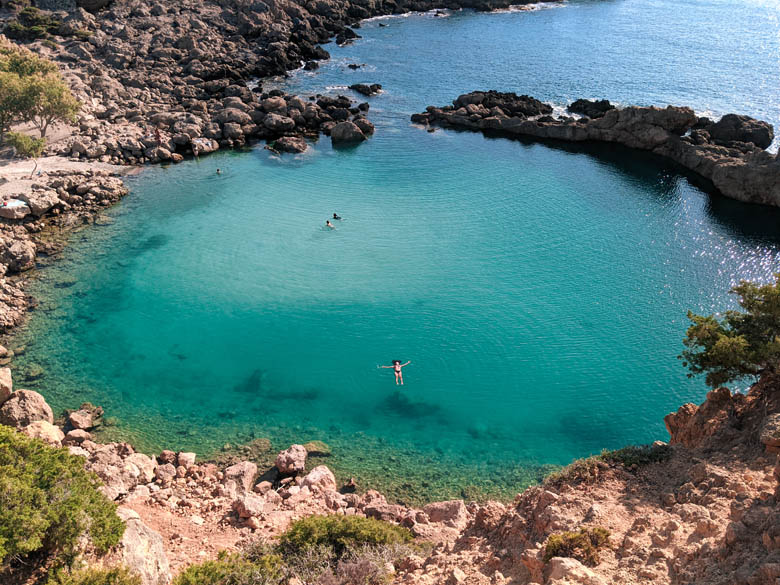 Getting to Voulolimni Beach is surprisingly easy. The road is paved all the way except for the last 300 meters to the small parking area. It's on the same road as Elafonissi Beach. So just follow Google Maps and it will take you there.
Agiofarago Beach
Another gorgeous beach to photograph that's off the beaten track and our personal favorite is Agiofarago Beach.
The name, Agiofarago, means 'Gorge of Saints'. And my-oh-my does it live up to its name. The topography of this beach with two striking cliffs standing guard on either end creates the perfect backdrop for stunning beach photography.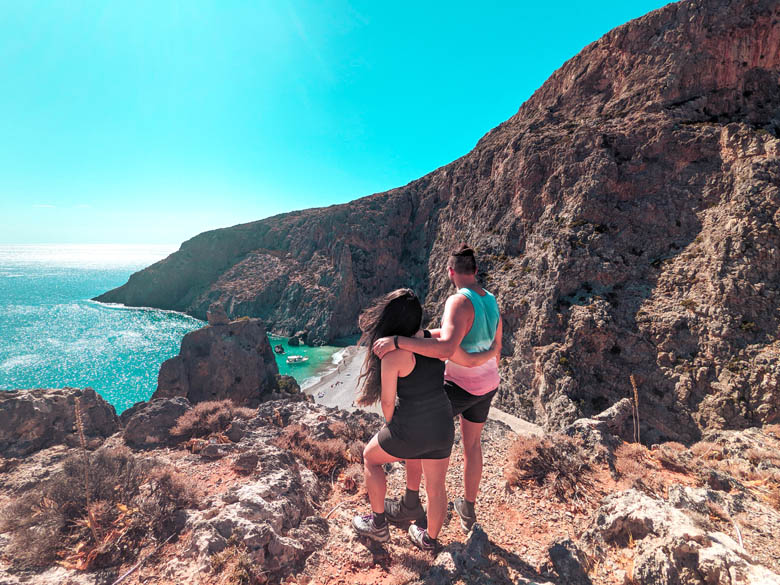 The only challenge is that it's one of the more difficult beaches to get to in Crete. Not only is the drive brutal, but you'll need to hike another 35 to 45 minutes (each way) to get to Agiofaraggo Beach.
But those who dare will be rewarded with some of the clearest water you can find in Crete! And to top it all off, Agiofarago is probably one of the quietest (and most beautiful) beaches we visited on the Greek island.
If you're an adventurous soul, find out how to get to Agiofarago Beach in our Best South Crete Beaches guide.
Kolokitha Beach
If you love photography and wild, untouched beaches, then Kolokitha is the beach for you. Kolokitha is a small, sandy beach located on the uninhabited island of Kalydon on the east coast of Crete.
Hundreds of years ago, this remote beach was renowned as a pirate bay. But today, it's better known as a gorgeous wild beach with that signature crystal clear, turquoise blue water that Greece is known for.
This beach is so gorgeous, it's near impossible to take bad photos of it even with our amateur photography skills.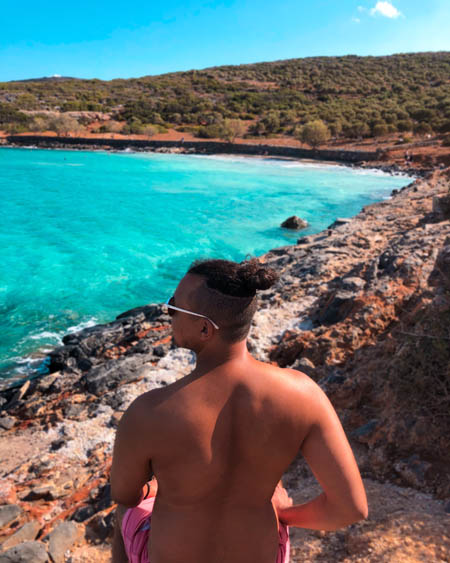 Again, this is another one of those beaches in Crete that's an adventure to get there. If you plan on driving, read our insider tips on how to get to Kolokitha Beach and what the short hike is like.
Red Beach (Kokkini Ammos)
If there was a beach on the planet Mars, we'd imagine it to look like this.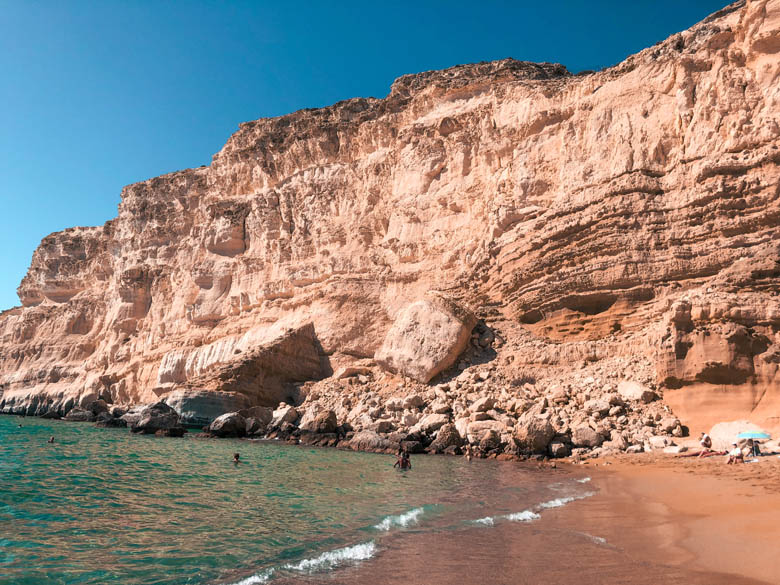 This spectacular beach is called Kokkini Ammos Beach. Otherwise better known as Red Beach. Like the name would suggest, the sand at Red Beach is… well, red. Or rather reddish, orange if you want to be exact.
The warm color of the sand overlayed with the cool, turquoise blue waters of the ocean and the stark, white cliffs in the backdrop, makes Red Beach one of the most beautiful places in Crete for photography.
Just be mindful of where you point your camera. Red Beach is one of the most popular nudist beaches on the Greek island. Be respectful when taking pictures. You don't want to unintentionally capture any nude shots without prior consent.
Red Beach is off the beaten track so the only way to get there is by hiking. We've shared how to get to Red Beach and what the hiking trail is like in our Best South Crete Beaches guide.
Best Towns in Crete for Photography
Chania Old Town
You must visit Chania if you're an architectural photography enthusiast. Chania is one of the oldest towns in Crete. The city is most famous for its rich history, culture, and distinct old town, new town atmosphere.
History and architecture lovers will enjoy spending hours wandering down the narrow streets of old town Chania. Admiring how the city's facades capture all the different civilizations that have flourished here throughout the centuries.
Wander the streets of old town Chania at your own leisure. Or join this small guided bike tour to scout out more photography spots.
Whatever you choose to do, make sure you don't miss the Venetian Harbor. It's pretty spectacular, especially for breathtaking sunset photos.
For the best sunset views in Chania, head to this location. This is where we captured this incredible picture of the Venetian Harbor.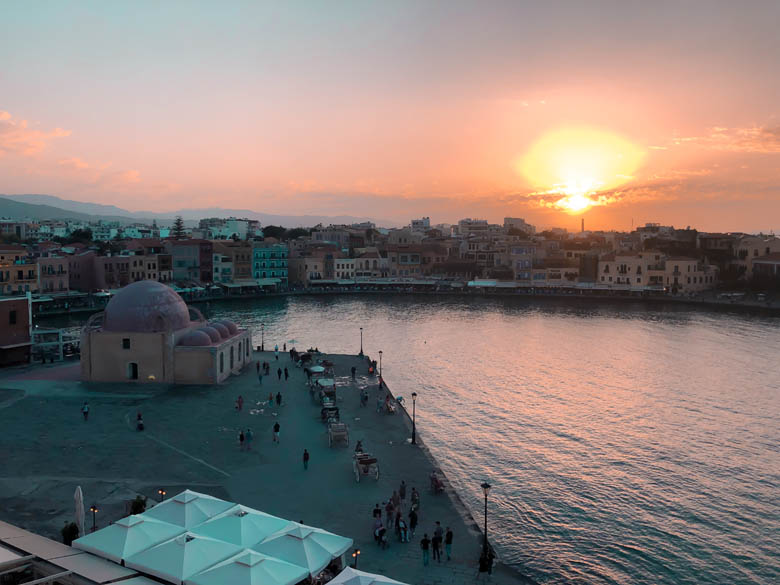 Best Places to Stay in Chania
There are so many beautiful places to take pictures in Crete that you'll need to stay a couple of days (at least). We'd recommend staying in the old town of Chania.
Not only is this the best part of Chania to stay in without a car. But it's also the best way to soak up the old town vibes of Crete if you have less than 5 days on the island.
Hotels may be cheaper in the new town of Chania. But it's very busy and lacks the charismatic vibe that old town Chania is known for.
Old town Chania has many hotels and vacation apartments to suit every budget. Here are some options to get you started:
Rethymno Old Town
Rethymno is THE old town for photography lovers if you love wandering down picturesque alleyways and getting lost amongst Venetian architecture that has stood the test of time.
The old town of Rethymno is not only one of the most beautiful cities in Crete. But also one of the best preserved medieval cities in the whole of Greece.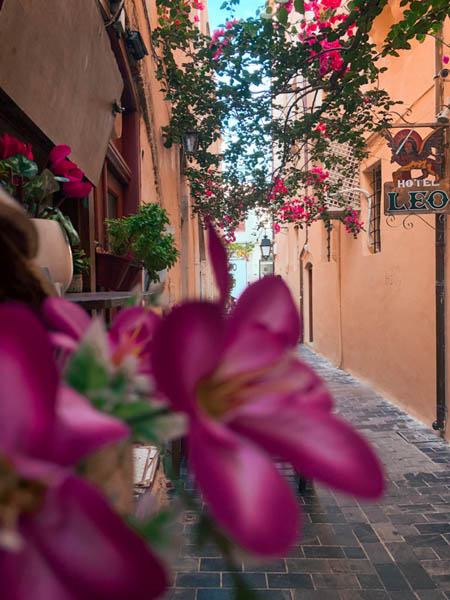 Like Chania, Rethymno is famous for its charm and rich, cultural history. But Rethymno is different in that the old town felt smaller, cozier, and less commercial compared to Chania.
There are so many beautiful places to take photos in Rethymno. We particularly loved these alleyways facing the Venetian Harbor. How it captures the contrast between light and dark when the narrow alleyway opens up at the harbor.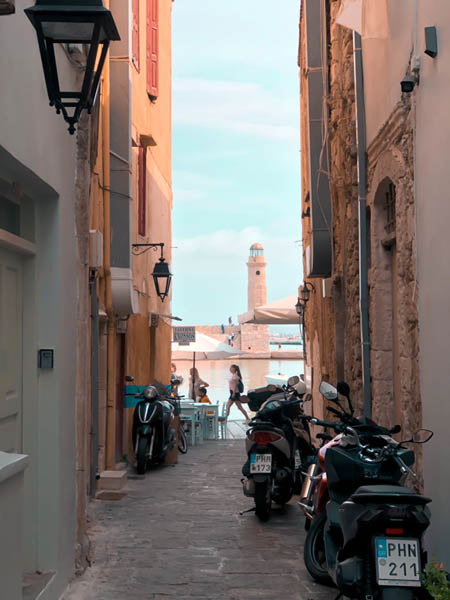 Besides that, we'd recommend wandering down the streets around the Rimondi Venetian Fountains for some gorgeous old town photography. Make sure you also check out the Porta Guora gate as well as the Rethymno's Venetian Fortezza Castle.
Alternatively, if you love history and photography we'd recommend taking this private guided walking tour of old town Rethymno. Not only will you learn about the city's past, but also get to taste traditional local delicacies like baklava, wine, and other Cretan meze dishes.
Best Places to Stay in Rethymno
Like Chania, we'd recommend staying a couple of nights in Rethymno to fully immerse yourself in the old town atmosphere.
You'll be within walking distance to museums, and archaeological sites, as well as the best shopping, restaurants, and nightlife in Rethymno. Plus you'll also have easy access to public transport and guided tours to see other beautiful places in Crete so you won't need to hire a car.
Here are some options to get you started:
Malia Old Town
For beautiful old town photography that's off the beaten track, we'd recommend visiting Malia Old Town.
It may not be as famous as Chania and Rethymno. But you'll get to catch a glimpse of the Cretan way of life and photograph the signature blue and white architecture that Greece is famous for.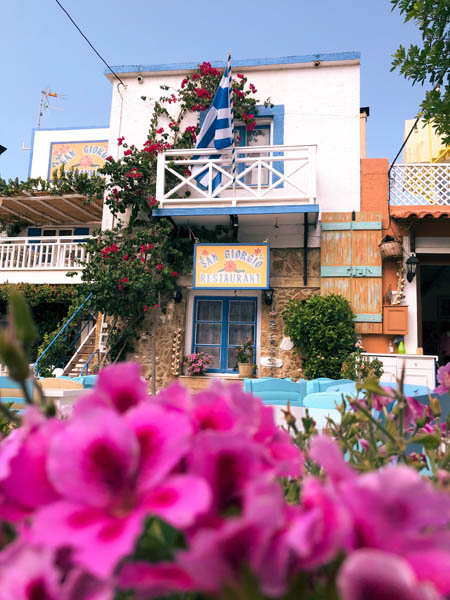 If you love taking photos for Instagram, you'll be able to capture some gorgeous pictures here. There are hardly any tourists exploring old town Malia so you'll basically have the charming streets to yourself.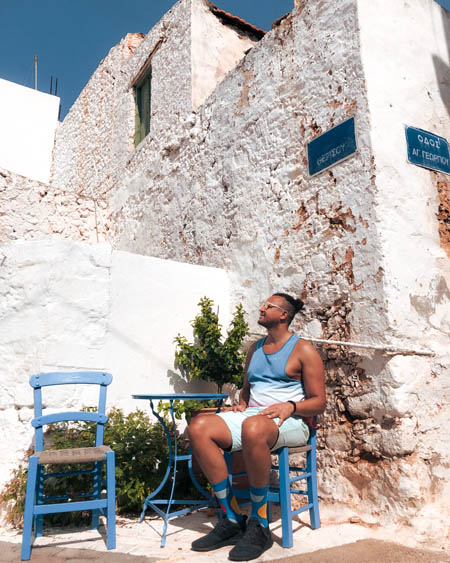 Getting to Old Town Malia is easy. You can easily get there by public bus if you're staying in any of the towns in north Crete. If not, you could also rent a buggy, scooter, or car and drive there.
Related Guide: First time visiting Crete? Find out how to easily get around Crete by public transport, guided bus tours, ferries, taxis, scooter, or quadbike in our detailed How To Get Around Crete guide.
Agios Nikolaos
Agios Nikolaos doesn't have an old town, but it's one of the most beautiful coastal towns to photograph in Crete.
The best time of day for photography is just before sunset. That way you can admire Agios Nikolaos at golden hour from this famous viewpoint.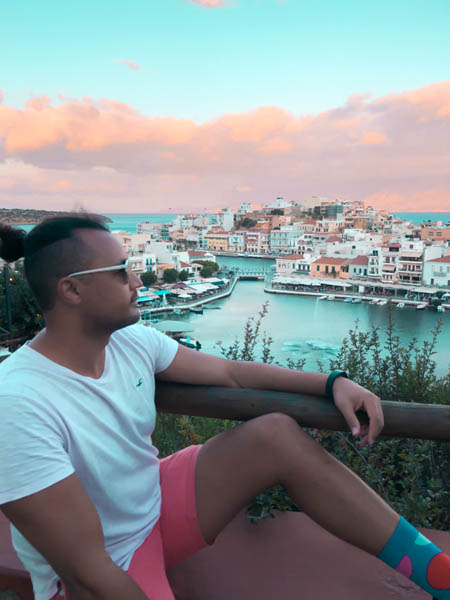 Enjoy the rest of the day strolling around Agios Nikolaos, some shopping, and a traditional Greek dinner under the stars at Avli restaurant.
Sunset and Sunrise Photography in Crete
Don't miss these photo spots if you love sunset and sunrise photography.
Sunset at Elafonissi Beach
Elafonisi Beach is not only famous for its pink sand but also for its incredible sunsets.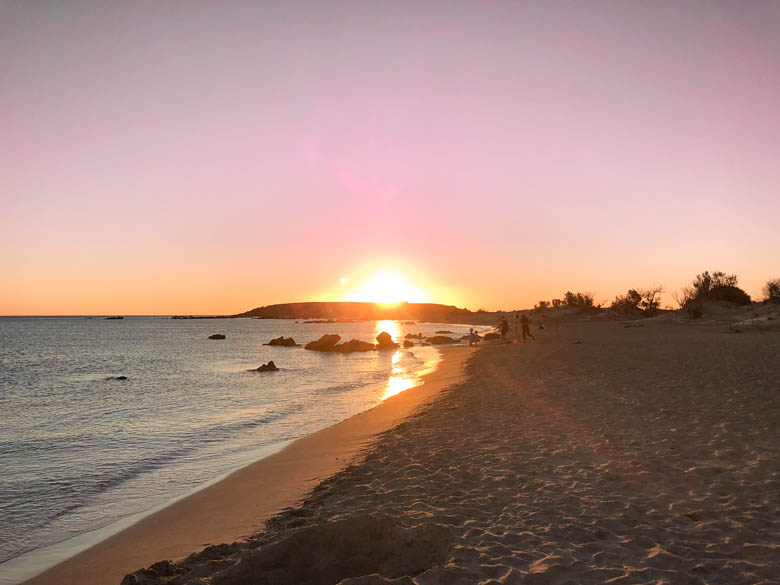 The best part is that most of the crowds leave before sunset so you'll basically have the beach to yourself. The downside though is that you'll have to drive in the dark (i.e. no street lights) to get back to your hotel or vacation apartment.
If you're not comfortable driving on unpaved roads in the dark, we'd recommend staying overnight at a nearby accommodation. That way you can stay and watch the sunset AND catch sunrise the next day.
Here are some options:
Looking for more? Compare hotel prices on Booking.com or read reviews on TripAdvisor for the best places to stay near Elafonissi Beach.
Sunset at Red Beach
Red Beach is another MUST for magnificent sunset pictures. Especially if you're looking to take that perfect Instagram photo where the sun kisses the ocean.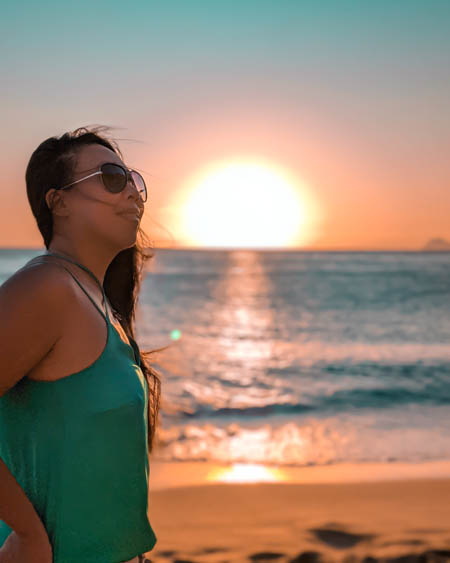 Just bear in mind that you'll need to hike 45 to 50 minutes back to the town of Matala to get to your car or hotel. If you plan to make use of golden hour for photography, we'd highly recommend bringing hiking shoes as well as a headlamp so you can safely make your way back.
Sunset at Falassarna Beach
Not only will you find Crete's signature pink sand at Falassarna Beach, but it's one of the best sunset beaches too!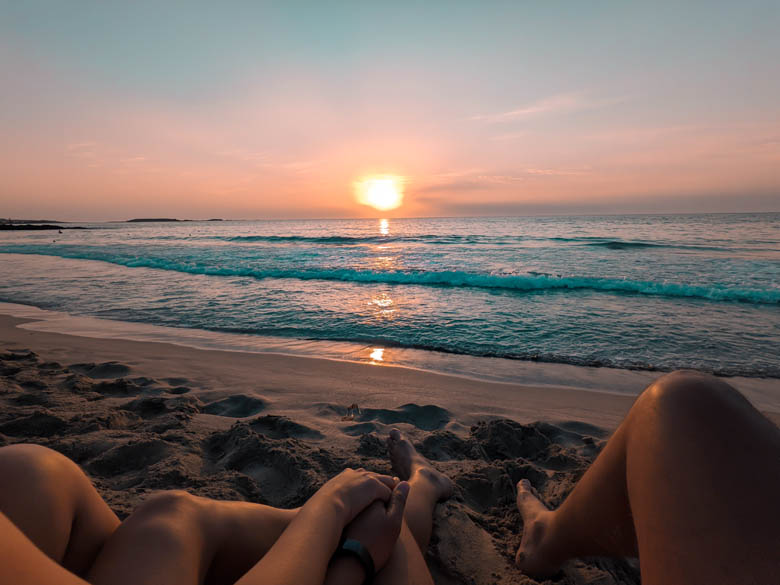 We love that Falassarna Beach is one of the few beaches in Crete that is easy to get to by car. If you don't plan on driving, you can also take this private sunset tour from Chania to Falasarna Beach.
Sunrise at Preveli Palm Beach
The landscape around Preveli Beach is one-of-a-kind. This magical beach is carved out by the ocean on one side, and a river and an exotic palm tree forest on the other.
Preveli Beach is magnificent in the day, but even more mesmerizing at the break of dawn. That's why you need to add this to your Crete itinerary if you love sunrise photography.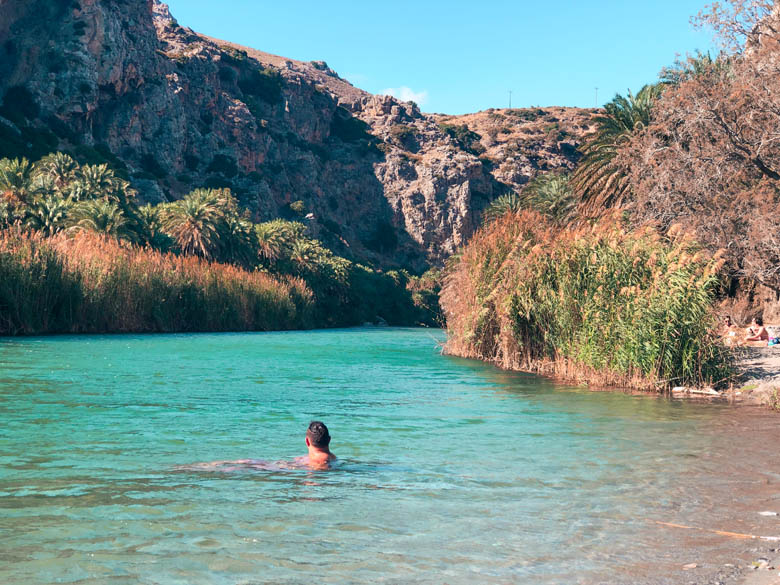 Frequently Asked Questions (FAQs)
What are the best months to visit Crete for photography?
The best months to visit Crete for photography is during shoulder season. That's the months between the end of April to mid-June, as well as the end of August to end-October. Not only are there fewer tourist crowds during this time, but it's also cheaper to travel.
What is the most Instagrammable beach in Crete?
The most Instagrammable beaches in Crete are Balos Beach and Elafonissi (pink sand beach). Seitan Limania Beach is a close third.
Are there any photography restrictions in the cultural sites of Crete?
Photography is allowed at most cultural sites and museums unless stated otherwise. For light-sensitive exhibits, you may be asked to take photos without a flash. Certain places may also prohibit the use of tripods so make sure to double-check before visiting.
How can I find the best photography tours or workshops in Crete?
Specialized photography tours are not common in Crete. The best way to take photography on a tour is to join a private one. That way you can ask the guide to customize your itinerary depending on your photography needs.

Check out these private tours in Crete before going.
What are some off-the-beaten-path locations in Crete for unique photography?
Agiofarago Beach, Voulolimni Beach, Paralia Menies Beach, Kedrodasos Beach, Itanos Beach, Vayu Beach and Kourtaliotiko Gorge.

Find out how to get to these off the beaten path locations in our 21 Best Beaches in Crete guide.
Are there any drone photography regulations in Crete?
Yes – there are rules and regulations for flying a drone in Crete (and the rest of Greece).

Drone photography is not allowed in certain places in Crete like protected national parks (i.e. Samaria Gorge) or over cultural sites with heritage importance. These places will usually have a sign stating that it's prohibited to fly drones in the area.

To get a special permit to fly your drone or read up on all the regulations for flying a drone in Greece, check out the Drone Laws.
These are the rules if you're a recreational drone pilot (i.e. not commercial, just for fun):
Flying a drone is permitted only during daylight hours
Flying at night requires special approval
You may fly the drone to a maximum height of 100m (328ft)
A special drone permit is required if you're flying higher than the maximum height
The drone must always be visible (i.e. you must have line of sight)
The maximum weight of the drone is 5kg (heavier drones require special permission)
Your drone must be labeled with your complete name and address
Drone liability insurance is required
Wrapping Things Up
We took hundreds of photos of Crete and felt like we barely scratched the surface. This captivating island with its stunning natural landscapes, rich cultural heritage, and unparalleled beauty is simply a photography lover's paradise.
We hope our guide has ignited your creativity and inspired you to take breathtaking photographs that tell stories of their own.
If you're looking for a travel itinerary that takes you to these beautiful photo locations in Crete, make sure you read our Two Weeks in Crete Itinerary.