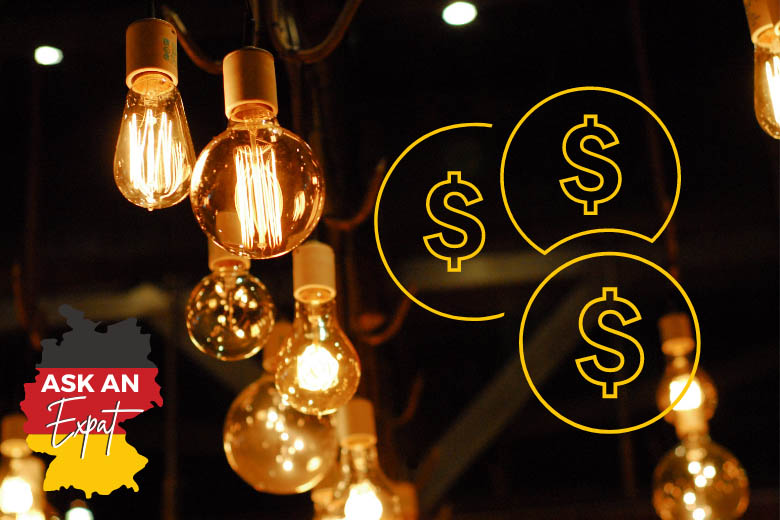 Expats share a list of innovative and practical ways you can lower German electricity costs and save money living in Germany.
Did you know that German electricity costs are THE most expensive in the world?
Yup! According to Statista, electricity prices were $0.34 per kilowatt hour in Germany vs $0.16 in the US by the end of 2021. That's a whopping 2.1 times difference!
And with the current energy crisis and electricity costs in Germany and the rest of Europe skyrocketing, it's become even more important to know how you can cut and lower your electricity costs.
Not only is this good for your pocket, but it's more sustainable and eco-friendly too. After all, the most environmentally-friendly electricity is the one you don't use, right?
There are obvious ways you can save electricity costs. Like switching off unnecessary lights and unplugging unused devices.
But this guide will skip the obvious and focus on 9 other practical and innovative ways that can help you lower your electricity bill in Germany.
Related Guide: Has your electricity bill become super expensive because your current provider has gone bankrupt? You're not alone! Here are 3 things you need to do if your electricity provider in Germany has filed for bankruptcy.
1. Monitor Monthly Electricity Usage
No matter where you live in the world, one of the best ways to reduce electricity costs is to monitor your monthly usage. But if you're living in Germany, then this tip is an absolute must!
That's because German electricity costs are calculated based on your estimated electricity consumption, not your ACTUAL usage. This shouldn't be a culture shock for you if you've read our Electricity in Germany FAQ guide.
This is why monitoring your monthly electricity usage is one of the best money-saving hacks you can do!
It's the only way you can make sure that you're not using more electricity than you're paying for. Otherwise, you risk receiving a nasty surprise bill (i.e. the dreaded 'Nachzahlung') later.
As expats living in Berlin, we religiously do this every single month. It only takes 2 minutes to do and can save you hundreds of Euros, if not more. Then we compare it to our estimated consumption to see if we're over or under.
The goal is to use the same or, even better, less electricity than your estimated monthly usage. By doing this, you'll cut your German electricity costs in two ways.
Firstly, you'll get money refunded or credited to your electricity bill when your actual meter reading is taken and you've used less than estimated.
And secondly, you'll save money in the following year because your provider will adjust your monthly electricity bills to match your lower consumption. Now that's what we call a win-win situation!
So where exactly can you find your electricity meter or 'Stromzähler'?
Electricity meters in Germany are usually installed in your apartment or your basement (i.e. 'Keller). If you can't find it in either of these places, we'd recommend asking your landlord or rental agent where it is.
2. Adjust Your Monthly Electricity Bill
Monitoring your usage is a great way to lower German electricity costs in the long term. But if you prefer seeing money in the bank right now. Then the best way to reduce your electricity bill is to lower it so you pay less immediately.
Yes – it is possible to lower your estimated electricity consumption so you save money now! But most traditional electricity providers in Germany make it really hard to do this.
You'll likely need to write a letter or fill out an application form (both in German, of course). And if you're lucky, they'll allow you to e-mail these documents. But chances are high that they'll probably ask you to send this by post or even worse, fax it!
So if you're serious about reducing German electricity costs, the best way to do that is to sign up with a flexible electricity provider in Germany like Ostrom.
Not only is Ostrom currently the only electricity provider in Germany that allows flexible month-to-month contracts. But their app allows you to change your estimated electricity usage easily so you can see immediate cash saving benefits.
This money saving hack is especially useful when you're planning to go away for summer vacation or visit family for Christmas. You're not going to be home anyway. So why pay for electricity you're not using and wait up to 12 months to get it back?
And the cherry on top? You won't need to ask, 'Sprechen Sie Englisch" when you're with Ostrom. They're one of the few expat-friendly electricity providers in Germany that are actually happy to speak to you in English.
What more can you ask for?
Bonus Tip: Planning to sign up with Ostrom? Use our referral code: NOMADLOV35 to get a €35 bonus!
Related Guide: Jokes aside – are you looking to improve your German language skills? Read our 22 fun and FREE ways to learn German online! We've compiled a list of Youtube channels, Netflix shows, podcasts, apps and online learning courses that will help you learn German fast at home.
3. Use Smart Plugs
Did you know that you could potentially save 500 kilowatts of electricity a year by unplugging unused appliances? That's equivalent to saving around €185 in German electricity costs per year!
But since there are no switches for electrical power points in Germany. The only way you can lower your electricity costs is to unplug them every time you're done using your appliances.
Not the most convenient right? So the next best option is to make your devices 'smart' by using smart plugs. And what exactly are smart plugs?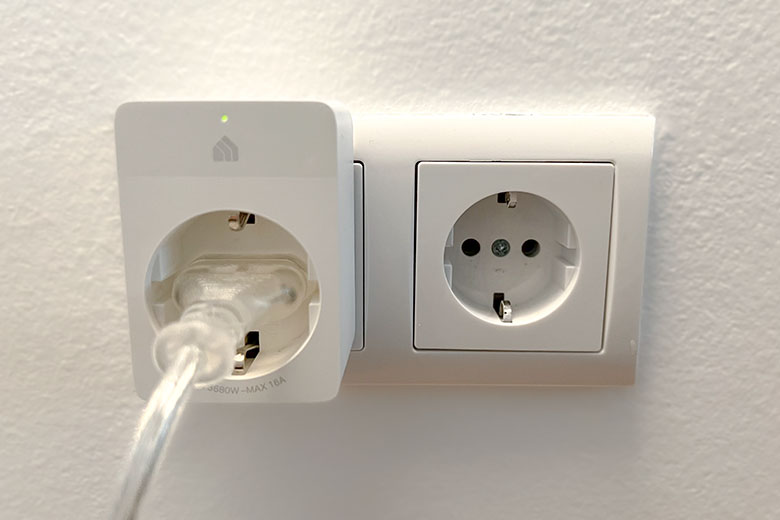 Smart plugs are adapters or sockets that connect your devices and appliances over a Wi-Fi network. It works via Bluetooth and allows you to switch your appliances on and off from an app on your phone. Cool, right?
Now, smart plugs themselves won't necessarily lower your German electricity costs. You have to use them strategically for it to make a dent in your electricity bill.
The best way is to use smart plugs for your highest energy-consuming appliances only. Like your TV, Playstation (or other gaming consoles), washing machine, coffee machine, sound systems or desktop computer and laptops if you have a home office.
Kasa Amazon Alexa Smart Plugs
We personally use the Kasa Amazon Alexa Smart Plugs. They're great quality and well priced. The Kasa app for the smart plugs is easy to use. We also like that you can schedule the smart plugs to automatically switch on and off on certain days of the week.
These Kasa Amazon Alexa Smart Plugs work great in our home office. We schedule them to switch on between 6AM and 8AM. That way we can charge our smartphones and laptops so they're ready for the workday.
They're also great for switching on your coffee machine in the morning. Especially if you have a manual espresso machine.
We absolutely love our Lilet Mara espresso machine. But it does take 15 minutes to warm up before we can get our caffeine fix.
The smart plugs come in handy because it switches on our coffee machine when our alarm goes off. By the time we've brushed our teeth and gotten dressed, our Lilet is ready to make coffee!
Bonus Tip: Compare prices for different smart plug options online.
Save Me For Later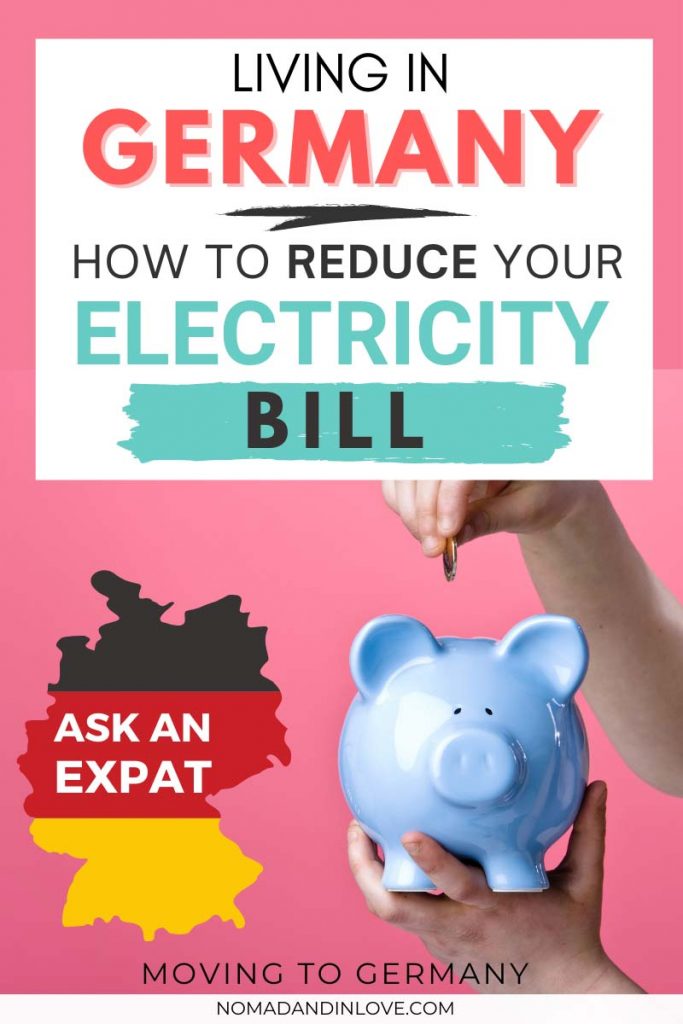 4. Use Standing Lamps vs Ceiling Lights
We love the character and charm of old-style apartment buildings (or 'Altbau') in Germany. But the antique chandeliers installed in many of these German apartments aren't exactly great for electricity costs.
Especially during the winter months when there's only 8 hours of daylight and the sun sets before 4PM!
To fix this, we recommend getting standing lamps or task lights. That way you can light up a room or a particular area in your apartment without switching on a dozen lightbulbs when it gets dark.
Not only will this create a great ambiance in your German apartment, but it will also reduce your electricity costs.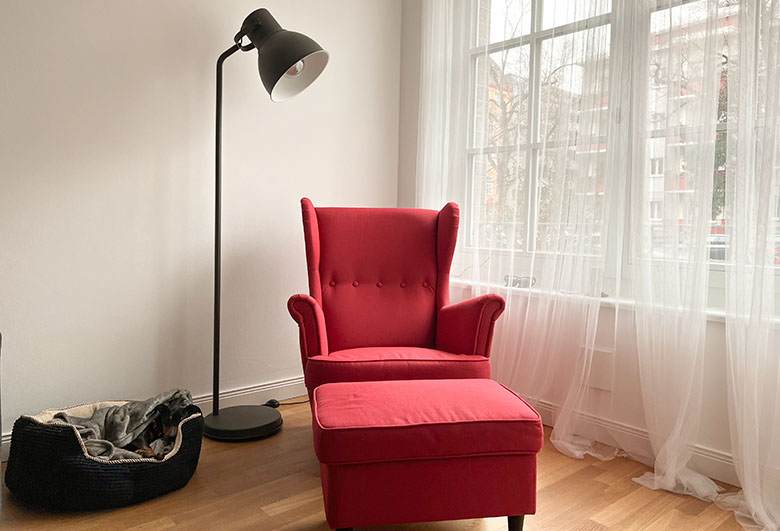 Related Guide: Is it your first time renting in Germany? Then you'll want to know these 14 things to avoid getting culture shock renting in Germany.
5. Switch to LED Bulbs
Another way to cut German electricity costs is to switch from halogen to LED light bulbs.
It's true, LED light bulbs are more expensive. But they use up to 80% less electricity compared to halogen light bulbs. So the huge saving in electricity costs more than makes up for the higher price.
LED light bulbs also last much longer. Depending on the brand, some even last up to 25 years!
Not only is this good for your pocket, but it's also more environmentally friendly. Most LED lamps are recyclable and 90% of it can be reused.
We use the Osram LED light bulbs. They have a lifetime value of 15 years and you can easily buy them at Saturn, Conrad, Bauhaus, MediaMarkt or Amazon.
We use the Osram LED light bulbs in warm white for all our living spaces and cool white for the kitchen and bathroom. We haven't had to replace a light bulb yet!
Bonus Tip: Compare all the Osram LED light bulb options online.
6. Switch to Energy Efficient Appliances
Replacing old appliances with newer, energy-efficient models is another great way to cut German electricity costs.
Old appliances can use up to 10% to 50% more electricity! That can quickly add up over several months. So you can imagine how much you can save in a year!
Luckily, it's quite easy to tell how energy efficient appliances are in Germany and the rest of Europe.
All home and kitchen appliances, light bulbs and even cars must have an EU Energy Label. This label shows how energy efficient the product is from a rating of A to G. With A being the most efficient and G the least efficient.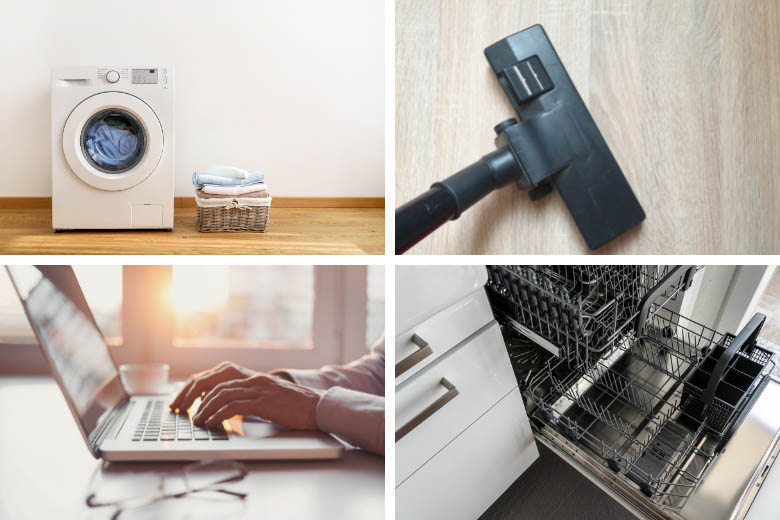 Home appliances don't come cheap! It's always more money savvy to buy them one by one instead of all at once if given the choice.
If you're a new expat living in Germany, here are some energy efficient appliances we personally use:
Philips Bagless Vacuum Cleaner (Energy Class A)
We wouldn't call vacuuming a hobby. But the Philips Bagless Vacuum Cleaner makes the chore pretty effortless.
The suction power is strong (as advertised), yet it's pretty quiet compared to other vacuum cleaners we've used. We also like the fact that it's bagless (i.e. creates zero waste) and is super easy to clean.
Bonus Tip: Looking for other options? Compare prices for different vacuum cleaners here.
Samsung Washing Machine (Energy Class B)
The energy class A Samsung Washing Machine was a bit out of our budget, so we got the next best thing. We like that this washing machine is pretty quiet and has many laundry washing options. It's got a self-cleaning option too, which is great!
Got the budget to upgrade to an Energy Class A washing machine? Check out all the washing machine options here.
Samsung Dishwasher (Energy Class B)
This Samsung Dishwasher is probably one of the most energy-efficient ones you can buy right now.
We promise we don't own shares in Samsung. We just like the company's product because of its quality, good customer service and long product warranties.
7. Doing Laundry More Efficiently
Washing your laundry by hand will save you the most electricity. But who's got the time or energy for that?
Luckily, there are ways you can use a washing machine whilst not straining your German electricity costs.
Firstly, you can save money by only using the washing machine when it's full. Otherwise, always switch to a small load or quick wash setting. You'll find this setting on most energy-efficient washing machines.
Most of the electricity washing machines use goes toward heating water. Always pick the lowest possible temperature or the cold water setting to cut electricity costs.
Lastly, hang your laundry to dry rather than using the dryer. Not only will this save you money, but it will also make your clothes last longer.
8. Use A Thermal Flask
If you enjoy having multiple cups of tea or hot cocoa during the cold winter months, then this tip is for you. Get a thermal flask so you don't have to keep switching on that kettle.
The average kettle uses between 2 to 3 kilowatts of electricity. So assuming you boil water 3 times a day, every day of the week. That will use 63 kilowatts of electricity per week or 270 kilowatts of electricity per month!
Using a thermal flask big enough for your needs will help cut your German electricity costs for boiling water by at least half.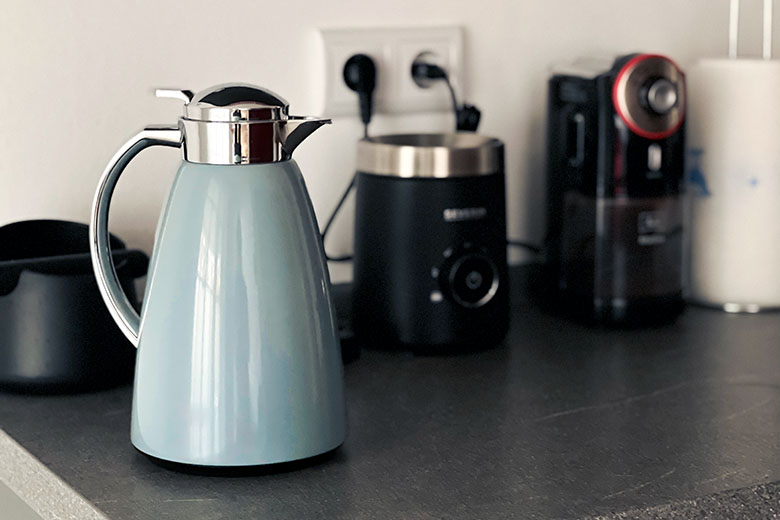 We use this EMSA Thermal Flask. It holds 1 liter of water and can keep boiled water hot for up to 12 hours. It's not the biggest flask, but it's sufficient for our needs.
Bonus Tip: Ever wondered whether using a kettle, stovetop or microwave to boil water will save you the most electricity? Turns out it takes the same amount of energy to heat one litre of water no matter which method you use. The only difference is how long it will take.
9. Energy Saving Tips for Cooking
Believe it or not, there are tips and tricks to save electricity when cooking.
Here are some of our favorites:
Skip preheating your oven unless you're baking cakes, pastries or soufflés.
Switch your oven off 5 minutes earlier than the required baking time. The oven will still be hot enough to finish cooking your dish.
Shorten cooking time by using a dark baking pan. They absorb and retain heat better.
Avoid opening the oven door until the food is ready. Ovens can lose up to 20% of their heat when you keep opening them.
Cook with the lid on when possible and use the right sized pot or pan for the dish you're making.
Related Guide: It's no secret that the cost of living in Germany is rising. But don't worry, there are easy ways you can cut down costs without sacrificing quality of life. Check out our How To Save Money in Germany guide for 14 easy tips to reduce your cost of living.
We hope this helps you lower your electricity bill in Germany! If you have any other tips, let us know and we'll include them.